Laguna Blanca Student Raises Funds for Foodbank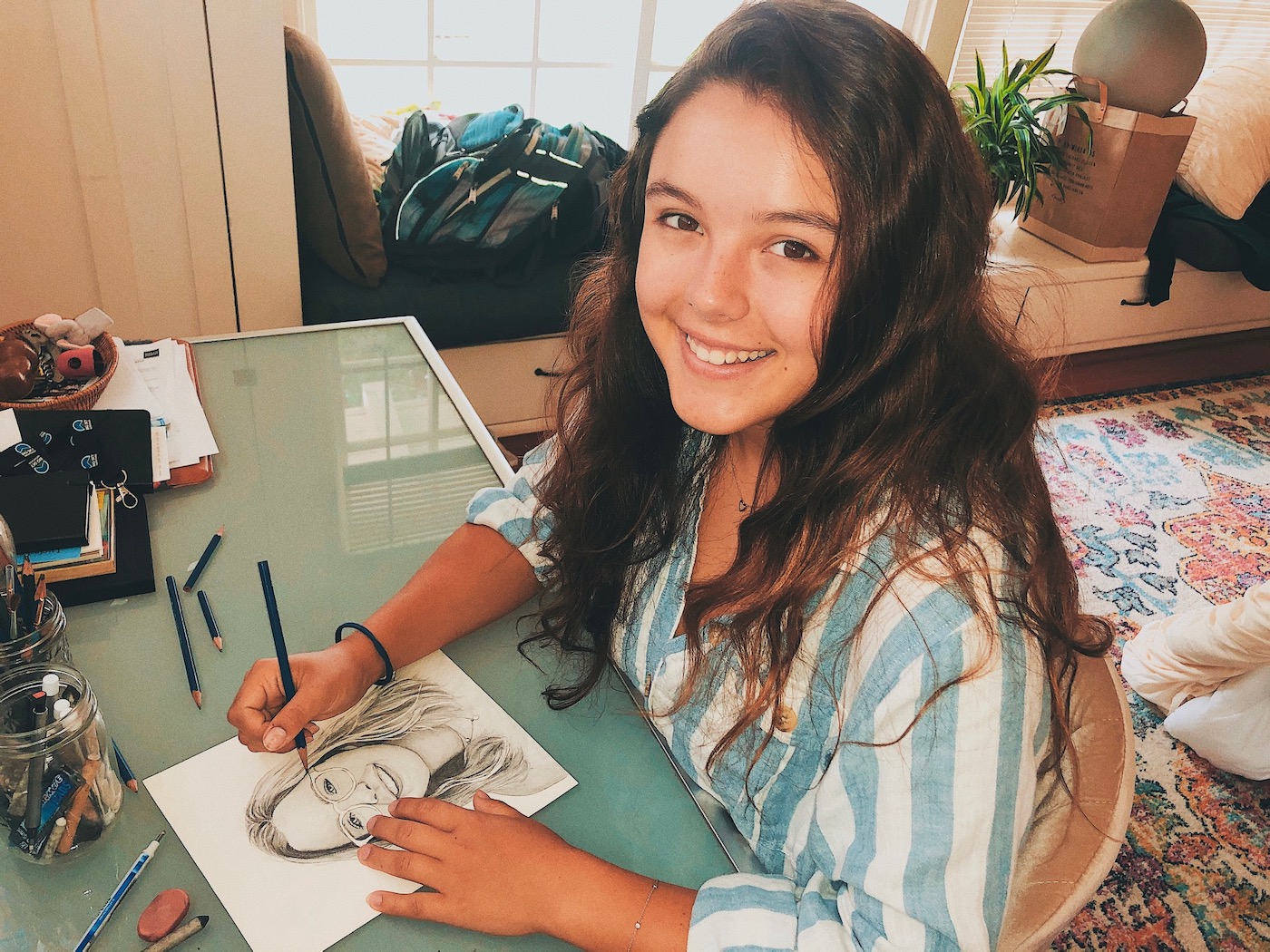 Sydney Hlavaty, class of 2020, was honored with Laguna Blanca's 2020 Senior Project Award at Laguna Blanca's 86th Commencement Ceremony, which was held virtually on July 31.
Sydney's heartfelt project was especially personal, as she chose to honor her classmates through her artistic talent. She tirelessly devoted sixty-one hours over the course of three weeks and dove head-first into her artwork, resulting in 48 beautifully detailed, hand-drawn portraits of each member of Laguna Blanca's Class of 2020.
"'Class of 2020 – Immortalized' was an opportunity for me to strengthen my artistic skills as a realism sketcher, and also to give the kids who have shaped the last four years of my life something to cherish for years to come," says Sydney. "My hopes for this project are to honor the Class of 2020 and immortalize the faces of a generation taking the next step in their life amidst chaos."
Sydney's goal to give back is two-fold. By asking senior parents to make a donation of their choosing to the Santa Barbara Food Bank, she also raised over $4,500 to help local families in need during this global pandemic.
Every May, Laguna Blanca seniors depart from the conventional school day to broaden their learning experiences outside the classroom. Each student embarks on a two-week, off-campus project to explore a professional field of interest. The circumstances of 2020 forced many students to get creative this year. From engaging podcasts on a range of topics and multi-cultural cooking shows to condensing the hardest chapter of AP Calculus BC into a video, this class' innovation and dedication in the face of uncertainty resulted in dozens of inspirational projects.
The coveted Senior Project Award represents high honors for a collective body of work, and outstanding participation in all senior project requirements. The top award is given to the student who demonstrates activity that goes significantly beyond expectations.
"Sydney chose to explore her artistic side after years focused on academics and extracurricular activities," says Senior Project Program Faculty Advisor Trish McHale. "The ultimate goal of her project was to give her classmates something to remember their time at Laguna. She also wanted her project efforts to benefit those in the community affected by COVID-19, and she succeeded in both."
"When I set down my pencil after finishing the last drawing, I was exhausted but proud," she reflects in her senior essay. "I am stunned by the final product and achingly grateful to have had the chance to meet and grow with so many amazing young adults."
For more information about the school, visit www.lagunablanca.org.
You might also be interested in...