Biltmore Employees Protest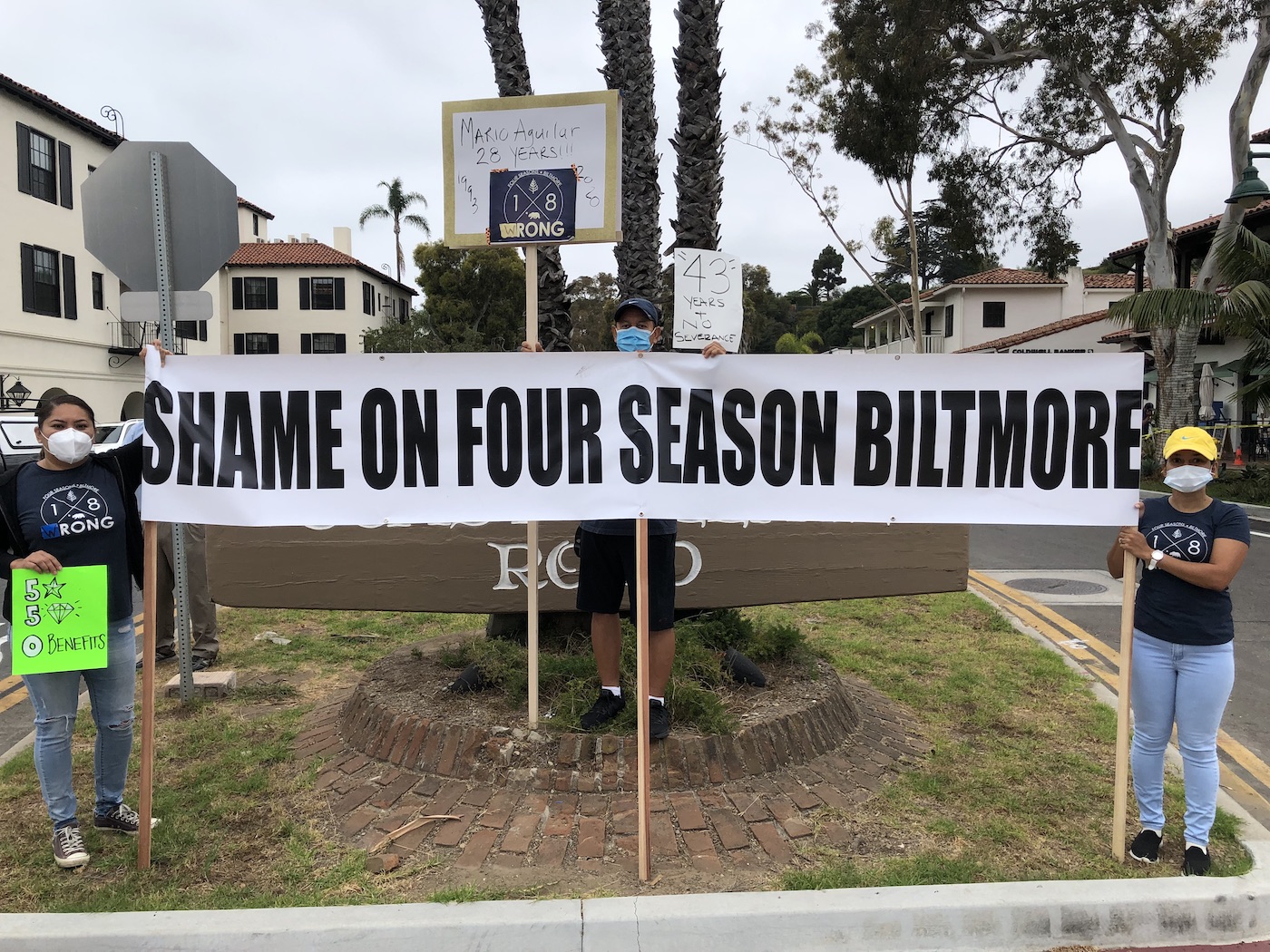 Last Thursday, August 6, over 250 employees from the Four Seasons Resort the Biltmore took to the streets of Montecito to protest unanswered questions about their employment status at the resort, as the Biltmore, Coral Casino, and The Montecito Club have been closed since March due to the COVID-19 pandemic.
"I've given nearly fifteen years of service to this place," one employee, who would not share her name, told us during the protest. "And now to not have any answers about what is going on, it's just not right," she said.
The group of employees, joined by some neighbors from the Danielson neighborhood and members of the Coral Casino – who were also demanding answers – walked past Biltmore owner Ty Warner's house on their way to Cabrillo Boulevard, under the freeway, and down Coast Village Road, chanting "shame on the Biltmore, shame on Ty."
Many of them held signs or banners boasting how many years of service they have given to the 5-star resort, only to be furloughed indefinitely without benefits or severance pay. Many donned "Biltmore Strong" shirts that were made following the 1/9 Debris Flow in January 2018; but the "St" was covered up with a "W," so they read: "Biltmore Wrong." Banners were placed on the Highway 101 overpass at Olive Mill Road, as well as at the entrance to Coast Village Road.
Warner, in an exclusive interview with Journal News Editor Nick Schou last week, said he has no plans to sell any of his properties in California, and says the closures are due to an abundance of caution so as not to spread coronavirus. Employees maintain that there has been a lack of communication from both ownership and management about the situation, and said they hoped the protest would prompt Warner to inform them whether they will be laid off, or whether they will be able to go back to work soon in order to access benefits, which were cut on June 30.
Late Tuesday evening, the Four Seasons regional manager in Las Vegas held a Zoom call with Biltmore employees to read a message that the resort will be closed for at least six months and reopen in 2021. As a result, furloughed employees will be offered one week extra of vacation time, which would have accrued during the six month period. Management reports they "are committed to bringing everyone back and maintaining their tenure." The specific plans for renovation were not disclosed, but the Four Seasons rep said "the owner is investing in the resort to make it the best resort in California."
Warner's other Montecito property, San Ysidro Ranch, is up-and-running.
You might also be interested in...