The Gardening Lady of Summerland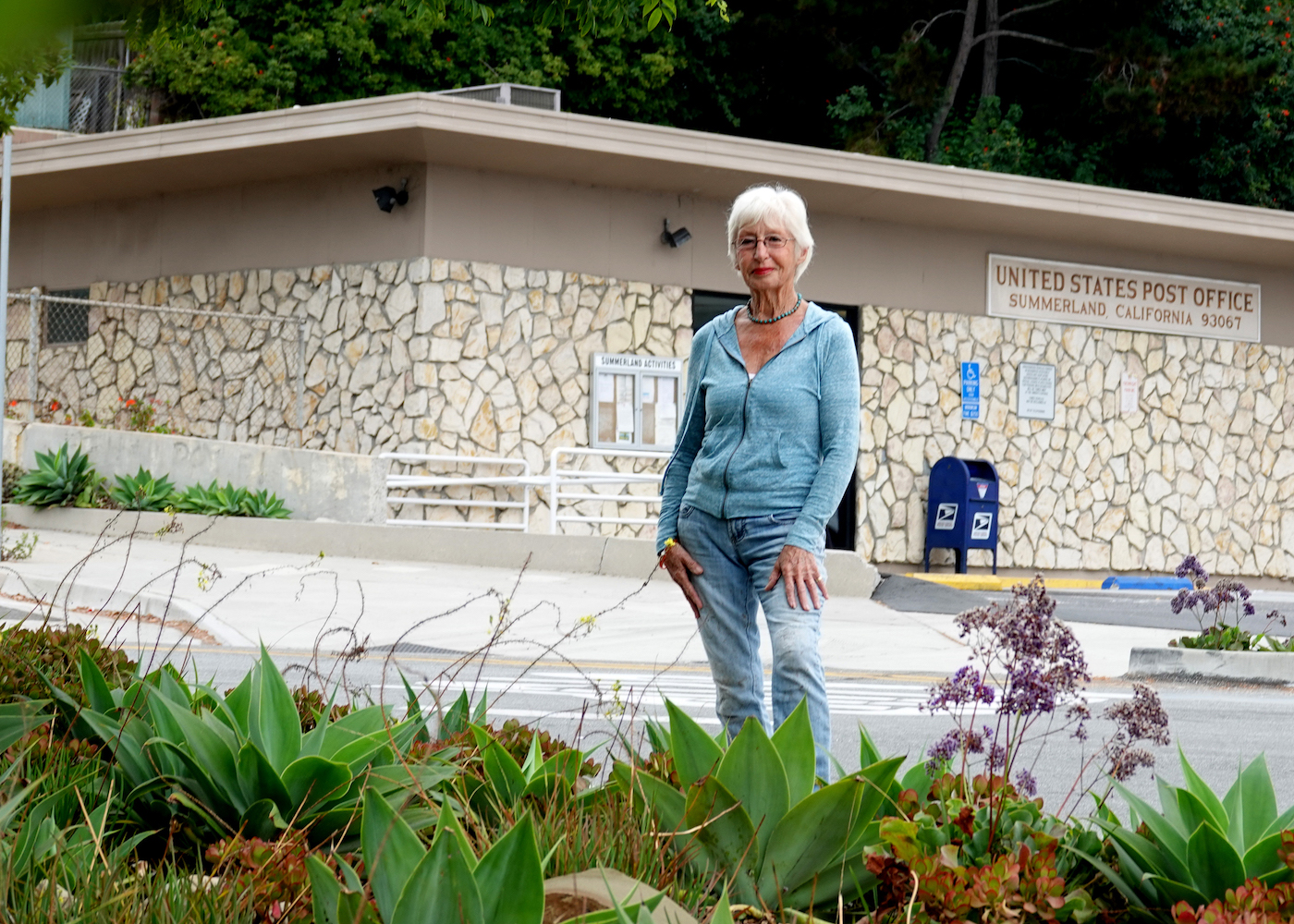 Sonya Harris keeps the seaside town in the green
Most people recognize Sonya Harris from, er, behind. Often seen bent over the landscape edging the 101 northbound entrance, or the Summerland Memorial Garden or other spots in town, Sonya has taken it upon herself to keep the seaside town looking healthy and green ever since the Summerland Heights homes were built on Ortega Ridge circa 1999. It was during that period that Harris followed "a calling" from Mother Nature (and she keeps ringing) and has taken her marching orders seriously as she wages her own campaign to keep Summerland from becoming an eyesore.
"I got this call from Mother Nature at some ungodly hour and she said, 'Take your knowledge and move it outside!'" she said. "When Ortega Hill was disabled when homes were built on the top, I collected what I call the warts and bunions – rocks being thrown off the hill – as gifts from Mother Nature that I could incorporate into walls and garden borders around town." She added that her grandfather was a stone mason. Working with rocks and plants is in her blood.
"My message from Mother Nature was: You can't have all those people spending all that money in Summerland and then leaving for Santa Barbara with the northbound 101 entrance looking the way it did," she said. "It was sad at all the entrances and exits!"
The terraced hill by the Big Yellow House hill is Sonya Harris's handiwork. And she's attended to the corner of Harding and Lillie Avenue she "doesn't know how many times." Plus she's rebuilt all the center bays through the main thoroughfare.
Her goal is inspired by "all the people that spend all that money at the other end of town" and then depart, heading north on the freeway. She wants them to leave with a good and lasting impression of Summerland.
"What about the southbound exit and underpass entrance to town?" I asked the fairy godmother of Summerland public open spaces.
"Yesterday I was cutting the fence line at the freeway where some plastic had been stuck to the fence line for ten years. She wants her best side showing," she said, referring to Mother Nature like a dear, but stern, friend.
"Where do you get your plant material?" I asked.
"Mother Nature takes care of it," the lady with the green thumb replied, adding, "She allows me only enough rock to do edging or building."
Harris also tends after the Memorial Garden by the fire station and a memorial to the 23 people who have "flown to heaven" from the debris flow of her own making.
She even has a theory about the debris flow after the Thomas Fire: "They shot so much water to the fire that Mother Nature took umbrage and threw rocks at us! Those creek beds are all filled again. There's money to clean it up – but not keep it clean!"
She says that gophers have been rebuilding the memorial garden in front of tennis court for the debris victims and are eating the agave now.
"I can't do too much unless I can find plants that they don't like," she said. "There's a stringy plant that looks like an onion with yellow soft flower attached. I don't think they eat jade."
"Where do you get the plants for your projects?" I asked.
"I go up and down and check properties that I take care of. I double check and don't let them over grow," Harris said. "I take knowledge from Mother Nature."
Harris has spotted some large agave she'd like to re-plant. But she says she hasn't "got a male to lift them up – it has to be intelligent muscle power," noting that she is unable to push a wheelbarrow uphill due to a bad back.
The chatty native of Christchurch, New Zealand moved to sunny California from London in the early 1970s, during the "time of the oil crisis." She was working for a sister company to Harrod's and there was no heat in the building. In fact, she said, there was no heat anywhere, unless one had a fireplace.
Harris landed in Montecito and was living with her brother, friends, and her daughter when she "saw the carpet floating" after a plumbing disaster and she fled to higher ground on Harding Avenue in hilly Summerland.
Trained as a milliner, Harris made costumes for theatrical productions as well as wedding dresses during her career.
The woman who has taken it upon herself to clean up and plant all these years. Thus creating her personally self-motivated Summerland beautiful project could use some help.
"The freeway side going south is covered in garbage and nobody wants to pick it up," she said, "Someone asked me what he could do (to be of help). I told him, 'Take an extra bag and when you see garbage – pick it up.'"
"Are you trying to also enlist help with the gardening?" I pressed.
"I can create assignments," she said. "The huge garden behind the school is where help would be ideal – but we have to work as a team."
You won't see the trained milliner wearing a chapeaux either. I asked her why not?
"I'd have to go back and find it stuck in a tree," she laughed.
Harris has been surveying the backside of the Summerland mobile home park that has been covered for two years with "miles and miles of plastic." It's a stretch that reaches from the top of Ortega Hill (between the mobile homes and QAD) to keep the earth from falling down on the property below.
"Even the 350 goats that were used to clearing the weeds ignored that semi-sheer cliff!" Harris laughed, then getting serious. "It's been covered three times – no one knows what to do?"
"Any ideas?" I asked.
"It's sad because there's other possibilities," she said. "My thing would be to cover that hill which is all clay with net, put pipes in it, to release water, and plant it."
She concluded on a hopeful note: "Anything is feasible. It just takes time and energy!"
Continue reading...