Salons & Barber Shops Pivot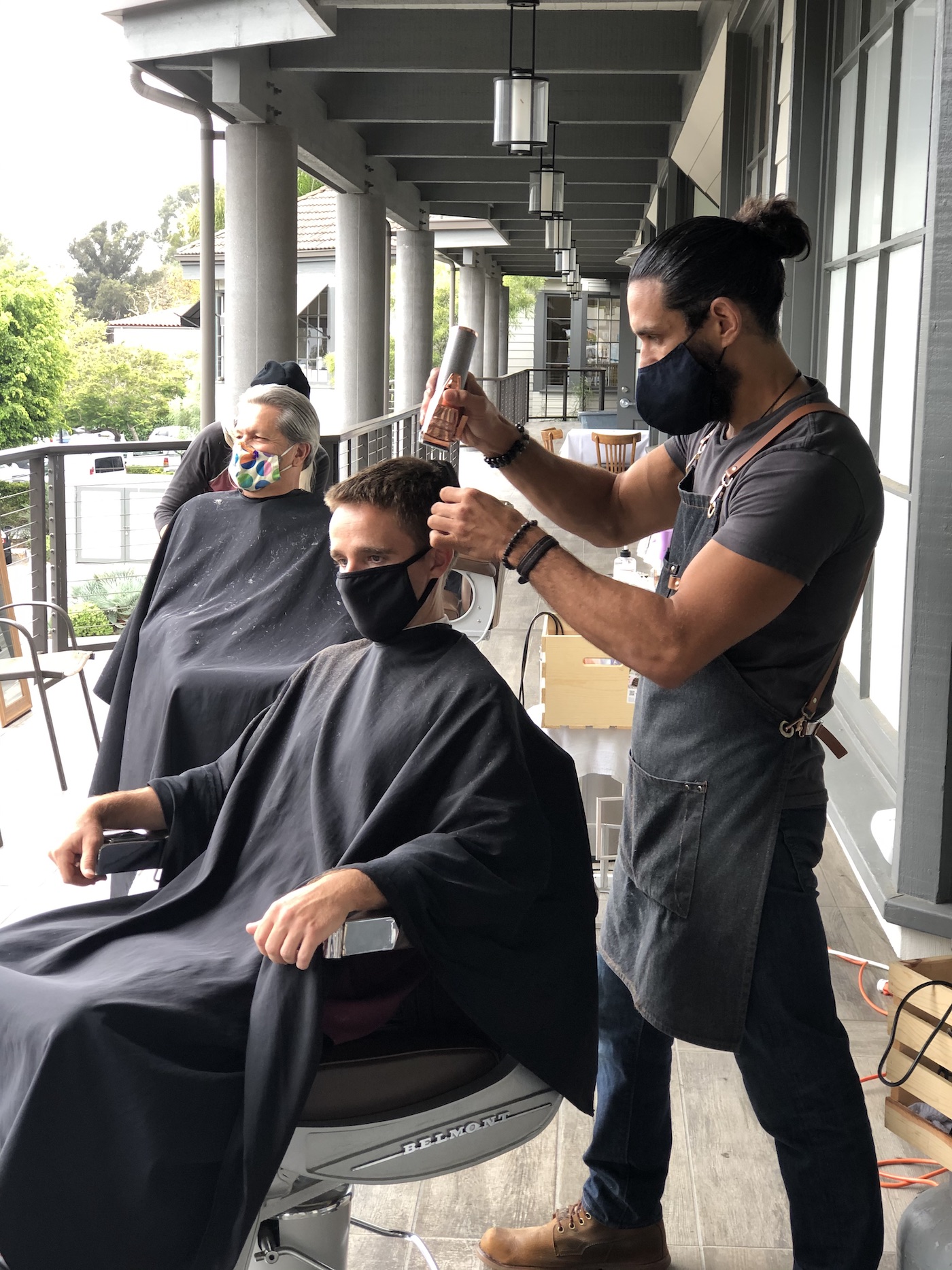 Two popular salons on Coast Village Road are yet again doing the "pandemic pivot," and are now offering their services outside, in alignment with guidelines from the State of California that went into effect in late July.
Salon owner Xavier Scordo, who took ownership of the salon known as Belle de Jour in Olive Mill Plaza in February, says he is lucky to be able to offer services outside of the salon, during a time when salons and other personal care services in Santa Barbara County and beyond are not permitted to provide services indoors during the COVID-19 pandemic. "We made the decision to move everything outside in order to continue to serve our clients during this time," he told us.
With help from designer Lara Morabito, Scordo has created makeshift beauty stations on the front patio of his namesake salon, offering four hairstyling stations and one manicurist station, as well as a special shampooing station on the side of the building. "It didn't make sense for us to open if we couldn't offer color and shampoos, as that is the majority of our business," he said. "We wanted to make the space look beautiful, and feel as normal as possible." The space feels complete with planters, mirrors, electricity for hair drying, and more.
Scordo, who hails from Paris, moved to Montecito about five years ago to work for Jose Eber at the Four Seasons Resort the Biltmore. With over 27 years of hairstyling experience, Scordo has worked in television and print styling, and owned his own salon in Paris for many years. He says he came to Montecito to enjoy a quieter lifestyle, and while he had no intention of buying a salon, the opportunity arose to purchase Belle de Jour. "My life has always been about opportunities, so I decided to take it!" he said.
Scordo and his team, which includes former Belle de Jour owners and stylists Michele Mallet and Joel Mallet, as well as stylist Emily Miller and nail technician Bobbi Younce, are ready to serve their clientele in the fresh air. Clients and stylists are required to wear face coverings, and have their temperature taken before services. Scordo says they are prepared to continue to work outside, as long as the weather permits. Xavier Scordo Salon is located at 1236 Coast Village Road.
Over at Richie's Barber Shop in Coast Village Plaza, owner Richie Ramirez is relieved that Governor Gavin Newsom has allowed barber shops and salons to offer their services outdoors, following in the footsteps of restaurants, who were allowed to expand into outdoor space and parking areas back in May. Salons were ordered to close mid-March, and were allowed to reopen for indoor services on May 26, only to be shut down again on July 14. A week later, State guidelines were modified to allow for some personal care services to take place outside. "We've been through the ringer, having to close and then able to reopen, only to be told to close again. At this point we are grateful to be able to serve our customers in this way," Ramirez told us earlier this week through his face mask, adding that several other salons and barbershops have chosen not to reopen at this time, for various reasons.
Ramirez and his team are open for business on the shop's back patio, overlooking the parking lot on Coast Village Circle. With three of his five barber chairs in use outside, Ramirez says they are keeping busy, and are at about 45% of normal business. The back patio allows for more privacy and to maintain hygienic standards, rather than being on the front patio next to restaurants, who are also under restrictions to only serve food outside. "This is the perfect place for us to set up shop," Ramirez said.
To schedule a haircut, call (805) 280-5521.
Continue reading...