SB Event Co.: Setting the Stage for Custom Dining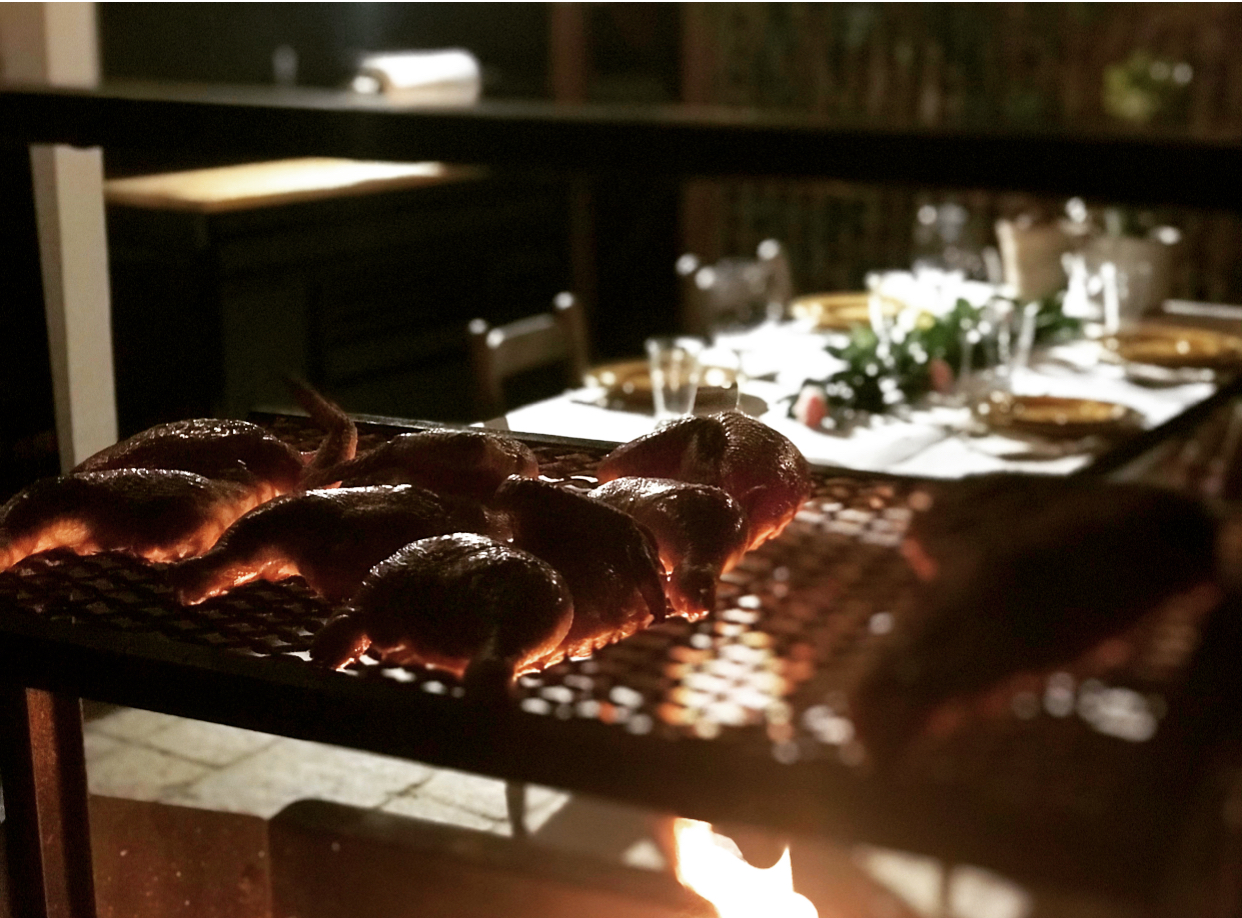 Uneasy about dining outdoors in public? Bring the chef to your home for an intimate social distance gathering with loved ones
On a recent sunny afternoon, Chas Escalante, SB Event Co.'s co-founder and chef, takes a tape measure in hand to assess spacing for a backyard barbecue at a home perched atop the Riviera. Just a few minutes from the Mission, you can see the Channel Islands in the distance. But what would normally be an easy, breezy al fresco vibe has now taken a backseat to public safety.
"When we create a seating chart we try to keep family members together," Escalante said. "We assign tables according to the number of people in a family, or friends-bubble, and sometimes we split those up too."
These days Escalante's role is to create ways to bring people together while keeping them a safe distance apart.
"Pandemic etiquette is new to all of us," Escalante said. "Depending on your comfort level you might be able to gather outdoors and keep separated and still have a nice time."
SB Event Co., the business Escalante founded less than a year ago with his wife, Melissa, was born out of the pandemic. Chas and Melissa spent years working in fashion and events hospitality, respectively, before the coronavirus forced their industries into widespread layoffs. Instead of getting comfortable in their sweats and hunkering down with Netflix, the two devised a business plan and launched their own catering venture focusing on customized social distance outdoor dining. (Full disclosure: I worked with Melissa briefly at a local four-star hotel and have witnessed her event magic.)
Taking their cue from the Centers for Disease Control and Prevention's guidelines, the couple make it work by being dynamic, adaptive, and innovative – from customizing menus and social distance floor plans to manning sanitized barbecues and serving meals masked and gloved. There are no buffets; meals are delivered to guests. Compostable plates and utensils, plastic cups, and paper napkins are preferred. Masks, gloves, and hand sanitizer are required accessories for guests.
Since the recent government-ordered ban on indoor dining, many local venues have moved service outdoors. For those who feel uneasy dining in public spaces, hiring a catering company to manage your private dinner is a genius option.
Escalante said most of his clients have requested small outdoor dinners for up to 10 guests – usually family or friends in co-isolation celebrating a birthday, graduation, or anniversary.
After the floor plan is created with social distancing in mind, then the couple shift their focus to the menu. All of SB Event Co.'s produce and fresh herbs come from local farmers markets, meats and fish from local vendors. Edible micro flowers come from an orchid farm in Carpinteria.
SB Event Co. offers all of the top hits of a backyard barbecue playlist: tri-tip, baby back ribs, pulled pork, brisket, and carnitas.
In a recent interview, Escalante laid out the method to his meat madness: "Tri-tip is a beautiful meat that you have to cook perfectly, otherwise you'll have a dry mess. I trim them and leave enough fat on them but not too much." Escalante tenderizes his meat with salt rocks and then rubs on a mixture of dark roast coffee, brown sugar, paprika, cayenne pepper, rosemary, and garlic. He sets the temperature at 225 degrees Fahrenheit and then smokes it with red oak wood for a few hours. "While the meat is smoking, the juice is collected in a pan," he said. "We dip the meat in au jus before serving."
A classic pairing with his grilled beef is a tomato-rosemary chickpea soup simmered with garlic-infused olive oil. "It marries well with a big piece of rib eye," he said.
Another popular side dish is baked beans and juicy chunks of tri-tip slowly cooked in Escalante's signature barbecue sauce. Think summer's All-American version of a classic cassoulet.
While Escalante's barbecue methods can be complex for some dishes, his approach is simple for others. He seasons halibut steaks with salt and pepper and smokes them on wood planks, garnishes them with lemon zest and fresh dill, and calls it a day. Most of the fish dishes are garnished with heirloom tomatoes to add color, he said.
Then there's a grilled salmon dressed in a buttery Champagne cream sauce. Need we say more? "Some of our salmon is sourced from local fishermen who take their vessels up north and come back with the most incredible selection," he added. "We pan fry the skins or sometimes smoke them."
Escalante's surf and turf recommendation is smoked oysters and rib eye steak. He adds a touch of savory tarragon butter sauce to each oyster. "It's one of the best flavors on earth, and a great starter too."
The catering outfit is discovering its niche with gourmet barbecue and novel approach to sauces, dressings, and condiments. Some, such as seasoned butter, can be individually wrapped and refrigerated ahead of time. Others are prepared fresh and stored just a few hours in advance: homemade ketchup, garlic mustard, Champagne mustard and Escalante's ultimate favorite, spicy mole sauce. "It tastes insane on a burger," he said.
For more information about SB Event Co., call 925-683-1549.
You might also be interested in...