Gentrified or Not? A Chat with a Summerland Gentleman and Some Food for Thought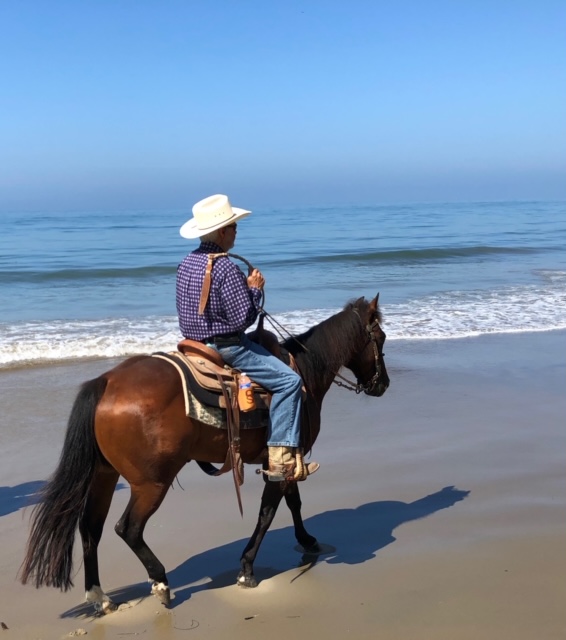 Guy Hamilton and his wife, author Cynthia Hamilton, have lived in Summerland for 33 years. He wouldn't live anywhere else. Guy recently reached out reminding me that he owned Chanticleer (now the site of Lucky's) back in the late 1970s-early '80s and suggested he could offer a "little different perspective on things."
"Wouldn't it nice today to roll back the clock for some of that period of time?" he asked, referring to his "past life" in Montecito at the Chanticleer.
Perhaps.
Hamilton left a lifelong career in the restaurant business and made a complete switch into the mortgage business.
"I'm not retired," Hamilton said, "I retired once, when I sold Chanticleer, but a two-year break from Santa Barbara was just a huge recharge of my batteries to decide what the next chapter would look like. Retiring for me would be expiring, and I'm blessed with a large client base that still calls me for their mortgage needs."
Hamilton said as long as he can take his daily beach walks with his wife and ride his horse three to four days a week with friends on the Montecito Trails, he could work forever. The avid horseman has been boarding his horses in Summerland's "back country" for a quarter of a century.
Then, over a series of emails, we got into a discussion about the definition of "gentrification" when I asked him about changes in Summerland over the decades.
He sent this:
Gentrification often shifts a neighborhood's racial/ethnic composition and average household income by developing new, more expensive housing, businesses and renewed resources… in addition to these potential benefits, gentrification can lead to population migration and displacement.
"The traditional definition of gentrification really doesn't apply to Summerland as no one, like in Seattle, San Francisco or even downtown Santa Barbara, has been displaced or uprooted," he replied, "The improvements to the commercial area of Summerland have simply, or hopefully, enhanced the economic health of our small little beach town."
But I have to wonder if a grocery store or more eating establishments – like say a Mexican restaurant – might be more important than a high-end boutique? And I must remind the man who wanted to "roll back the clock" that a house in Summerland that cost $100,000 in the early 1980s can now cost nine times that amount.
"I think of gentrification as most often displacing someone or some business for another. So many commercial upgrades in Summerland were a result of filling and improving vacant or rundown buildings," Hamilton noted.
Have any renters or homeowners or businesses been displaced due to rising costs? Maybe not yet, but the writing could be on the wall.
Perhaps you, dear readers, can ring in, so we don't have to rely on tea leaves.
"There have been waves of commercial upgrades in Summerland over the years and some only rendered new vacancies, but it appears the current wave of commercial improvements may have read the tea leaves more accurately and/or the customers need has been matched," Hamilton continued, "Only time will tell."
I asked Guy what the tea leaves, a perfect metaphor for the town founded by spiritualists who connected with those on the "other side," might say?
"I think the tea leaves say different things to different people. New business concepts often approach an opportunity based on what they think a community needs. I've heard this for 40-plus years and some of the ideas I've heard I would love to (see happen)… like… Gladstone's or Lure (seafood restaurants) to fill The Big Yellow House. But the question is, can you make money Tuesday through Thursday? And can being sold out on Saturday be enough to carry you through the entire week?"
As a mortgage banker for the past 35 years, Hamilton did admit that the demographics of the buyer/homeowner in the area has changed dramatically over those years.
Both he and his wife are working from home during COVID and he proudly told me that Cynthia just struck a new deal with a publisher specializing in mystery-detective-suspense fiction. Her mystery series set in Santa Barbara includes five books she has already written, plus three more books in the series, and at least three books in a new series that she's developing that will be set in New Orleans.
I mentioned to Guy Hamilton that Porch would be moving into Summerland from Carpinteria, opening September 1, and will bringing their tarot card reader with them, who might be able to add some insight into all kinds of predictions, big and small.
"Perhaps the Porch tarot reader can provide insight for all of us," concluded Hamilton, "Call it Poor Man's Malibu or the place that gets passed by on the way to 93108, I'll take it any day."
Perhaps Cynthia can help us solve the mystery of changing Summerland.
Time will tell.
Final Note
Speaking of seafood, you might not find it in Summerland, but Little Dom's Seafood restaurant and Little Dom's Pizza-to-go were scheduled to open in the former Sly's in Carpinteria, well, soon. I pressed my masked nose up against the window the other day and saw a menu on the wall listing oysters, among other fresh seafood delights and lots of masked people inside training and prepping for the highly anticipated new dining spot, even in the time of COVID-19.
But with Governor Newsom's governmental indoor dining regulations yo-yoing like they have been, I doubt not even Madame Rosinka could predict the future of this one.
You might also be interested in...