Village Eateries Pivot Again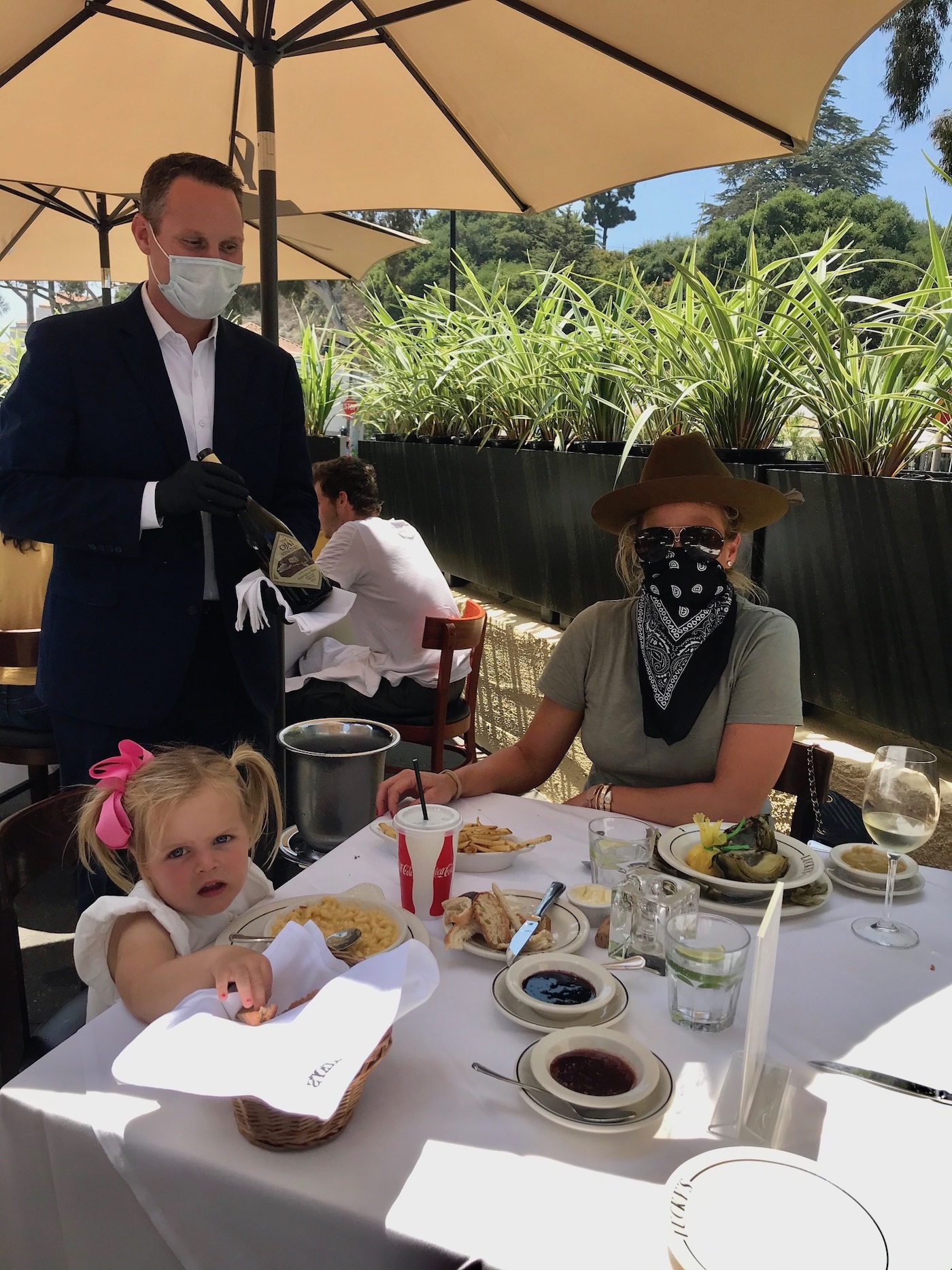 No indoor dining? No problem! Local eateries pivot to al fresco service – Montecito style
French bistro tables, olive trees, and soft breezes stirring lavender blossoms. These days, dining is a moveable feast as restaurants pivot, creating stunning al fresco settings.
A state mandate to curb a surge in COVID-19 called for the immediate closure of indoor dining rooms, but it has not prevented local restaurant owners from pivoting. They've moved outdoors to serve socially conscious diners – Montecito style.
Cava Restaurant & Bar was one of the first along Coast Village Road to erect a parklet and introduce a new pandemic dining experience. Owner Carlos Lopez-Hollis said his staff wanted to "put some extra love" into his space: They painted it, adorned it with lights and umbrellas, and affixed custom signage to add a special signature.
"We have been complimented routinely for the past six weeks for adhering to smart practice, and that's been incredibly reassuring to us," said Lopez-Hollis.
If the decision to move dining rooms outdoors was out of necessity, it's serendipity that it's happening during summer – locals say that's the busiest season of the year.
"The city has done a great job in allowing our bakery and other restaurants to use parklets and pavement for outdoor dining while we're going through all of these changes," said Bree'Osh Bakery Owner Pierre Henry, who made adjustments to the street surface so that his outdoor space would have an easy entrance and ADA accessibility. "It's a great idea because people feel safer being outdoors right now, plus I'm sure it's going to save a lot of restaurants from going bankrupt."
On Coast Village Road, six parklets (some shared) are transforming the look and feel of Montecito's eucalyptus tree-lined byway. Cava, Jeannine's, Tre Lune, Bree'Osh, Ca'Dario, Renauds, Lucky's Steakhouse, and Coast + Olive (and the soon-to-be-unveiled Mesa Burger) are helping to define and refine the art of pandemic dining. Guests will find outdoor sanitizing stations, QR codes for contactless menu viewing, sunbrellas, heat lamps, fresh flowers during the day, and candles in the evening.
"Our regular diners are really excited about our new outdoor parklets," explained Lucky's Steakhouse General Manager and Executive Chef Leonard Schwartz, adding that some of the eatery's loyal diners felt a bit displaced by the recent restrictions and have happily returned. "We can provide a safe and comfortable environment for them to resume their dining traditions."
For every seating, a staff member at Lucky's is assigned to wipe chairs and surfaces in public areas with disinfecting products, Schwartz said. At dinnertime, fully masked and gloved bussers quickly remove tablecloths and store them in secure laundry bags.
Ca'Dario, a popular Italian eatery nestled in Coast Village Plaza, ramped up its outdoor dining service with public health in mind. "We're taking every precaution to ensure a safe and pleasurable dining experience for our guests," explained Ca'Dario General Manager Fernando Gomes, who spent the past few weeks preparing to initiate new protocols such as stocking up on personal protective equipment and initiating staff temperature checks at the beginning of each shift.
Ca'Dario offers outdoor dining service at all three of its Santa Barbara locations. Its outpost in Montecito can accommodate up to 45 guests on the plaza's outdoor platform. Gomes said most diners have been compliant with mask requirements, although there have been a few occasions, he said, when staff gladly provided a new face mask to diners who forgot to wear one. "We haven't really had any issues with diners not wearing their face masks. Most diners are socially conscious about the pandemic, and the restaurant is doing its part to follow the guidelines and keep our diners safe." Carryout service – which currently represents about 30 percent of its sales revenue – has been a popular choice for customers since the beginning of the pandemic, Gomes added.
Local restaurant owners and staff are not only adapting to the new rules of COVID-19-era dining, they're seizing the opportunity to connect with diners and introduce new items to their menus.
Tre Lune offers fine Italian cuisine in roughly 600 square feet of outdoor dining space with seating for up to 60 guests. The outdoor dining space is contained by concrete borders and ambient greenery in white wood planters that match the restaurant's exterior. "It's a very pleasant experience for diners," said Tre Lune General Manager Leslee Garafalo.
To complement its new outdoor dining experience, Tre Lune introduced a light-fare menu from 3 pm to 5 pm Monday through Thursday, featuring a gourmet cheese and olive plate, artisan pizzas, fried zucchini flowers, and braised meatballs.
French bistro tables, olive trees, and lavender plants at Bree'Osh's parklet aren't the only elements reminiscent of Provence. The popular bakery added country-style bread selections to its menu, including gluten-free seeded bread on Wednesday and buckwheat and ciabatta breads on Friday. The bakery offers all-organic and sourdough-based breads in styles such as baguettes, ficelles, and rye country from Tuesday through Sunday.
Booking a dinner reservation is not required but is highly recommended. So pick a restaurant from the many tempting options and don't forget today's pandemic diner's etiquette: Wear a mask before you're seated and when you leave your table.
You might also be interested in...