Parklets on Coast Village Road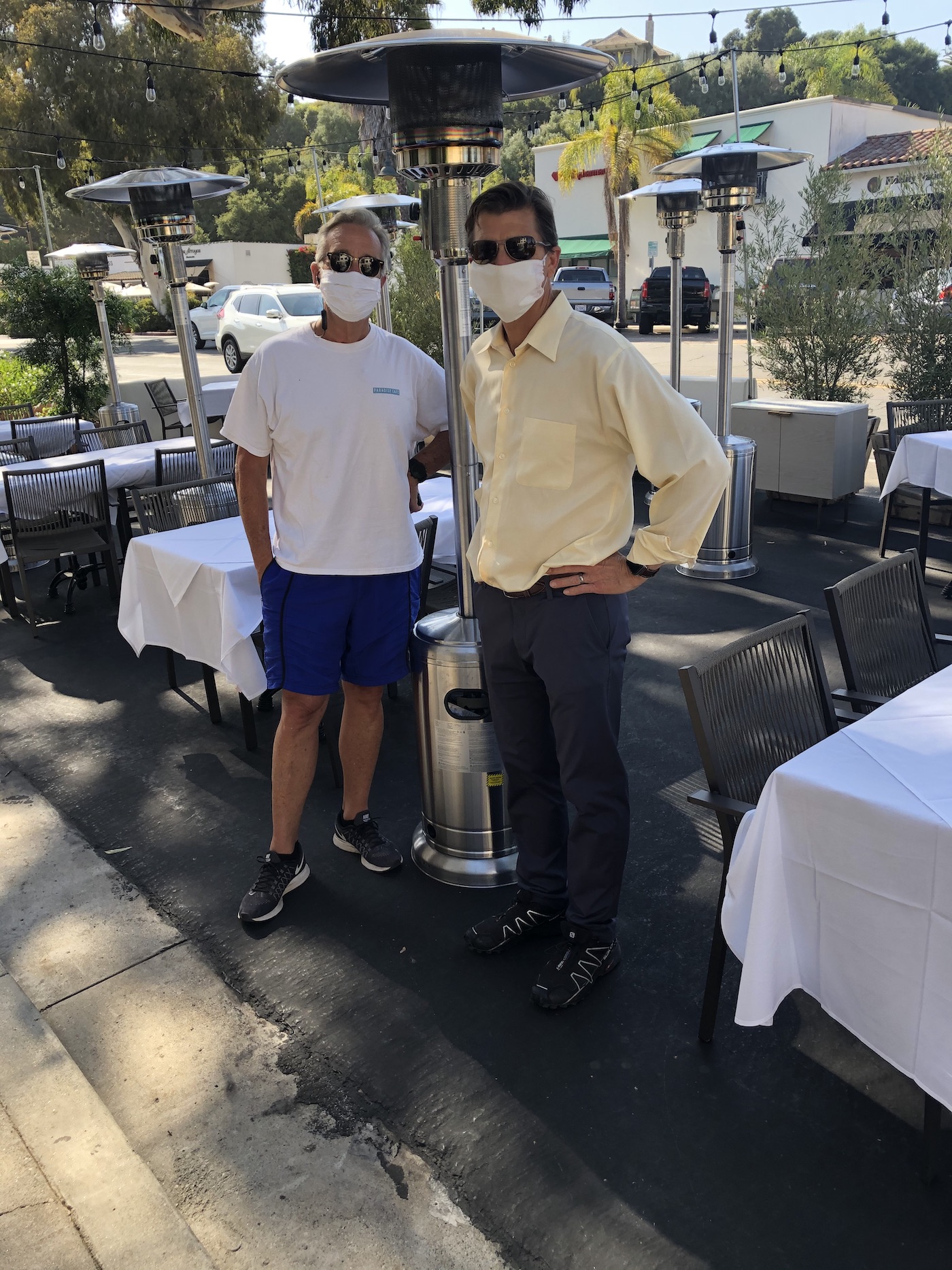 In response to the staggering loss of local business related to the coronavirus pandemic, the City of Santa Barbara, in late May, authorized the use of "parklets" as an innovative way for restaurant owners to add physically distanced gathering spaces to public streets. The parklets are intended to be located in the parking lane adjacent to the curb, designed as an extension to the sidewalk within the frontage of the eatery's space.
The City Council authorized the use of parklets, as well as allowing restaurants to place additional tables on public sidewalks, as a way to help immediately alleviate the woes of Santa Barbara's 400 restaurants and cafes; as a lifeline to keep them open while maintaining social distancing guidelines.
"The key for these eateries, which run on super small margins, is that they can get as close to 100% of their pre-pandemic seating, so they won't have to shut down," said Rob Dayton, Transportation Planning and Parking Manager with the City of Santa Barbara's Public Works department. "We knew going into this that we were going to work in the opposite way the City normally operates: that we were going to give permission first, and adjust later, rather than the other way around. We knew we didn't have time to permit these parklets first, we just had to let them be built. It was an unprecedented move," he told us earlier this week.
With Montecito's Coast Village Road located within City limits, we saw the installation of four parklets by the end of May – utilizing a total of eight parking spots – with relatively few issues reported. Not surprisingly, Governor Newsom's pre-July 4th closure of all interior dining prompted several more restaurants to quickly build parklets, which have created a handful of issues along the road, including loss of parking, concerns about ADA accessibility, inability for pedestrians, strollers, and dog walkers to utilize the sidewalks, safety issues, and impacts to other, non-restaurant businesses along the road. "The goal of this was to help all businesses be successful during this trying time, but if we have a situation in which other businesses start suffering because of the parklets, then we have a problem," Dayton said, admitting that there have been dozens of complaints about the parklets and restaurant tables along the public sidewalk on Coast Village, as well as in other areas of Santa Barbara including downtown and on the Westside. Earlier this week, officials re-opened a portion of State Street after pleas from several business owners; several blocks of State were closed to cars at the end of May, in an effort to encourage foot traffic and allow for eateries to spread out tables to adhere to social distancing.
Dayton, along with Coast Village Association board president Bob Ludwick, walked Coast Village Road with us on Monday afternoon, the day after a bustling holiday weekend that brought hundreds of out-of-town tourists to the area to enjoy the shopping and restaurants. With six parklets now installed, and a seventh on the horizon, the street has lost 24 parking spots, which several business owners tell us is a problem for retailers. "We were closed for three months, and now that we are able to reopen, we are dealing with the loss of our coveted parking, which was already an issue along the road before COVID," said one clothing store owner, who wished to remain anonymous. "Look, I get it, we need the restaurants to thrive in order for the street to thrive, but it's becoming the 'wild wild west' out here, with business owners not thinking about their neighbors," he added. Another nearby business owner, who has run her business on the street for over two decades agreed, saying that there could have been more thought put into the parklets before allowing them to be built.
"It's a balancing act to please both restaurant owners and retail businesses, and we want it to be fair," Dayton said, adding that restaurant owners are under clear guidelines laid out by the City, including keeping four feet of sidewalk available for both pedestrian and wheelchair accessibility. During our walk along Coast Village, Dayton called out numerous issues with several parklets, including utilizing more parking spaces than allowed, unreasonable blocking of sidewalks to fit tables, not adhering to six feet of social distance within the parklet, safety concerns, and less pressing, aesthetic issues. "We've been seeing this all over the city, and it's just part of the adjustments that need to be made," he said.
Ludwick says he's been watching the progression of the parklets, and recognizes they have had a mostly positive impact on the road, with a few hiccups. "We've been trying to encourage neighborly communication between business owners, so that some of the issues can be worked out in a fair way," he said. "The bottom line is we are a family of businesses out here, and we all want each other to prosper."
Dayton suggests that those businesses with parklets review the guidelines laid out by the City, which includes working closely with neighbors to minimize impact. Both restaurant, retail, and office-based businesses may also want to encourage or require their employees to park on Coast Village Circle, rather than utilize the parking on Coast Village Road, which is already at a premium. The City of Santa Barbara has reserved the right to remove parklets at its sole discretion, and encourages any complaints to be sent to OutdoorDining@SantaBarbaraCA.gov.
The emergency ordinance that allows the parklets sunsets on Labor Day, September 7, but the City Council can and may decide to extend the ordinance longer, depending on the COVID-19 crisis.
"We literally saved people's businesses overnight by enacting this ordinance, and that was the intent all along," Dayton said. "With seven parklets along Coast Village Road, it shows, or at least gives the perception, that business is thriving out here, which is what we need right now," he added.
You might also be interested in...