Meet Shane "Big Daddy" Brown – The Creator of The Well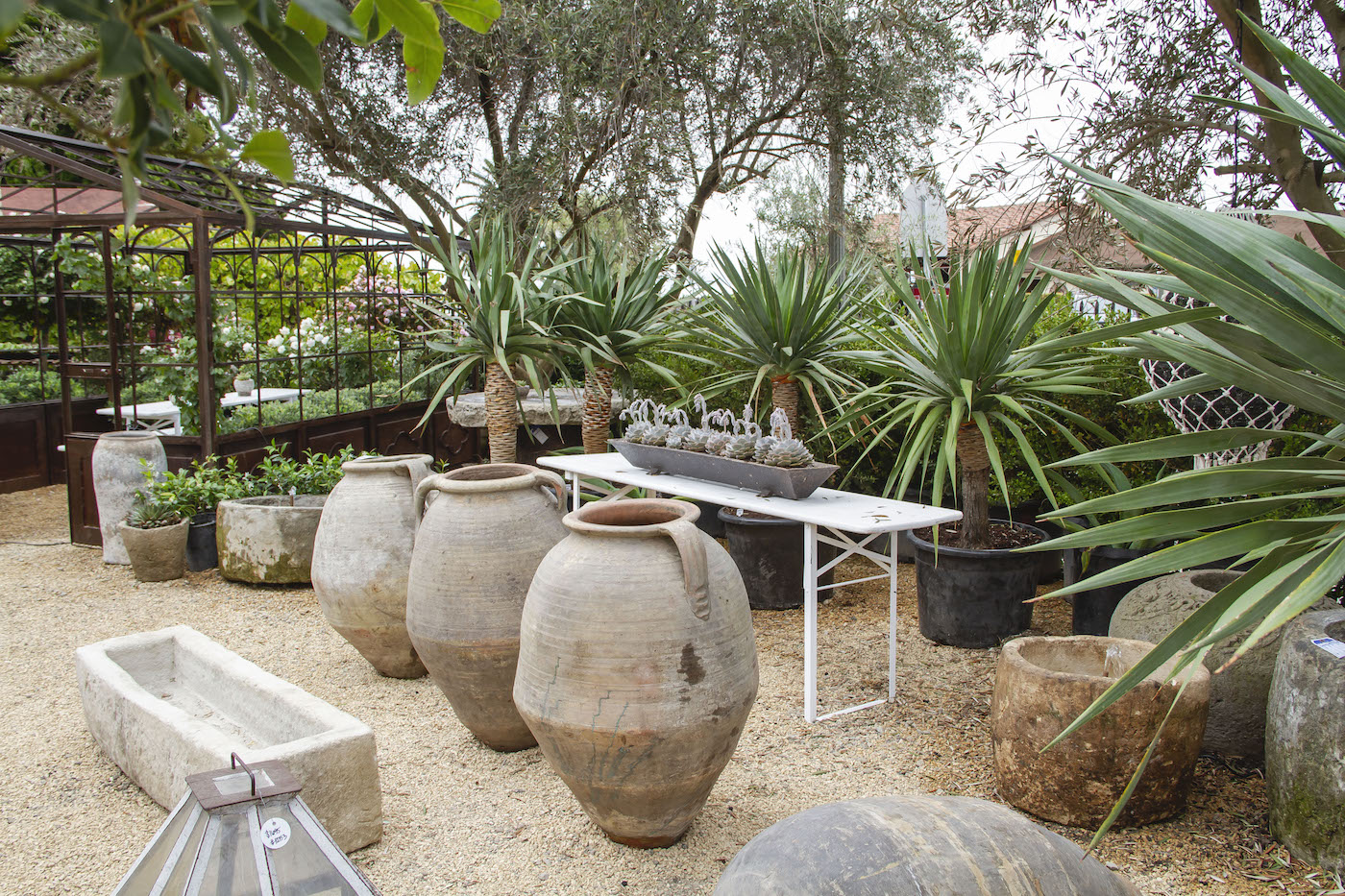 Trying to catch up with Shane Brown, creator and owner of the newly opened home and garden lollapalooza called The Well, in the indoor/outdoor spaces formerly known as The French Bulldog, Café Luna, Mediterránee Antiques, Summerland Rugs, and more, is a bit like trying to catch a fish with greased hands.
"I get things done! I'm a train – get out of my way!" warns the man who says he doesn't, and shouldn't, drink coffee. I concur.
Darting here and there faster than a knife through hot butter, the 52-year-old entrepreneur is the creator of the "Big Daddy's Antiques" brand, which includes a huge warehouse in Los Angeles, a Big Daddy's Antiques line of goods at Pottery Barn and a store in Aspen, Georgia Brown Home, named for one of his daughters, which will be a pop up this summer.
Born in Torrance, Brown has lived in California most of his life. He and his wife, Kristine, and their two children, Raleigh, 13, and Georgia, 12, moved to Montecito three years ago. The girls are also helping out their pop this summer in Summerland. Found most days hawking his wares at his newest venture, Brown also travels to L.A. one to two days a week to oversee the Big Daddy's showroom and warehouse in the big city.
His love for vintage and antique goods that catch his eye and that of noted designers and savvy shoppers – and crossing his palm with silver – began at a young age.
"My grandfather took me to flea markets when I was a kid. We'd stop at estate sales too, as well as go golfing," recalled Brown, "My grandfather never sold anything. He bought and gave it away. When I was twelve years old and I visited Hearst Castle with my maternal grandmother, I thought 'Wow! Rich people love antiques.'"
In his mid-twenties, Brown realized he needed to do something to subsidize his income as the general manager for a Los Angeles messenger service. He started dabbling in vintage and antique goods, selling at the Santa Monica and Rose Bowl swap meets on weekends and would make as much money in one day as what he made all month at his day job.
He says he "hasn't looked back" since launching a career that has included traveling all over the U.S. and the world, shopping and buying while meeting "interesting and fun people" along the way. Brown also began buying income properties in Aspen, Texas and California as vacation rentals on VRBO and Home Away. His wife handles that aspect of their family run businesses, while their two children are helping out this summer at The Well.
About 80% of the Lillie Avenue address that has been beautifully restored and enhanced is now open. Brown brought in huge olive trees, gave all the buildings a fresh coat of gleaming white paint, and is still working on finishing touches on the back building so the planning department can sign off on the final permit.
The spot on the corner where Summerland's original post office once stood is now filled with unique items as is the spot where many of us enjoyed coffee and social interaction once upon a time. Now you'll find vintage and antique wares, Brown's "upcycled" pieces (that's recycled that's been re-imagined and re-worked into something new, better, and with an upcycled price tag). There are garden fountain walls on display that can be recreated in your own garden (and already have been!) as well as a cool and funky back stone wall punctuated with old window and door frames.
"I've coveted the space for twenty years," Brown admitted, "I drove by one day and saw an available to rent sign," He negotiated a lease with Helen Pollack (who is 101 by the way!) and her son Tom and says he hopes to purchase the property one day.
Then the pandemic hit. Work stopped for about six weeks, but the gates opened just a few weeks ago.
"The mix of old with new is very key to success of that property," says Brown, who is "upcycling" constantly with items like a stone mill stone that he turns into a table as well as upcycling lamps.
"I try to stay ahead of all the other retailers," says the cutting-edge tastemaker, whose four-year-old licensing deal for the Big Daddy collection with Pottery Barn was a result of the company copying him for years, he says. The capsule collection includes reclaimed wood bedroom furnishings.
The Well also offers a mélange of services including home staging, interior design, and hardscaping. (Brown had already been out on four landscaping calls at the time of this interview.) And all employees are wearing masks, inside and outside.
"People are excited about the 60' fountain wall concept that we installed, as well as the fireplace wall," noted the man who admits he always wanted a home and garden store. "We can come and build either at your home to your specs."
The 50' Santa Barbara stone wall in the back embedded with old doors and windows can also be replicated with doors and windows selected from The Well inventory and grout color of a customer's choice.
It appears that "rich people" do love antiques. Within the first few weeks of opening items in the store were littered with SOLD signs and Brown says the substantiable sales will help fill Santa Barbara county's sales tax coffers.
Garden items from Europe abound, as well as a massive, $24,000 bronze fountain that Brown purchased in Bel Air, but there are also succulents for $5. Shoppers can also buy a ceramic container to put together a quick gift with potting soil and rocks on hand (a great project for your kids while you shop perhaps?) or have the staff create a lovely plant arrangement.
It's nice to know that a new business is booming during these stressful and unnerving times. The world could use some good economic news these days.
You might also be interested in...