Chef Nancy Weiss: Kitchen to Community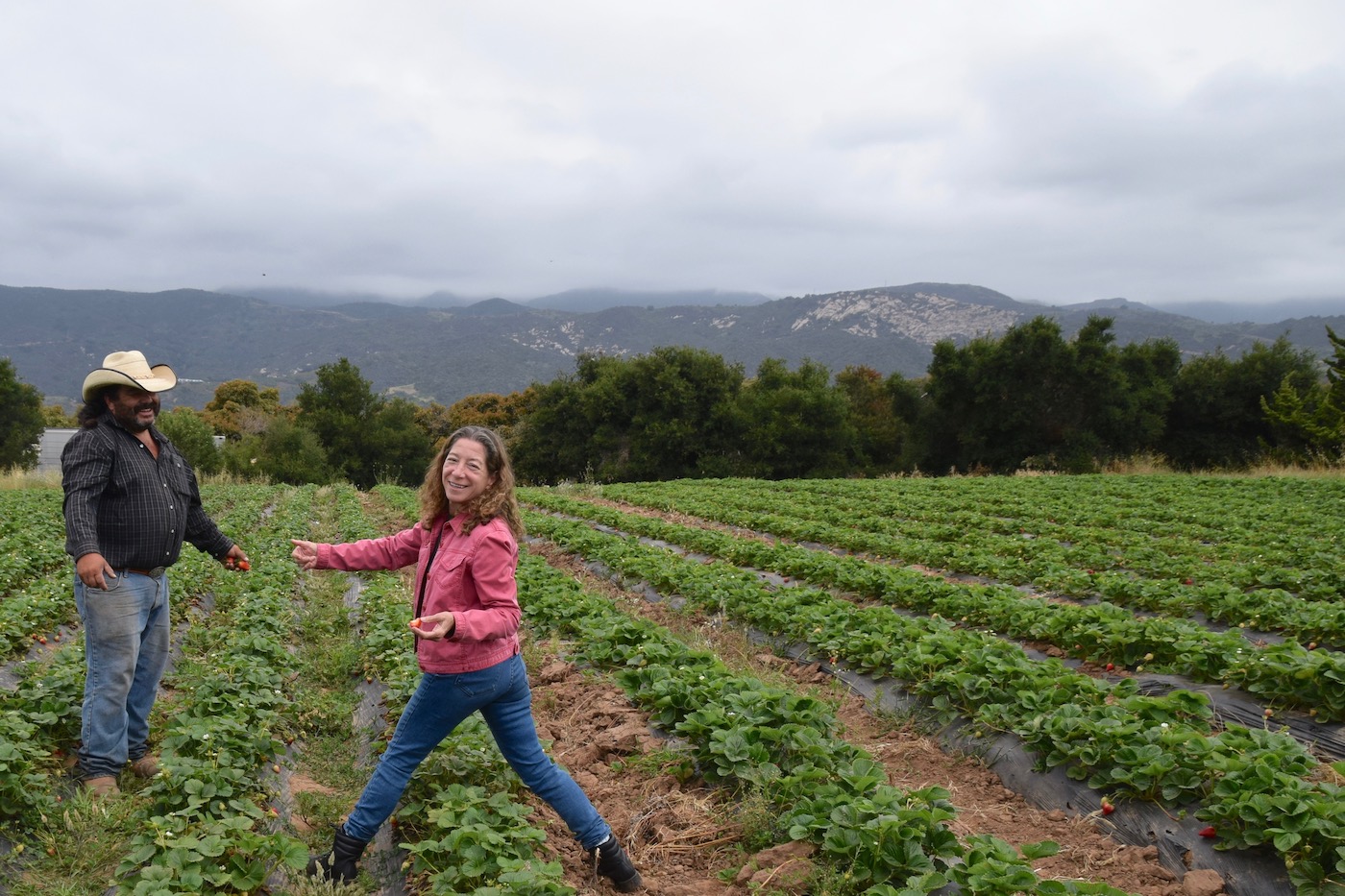 With her captivating and confident demeanor, Chef Nancy Weiss says she often gets confused for a New Yorker. In reality, her love affair with food began a little closer to the Santa Barbara area where she would eventually cultivate her culinary career. Growing up in Los Angeles, Weiss became infatuated with the kitchen at age 12 and formed a relationship with food that would last a lifetime.
The daughter of a dedicated teacher working long hours and an Eastern European Holocaust survivor, Weiss' early relationship with food was tumultuous. She describes her mother as an "anti-domestic" whose weekday eating habits alternated between family McDonalds meals and intense dieting.
Weekends were Weiss' solace. While her mother frequented the beauty parlor, Weiss and her father watched movies, either John Wayne, Tarzan, or war movies, and Nancy meticulously planned out what she would cook for the family. Faced with limited ingredients, she would make do with what she could find to feed her parents and two older brothers. These creative creations included meals such as blended canned asparagus with sour cream.
Despite her mother's disdain for the kitchen, Weiss remarks that they still reminisce humorously about her eclectic early meals. She smiles as she tells me that special occasions called for classics such as her father's grilled steak, baked potatoes, and salad with blue cheese. Although simple compared to the recipes she would later create, Weiss describes these early childhood delicacies with fondness.
Putting Cooking on the Back Burner
Weiss took a step back from her asparagus endeavors as she headed north to complete her undergraduate degree in English at the University of California, Santa Barbara, but cooking quickly recaptured her attention after graduation. I had to ask: how does one go from majoring in English to a life in the food industry? Weiss says she has always loved to read and write, but after developing rheumatoid arthritis in her third year of undergrad, she was left feeling burnt out. She felt as though she had lost her drive.
After dabbling in finance at a stock brokerage house, Weiss returned to her childhood passion and got a job as a prep chef at a local restaurant. She speaks with admirable honesty about the transition. She is naturally gifted in the kitchen and she knows it. She says, "I am very quick, super organized, and very creative with food. I have good technique."
Weiss' love of writing did not dissipate as she focused on food. She says she found great pleasure in writing the menu: "I had a lot of fun describing food." She explains writing about food isn't too different from writing about literature. They are both artistic endeavors.
If you're going to interview Chef Nancy Weiss, you'd better do it on a full stomach.
Listening to her describe some signature items, it's clear she crafts a captivating menu. She easily conjures up images of bacon wrapped oysters and fattoush salad. She lights up as she tells me about these memorable dishes. Her passion for the craft shines through her vivid descriptions.
Going Solo with SOhO
In 1986, at age 26, she took a leap of faith and opened her own restaurant: SOhO. Tucked into an enclave on State Street, the intimate food and music venue was her pride and joy. Although it was difficult and demanding, she poured herself into its success.
She speaks affectionately of its success, but it took all of her. It is part of the reason she never had kids. While other friends were settling down, she spent her entire reproductive years cooking hard. The restaurant was like her child. She explains the feeling vividly: "I remember just not having the appetite for a relationship at that time because my relationship with the restaurant was so deep and satisfying."
When her mother's health declined and she began to feel overwhelmed travelling between Santa Barbara and Los Angeles, she made the difficult decision to let the restaurant go. She sold her shares and began looking for a job with the initial goal of just finding one with a healthcare plan to cover her arthritis care.
Engaging with Education
No children meant that when Weiss took a job as a chef for the Santa Barbara Unified School District (SBUSD) in 2000, she had no idea the kind of food being served to these kids. Quite frankly she tells me, it was "chicken nuggets and garbage." She now had a new project: getting healthier food to local kids.
Her childhood expertise of whipping together meals with limited ingredients surprisingly prepared her perfectly for the new role. Determined to make nuggets healthier, she spiced up marinara sauce by dicing in carrots and celery and added it to the nuggets. Her improvised version of chicken parmesan was just the beginning. Soon she brought in farmers who she had developed relationships with at SOhO and got them contracts with the district. Lettuce, carrots, and other high demand goods were now coming from local vendors.
To this day, SBUSD sources 30 percent of its ingredients from local suppliers. Her efforts to make healthy and delicious food a part of every child's school day did not go unnoticed. In 2008, SBUSD began to take active steps towards district-wide revamping of its food systems. Weiss interviewed for the position of food director. When she got it she was able to expand her ideas county-wide.
A Down-to-earth Cooking Philosophy
So how do you make healthy food appealing to kids? It's a pretty key part of the job. Weiss' philosophy is simple: you make the classics using fresh, unprocessed ingredients. Grilled cheese, spaghetti and meatballs, pizza, but all from scratch. You make homemade ranch dressing and get kids excited about eating their vegetables. For a highly accomplished chef, her relationship with food is refreshingly down to earth. You get the feeling that there is a time and place for haute cuisine and there is also a time for a simple turkey sandwich.
Changing Mealtime Culture
Along with her healthy ingredient mentality, she also aimed to change how students saw the culture of mealtime. She wanted lunch time to be a collective and communal part of the school day. She says it should be "a celebration of refueling your body." Healthy lunch programs with whole student body participation are about more than just eating in fellowship.
According to Weiss, at least 60 percent of the children in Santa Barbara participate in free lunch programs, meaning they qualify for a subsidized school meal each day. The dichotomy between students who receive free lunch and those who bring their own meal or buy lunch complicates the food culture on campus. She says at some schools, there were even student stores selling Domino's pizza to wealthier children. Weiss had a different vision: work with the school food program, sell our healthier pizza, and have it available to all kids so nobody feels left out.
Expanding food quality and diversity was a big part of getting more students on board with school lunch. Weiss offered a plant-based entree option every day. Creations such as nachos with vegan coconut cheese made the program accessible to more students. She also brought in food trucks to serve schools without permissible kitchens such as St. Rafael's and Notre Dame's.
Weiss explains that, unfortunately, the district and nature of the industry is highly political. It took some pushing from locals to encourage the district to embrace healthier options.
A Political Perspective
Local Santa Barbara resident and founder of Kinko's, Paul Orfalea, helped push the transition. In 2008, he took up funding kitchens with proper infrastructure and hired chefs to go into district kitchens and help train employees. His initiative coincided with Weiss' promotion to director and a larger federal initiative to boost healthy food in schools promoted by Michelle Obama. These intersectional healthy food initiatives propelled the program towards a more nutritious future.
According to Weiss, over the next three years, Orfalea sunk millions into this initiative with her as one of his key strategists. The work didn't go unnoticed. In 2015, Weiss won the Golden Carrot Award from the Physicians Committee for Responsible Medicine. The award recognizes schools and food service directors across the country who work to create programs that encourage students to eat healthier and prevent disease.
I was curious about how federal policies affect food programs on the local level. The Trump administration has been taking steps to reverse federal healthy food policies, but Weiss says, unless he raises the poverty line which allows families to apply for food subsidies, it won't affect local programs.
Retirement and Greek Delicacies
Weiss retired from the SBUSD on January 12 of this year, on her 60th birthday. What's next for the chef and community advocate? She's definitely not giving up her busy schedule.
She is starting a culinary program at the United Boys & Girls Club where she will be teaching one or two days a week. She is piloting a funding campaign to get similar culinary programs in clubs across the county. The Westside facility is named "Nancy's Kitchen" in her honor. In her new role, she will feed her passion for food and education by teaching kids from elementary-aged to teens about cooking and gardening. She says, "There is so much curriculum that can come from the kitchen."
She plans to incorporate the student garden into her cooking classes and show how food goes from farm to table. She does this through projects such as harvesting radishes, pickling them, and eating them on homemade street tacos. Her first class is St. Patrick's Day and they will be celebrating with green smoothie recipes.
Weiss has also been invited to start a senior citizen and student cooking collaboration project at a local retirement community, Pilgrim Terrace. Additionally, she will be working with the Good Samaritan Shelter to revitalize the greenhouses on one of their rural properties. She is bringing in her agricultural connections to repair and plant the greenhouses in order to use them to teach people about working in agriculture and growing their own produce. The program will serve about 200 individuals in the community who are housing insecure.
Weiss' new schedule doesn't sound much like a restful retirement, but for someone with her energy and drive, an empty schedule just isn't an option. She loves the kitchen too much. I couldn't help but ask what her favorite dish to make is. She says it's moussaka: a Greek dish with layered grilled eggplant, tomato sauce, spinach, ground lamb, and Bechamel sauce. Something like a Greek lasagna. You can almost smell the garlic and slow cooked vegetables during her mouth-watering description.
After 40 years of professional cooking, I wondered if she still cooked for pleasure in her free time. Her response: "Every single day."
You might also be interested in...