Kindergarten Instructor Honored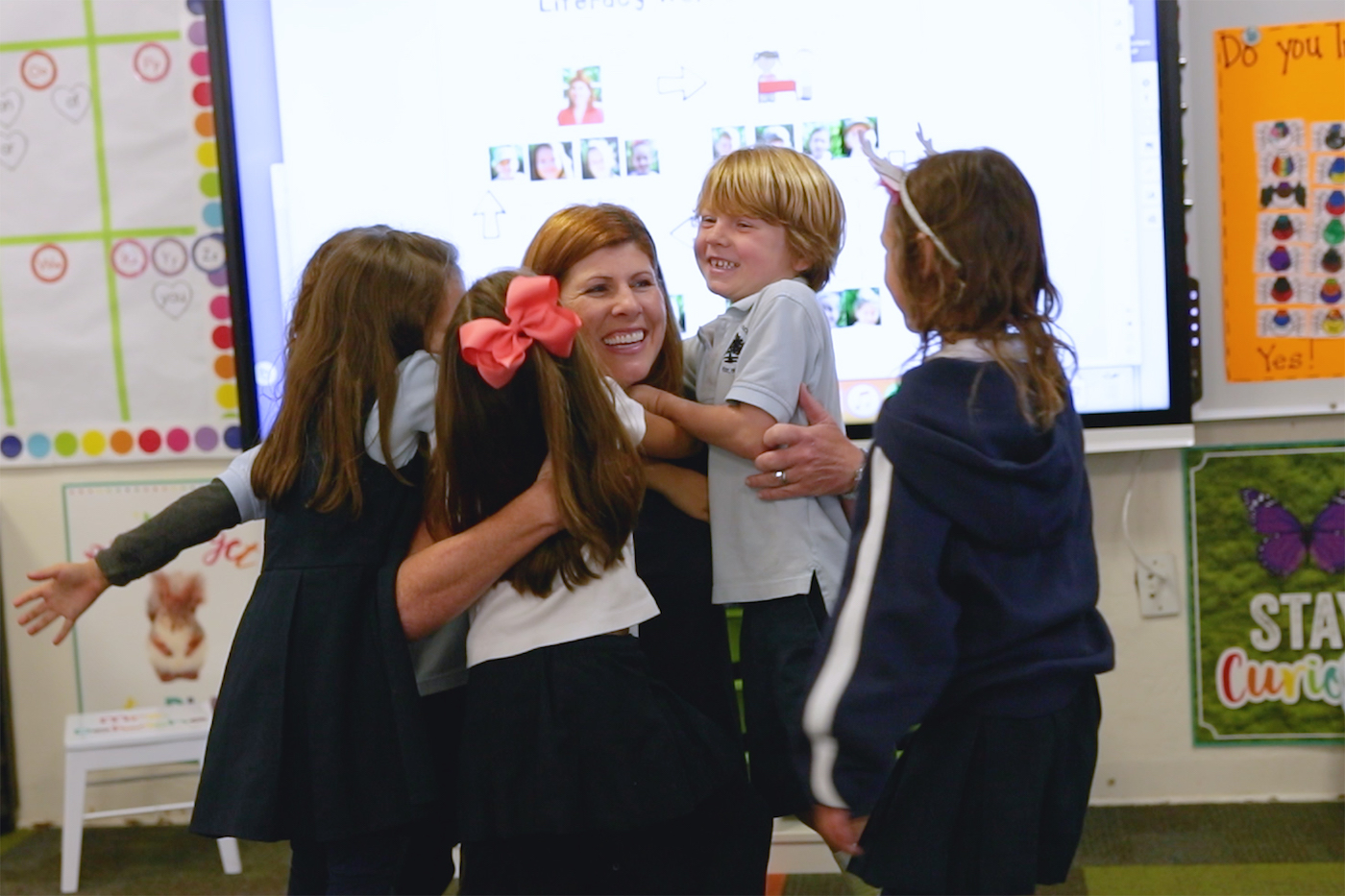 "Creative. Passionate. Dedicated." These are the words most frequently used to describe Laguna Blanca's Kindergarten Instructor and 2020 Faculty Excellence Award winner, Mieke Delwiche. Since 2009, Delwiche has ushered in scores of youngsters to Laguna while opening their hearts and minds to a love of learning.
Always holding herself to the highest expectations, Delwiche has the enviable ability to offer an integrated, thematic curriculum that balances rigor with engagement. "Through a range of activities that spark wonder, she encourages her students to explore, inquire, and imagine," says colleague and Second Grade Instructor Mrs. Vance.
Perhaps the most rewarding praise comes from First Grade Instructor Elyse Vanetti, who considers herself lucky to be the recipient of students taught by Delwiche. "Mieke's students enter my classroom with a strong foundation in reading, writing, and mathematical skills," explains Vanetti. "They are already reading, which is not the norm for beginning first graders."
The success of Delwiche's students speaks to her many creative and engaging teaching styles. She is known on campus as the "master of differentiation," making lessons accessible for all. Gifted in identifying what each student needs in a lesson, she creates activities tailored to those individual needs. According to her colleagues, it's not unusual to walk into her classroom and find six differentiated centers where students are working interactively on concepts with the support they need to stretch their learning. The extra care and attention Delwiche puts into her classroom space provides a valuable immersive environment for young learners.
In addition to guiding her kindergartners, Delwiche is a natural leader and is highly regarded by her peers for her nearly 20 years of teaching expertise. This was especially apparent this year when Laguna made the quick shift to remote learning in March. Her leadership as a certified Seesaw Ambassador was instrumental in keeping the learning going without interruption. She quickly became the go-to person for many as she continued to eagerly share and implement technology tips and tutorials that eased the minds of staff members and families as they moved to successful online learning.
Kindergarten is a special milestone year, for both children and parents. As an expert blogger and vlogger, Delwiche keeps parents well-informed with exactly what's happening in the classroom. Parents can regularly see their kindergartener in action with her daily blog posts. This strong parent-teacher connection is so important and appreciated by Delwiche's kindergarten parents.
Native to Carpinteria, Delwiche pursued a bilingual teaching credential at the University of San Diego before returning home and teaching for five years in a bilingual classroom at Canalino Elementary School. During that time, she earned her Master's in Education from Cal Lutheran University with an emphasis in teaching reading. Mieke and her husband, John, have four children, and she has served as the beloved kindergarten teacher for her three youngest children.
The Laguna Blanca School Faculty Excellence Award recognizes recipients – nominated by their peers – for their demonstrated excellence in teaching and their dedication to the school and its students. Thanks to an endowment from alumni parents Steven and Marilyn Gutsche, recipients receive a cash award and a $3,000 stipend for travel, workshops, equipment, and teaching materials.
For information about Laguna Blanca's programs, contact 805-687-2461 or visit www.lagunablanca.org.
You might also be interested in...