Gen X'ers NEXT Tech: Windows That Power Buildings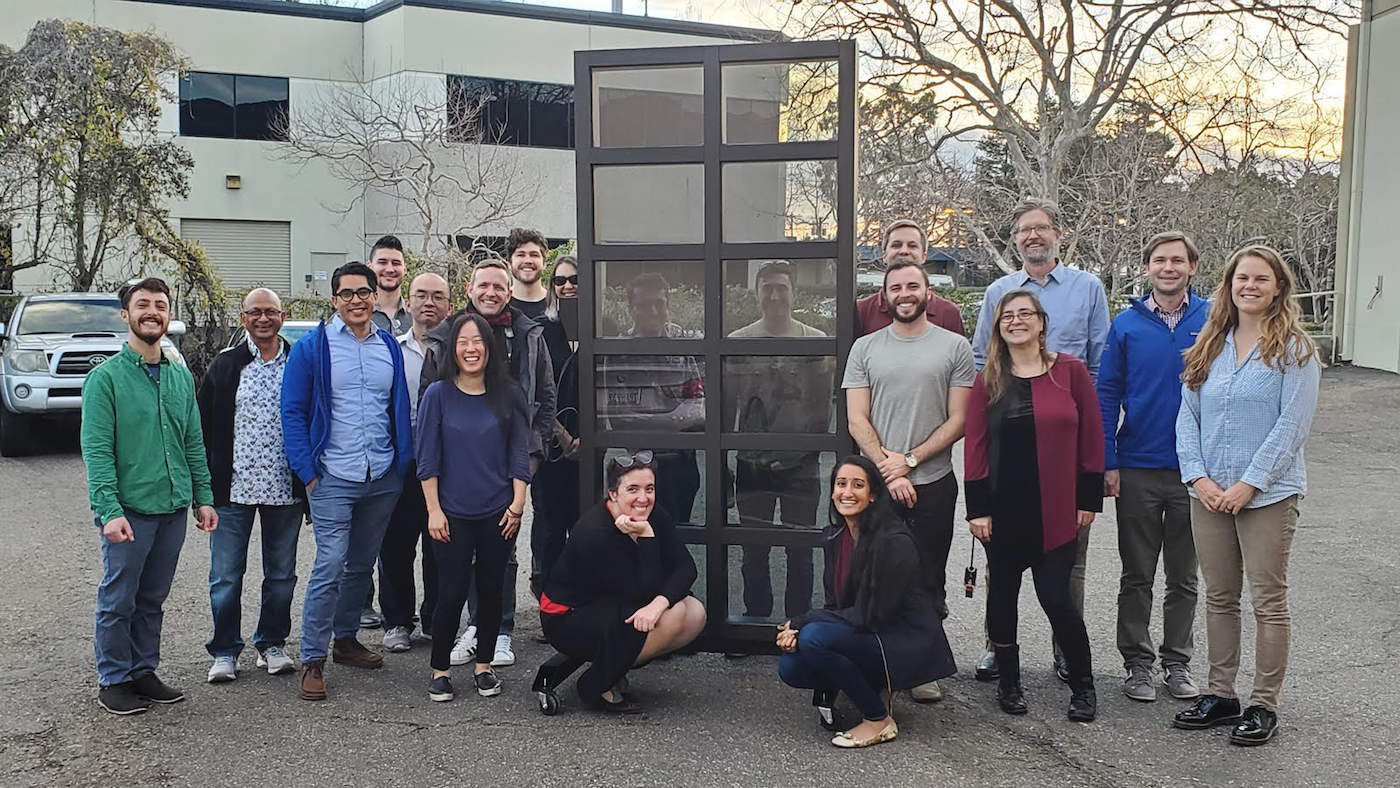 Our town's innovative business, Next Energy Technologies Inc. (NEXT), a solar technology company with the motto "Windows Power Buildings" is co-founded by Gen-X'ers Corey Hoven PhD, Chief Technology Officer, from Montana and Daniel Emmett CEO from Carpinteria and a Cate School graduate. It was Corey's research and studies in Materials Science, organic photovoltaics, with a dose of Anthropology studies on the barriers to sustainable renewable energy, where his research team won the UCSB 2010 New Venture Competition that became NEXT in 2011, and prompted a meeting with Daniel. An early investor and a long time NEXT Board member is Montecito resident, Jim Dehlsen, former head and founder of Clipper Windpower.
NEXT won the 2019 Central Coast Innovation Award for Most Disruptive Technology, at the Four Seasons Biltmore Coral Casino Montecito, presented by The Pacific Coast Business Times in collaboration with UC Santa Barbara Office of Technology & Industry Alliances. Other awards include the Wells Fargo Innovation Incubator Award, the Municipal Green Building Conference Sustainable Cities Tech Challenge Award, the Hanely Wood HIVE 50 Award, the South Coast Business & Technology Awards Rising Star Award 2019, and a $2,500,000 award from the U.S. Department of Energy's SunShot Initiative Technology to Market funding program
(T2M3) to accelerate the research and development of next generation solar power technologies.
Diving into a phone and e-interview with Daniel, Corey, and Jeff Horowitz, Director of Business Development and Partnerships:
Q. Corey, what was your core inspiration to research organic light emitting diodes and photovoltaics in terms of device design, and overall renewable energy?
A. I've been passionate about renewable energy ever since I was a kid. I grew up in Missoula, Montana. In grade school I built a scale model of my grandfather's wave energy system he designed before he passed away including a 300-gallon water tank to test it. I earned my B.S. in Physics in 2005, focusing on renewable energy technology and identifying organic solar as the research area I wanted to pursue, and a B.S. in Anthropology at the same time, focusing on barriers to sustainable energy development, at Southern Oregon University. I came to the UCSB materials department to pursue my PhD because that was the best place to make progress on organic solar. It didn't hurt that it was also the best (and top ranked) Materials Department in the world.
The world urgently needs solutions to global warming and this one is a game changer. Buildings consume 40% of the world's energy. Organic semiconductors were invented at UCSB by Alan Heeger, which has some amazing properties including the unique ability to fabricate photovoltaics that are transparent to the human eye. I went to graduate school at UCSB to study those semiconductors because I believed in the promise they held. We had a lot of work we had to accomplish, but we are finally extremely close to production. However, I am really just one piece of an absolutely amazing technical team that is equally as passionate about this technology and fighting climate change as I am.
Daniel, talk about your pursuit of renewable energy and partnering with Corey?
Growing up on the beach and in the water in Carpinteria helped forge a strong connection to the natural environment for me, and drove my studies at the intersection of environment and economics at UC Santa Cruz and Stanford and ultimately, my whole career. My work has been focused on driving practical and innovative solutions to climate change. Whether in a policy or advocacy role at non-profits, like Environment Now Foundation or Energy Independence Now, working to shape policy to drive investment and adoption of new sustainable technologies, or in an operational role implementing these solutions for clients while at Innovo Energy Solutions or with a portfolio of commercial buildings in Los Angeles. I volunteer on the Boards of the Environmental Defense Center in Santa Barbara and the UCLA Law Institute on Climate Change and the Environment. My belief is that so much critical work and systemic change still needs to occur to protect our natural environment both on the Central Coast and in the much broader fight against climate change.
For me, NEXT Energy is truly the culmination of years of work at the intersection of energy and environment. Empowering windows and glass facades to produce onsite renewable energy for buildings is such an elegant and compelling way to make the built environment part of the climate solution. I was lucky enough to meet Corey just as he was working to spin the technology out of UC Santa Barbara's #1 Materials Department. We were introduced by a family friend, Michael Crooke, the former CEO of Patagonia, who was aware of my work on energy and buildings. Michael had heard about Corey's groundbreaking work and his winning idea coming out of the Technology Management Program. It's been a great match, and we've worked exceptionally well together since the company's inception.
Where are the materials sourced and manufactured?
We source most of our materials from third-party chemical suppliers. Our proprietary semiconducting materials are synthesized at our facilities in Santa Barbara and we are manufacturing our prototype windows here as well.
Aesthetics, economy, and renewable energy?
NEXT's invisible solar technology is seamlessly integrated into windows and glass facades, allowing buildings to power themselves with clean, cost-effective, solar energy solution, thereby reducing their carbon footprint and making buildings resilient and energy independent. Our technology is based on organic semiconductors, which have the unique ability to absorb infrared light, but have increased transmission in the visible spectra. This is not something possible with conventional photovoltaics and allows significant energy generation with little to no aesthetic impact to the window.
Sales and distribution date and cost?
We anticipate ready for a sales and distribution date in 2022 (full production). Smaller scale production (pilot) in the second half of 2021. By 2030 California Efficiency Strategic Energy Plan includes 100% of new commercial buildings will be designed to zero net energy standards. An estimate with NEXT windows is producing up to 60% of the building's energy load. This dual use of the window makes our solar technology extremely cost competitive.
Is this projected for residential?
NEXT is primarily focused on the commercial building sector due to the enormous market opportunity and environmental impact. That said, there are applications for our technology in the residential market for smart window applications that can benefit from the same core technology we've developed for buildings. For example, our transparent solar coatings could be printed directly onto residential window glass to provide onboard power for (smart) windows in your home that have some sort of built-in functionality (e.g. IoT sensors, dynamic tinting, or automatic open and close).
Is this U.S. based sales only?
We plan to roll out globally. Our business model is to sell our technology, materials, and coating services to glass manufacturers and window fabricators through license agreements.
What's next for NEXT, in one year, five years, and by 2030?
We are laser-focused this year on passing reliability and industry certification tests, and demonstrating pilot manufacturing with our supply chain partners. We're also looking to close another round of financing from a combination of corporate strategics, venture firms, family offices, real estate owners, and developer. In a few years we anticipate being in full-scale production with our U.S. fabrication partner and in a position to commercialize with top window manufacturers and in coordination with leading construction, glazing partners, and architecture and development customers. In addition, we are aware of "bird safe" windows in commercial buildings and are tracking the progress of it so when it is ready to implement we will test how it fits into our windows.
411: https://www.nextenergytech.com
You might also be interested in...