An Homage of Fallen Trees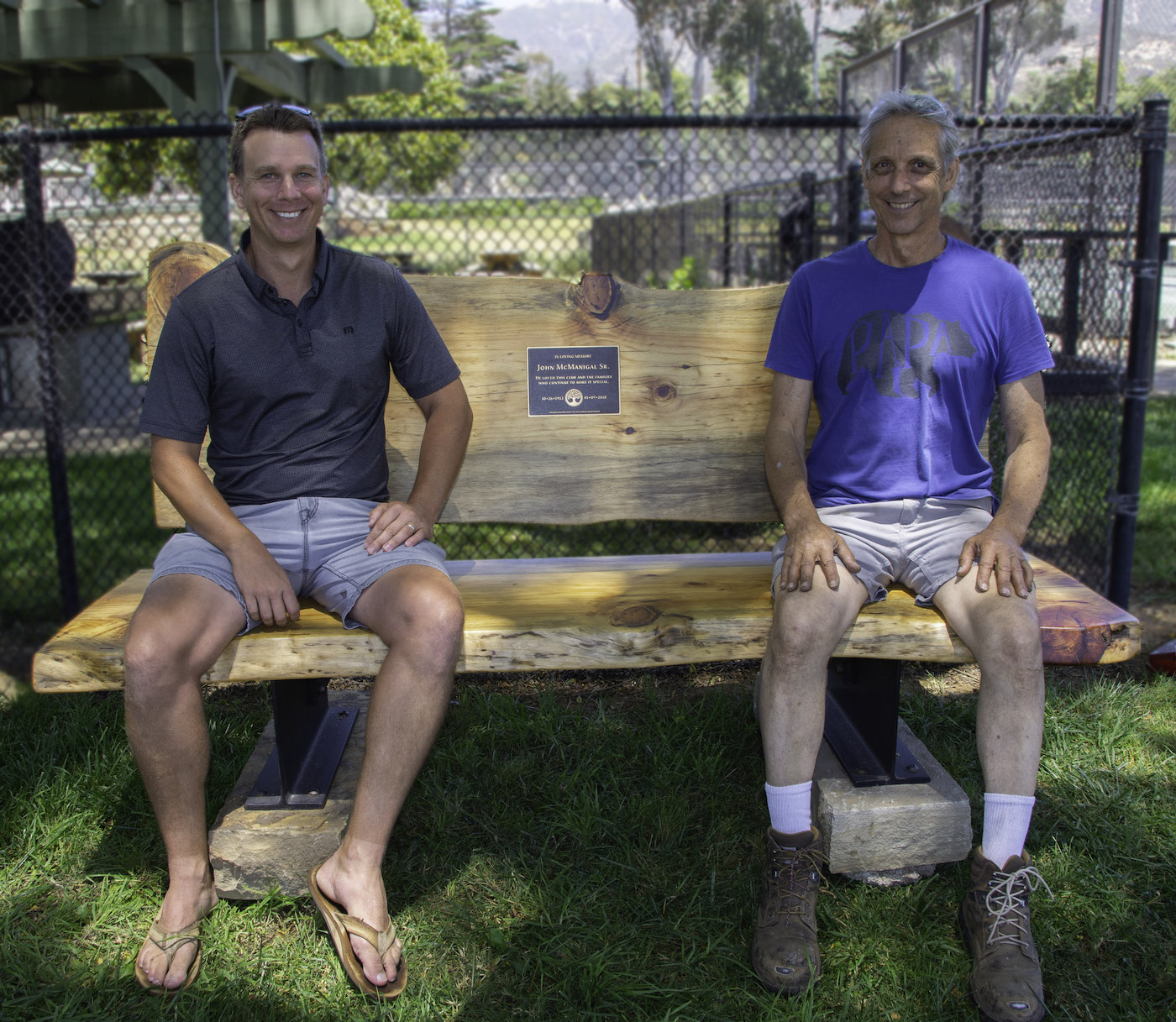 One of them is sits in front of the Montecito Public Library. Another can be found on the grounds of the Knowlwood Tennis Club. Two are located next to the Boy Scout building in Upper Manning Park. Several are scattered along different trails in Montecito's Ennisbrook and Casa Dorinda open spaces, and all of them are made from trees that were salvaged from the debris flows that devastated Montecito on January 9, 2018. An ongoing project of public art and remembrance by local craftsman David Moseley, they are memorial benches made in memory of victims of the disaster. A longtime Montecito resident who grew up near Romero Canyon and attended Montecito Union School, he isn't necessarily comfortable with publicity and so tends to limit his words. "I've been milling lumber for about twenty years," he said simply.
Among Moseley's creations: the wood tables and bars at Casa Blanca restaurant on State Street and a four-inch-thick 20-foot wooden table at the Montecito Club. Moseley first got the idea for making memorial benches during a conversation about a year ago with the Bucket Brigade's Abe Powell. "I've known Abe for many decades, and am good friends with his family," Moseley said. "We've known each other since kindergarten. Abe mentioned the idea to me and I started playing around with some different designs and it went from there."
According to Powell, the idea first arose when he and other Bucket Brigade members were digging through the mud and debris that inundated Montecito in the days after the tragedy. "There were all these trees that came down and the creeks were full of them. They were beautiful and people were talking about how we should use them for some kind of memorial," he continued. "We thought maybe we could pull them out of there and make them into some nice benches."
With that consensus, Powell immediately thought of Moseley and his craftmanship. "David is the son of a carpenter who was the son of a cabinet maker," Powell said. "He grew up steeped in woodwork and at some point realized that with the wind blowing over these old trees or them having to be cut down, they were going to be hauled away. Instead, he figured he could make them into something beautiful."
So far, Moseley has made eight benches for victims of the debris flow, each one bearing a memorial plaque. The pair outside the Boy Scout building are for Dave and Jack Cantin, in honor of their service to Montecito's legendary Troop 33. The bench in front of the library is dedicated to Joseph Bleckel, while the Knowlwood bench is named for John McManigal. On the bank of the San Ysidro Creek inside Ennisbrook Open Space, you'll find a bench for Rebecca Riskin, and if you hike the Peter Bakewell trail, you'll discover benches for both Morgan and Sawyer Corey as well as James and Alice Mitchell.
Moseley agreed to craft each bench only after the Bucket Brigade contacted each family about the project and received their permission to include their lost loved one. "The Bucket Brigade founders thought it would be nice if there were beautiful benches throughout the community to help remember the friends and neighbors we lost on 1/9," Powell said. "We hope to build benches for everyone, but it is up to the survivors. It's still hard for people. We've talked to some folks and they say they'll think about it, and a year goes by, and they still don't know."
You might also be interested in...