Class of 2020, the Quarantine Class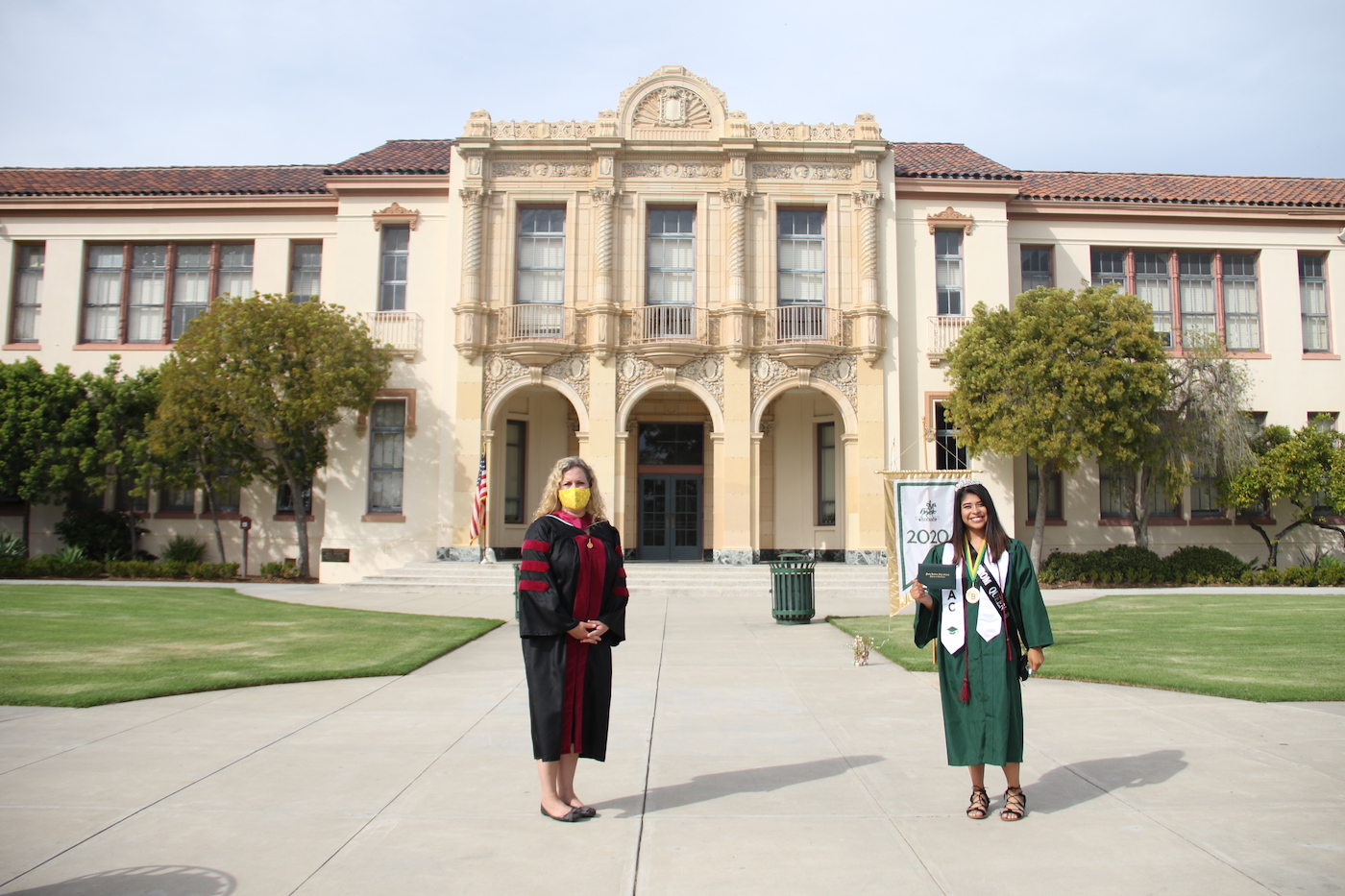 As we mark the end of the 2019/2020 school year and head into summer break, we want to honor the graduates of the Class of 2020, all of whom celebrated their commencements without the normal pomp and circumstance of a traditional graduation ceremony. Instead, our local high schools celebrated their seniors in unique ways: from drive-by graduation ceremonies to socially-distanced celebrations, marking the end of the school year, quarantine style!
Congrats to the Class of 2020!
Santa Barbara High School
SBHS honored its graduating Class of 2020 by hosting a drive-thru car parade; students and families drove through campus in their olive and gold decorated cars while they were cheered on by their teachers and staff. Graduates made a pit stop in front of the historic building to receive their diploma by their principal, Elise Simmons.
"Finding the right way to celebrate and honor our Class of 2020 was important to myself and our entire staff," Simmons said. "Not only because our graduates deserve the recognition, but our staff needed the chance to say their goodbyes." Staff worked hard to create a video honoring the graduates, and came together last week to cheer on students getting their diplomas.
"We can't wait to come together for a traditional ceremony in Peabody Stadium when we are allowed to. I am very proud of the accomplishments, strength, and positivity that the Class of 2020 has shown these past four years," Simmons said.
The school graduated 505 seniors this year.
San Marcos High School
SMHS had 439 graduates this year, and administrators planned several celebrations to honor the Class of 2020. On June 1, seniors were celebrated by teachers and staff as they drove into campus in a parade; they also received a personalized yard sign and a Class of 2020 flag to help celebrate, which were donated by the PTSA.
Two days later the school held a drive-in Graduation Ceremony; cars were lined up in the three different school parking lots with six feet between the sides of the cars. The ceremony was live streamed through Zoom; families in cars outside watched the livestream through various devices. There were three student speakers, a speech by principal Dr. Kip Glazer, and seven alumni speakers who wanted to give their best advice to the Class of 2020. The alumni speakers were: Dr. Robert Orr (1982), former Assistant Secretary-General of the United Nations; Cady Huffman (1982), Tony-award winning actress; Oscar Gutierrez (2002) and Alejandra Gutierrez (2001), both Santa Barbara City council persons; Todd Rogers (1991), Olympic gold medal winner; Alex Mack (2004), starting center of the Atlanta Falcons and NFL all decade team; Anthony Edwards (1980), co-star of the movie Top Gun, star of TV show ER, and winner of multi Emmy and Screen Actor Guild awards. The celebration ended with a slideshow of all the graduates' pictures and names.
On June 8-10, graduates were able to walk across the stage at the school's Greek Theater and have their name announced. Dr. Glazer and other district officials were there to help celebrate the seniors, and families were able to be there to take pictures and watch their student walk.
Dr. Glazer stood on stage (with social distancing) for 15 hours over the three days to honor the seniors as they were announced. "I want to thank the Class of 2020 for their kindness. Many seniors were concerned about me and how I was doing as the first-year Principal despite all their losses. They taught me how to be a Royal with a fierce Royal Spirit of caring for one another. I am so grateful to them," Dr. Glazer said.
Dos Pueblos High School
DPHS held a parade through campus that led out to the student parking lot where there was a drive-in style graduation. Students and families decorated their cars and drove through a parade of all the DPHS teachers and staff. After the parade, all the cars gathered in the student lot where a ceremony featuring student speakers was projected onto the side of the school's performing arts center. "We set up a stage so our 460 graduates could have their moment of walking across the stage and hearing their names called as they were projected on the big screens," said principal Bill Woodard, who called the graduating students "resilient young adults."
The environment was casual and festive, with lots of horn honking coming from the crowd. "We also had a couple of surprise shout outs from performing artists Katy Perry and Jack Johnson, and a shout out from Class of 2008 Major League All Star Catcher James McCann," Woodard said.
"The graduation ceremony itself was truly inspirational and therapeutic for our entire school community but especially our Class of 2020 graduates. It wasn't your typical ceremony but in many ways was much more festive and special. So glad we found a way to pull it off as it was a huge undertaking."
The DPHS Foundation is also creating a tile mural to commemorate the Class of 2020.
Bishop Diego High School
Bishop Diego High School held a virtual graduation ceremony for its 53 graduates in the Class of 2020.
"It has been said that it is during times of crisis that we see the selflessness of humanity become the norm. I have to say that our Bishop Diego community has exemplified this sentiment in the manner in which, since Day 1 of the COVID-19 pandemic, so many have come forward and inquired, 'How can I help?' While the last ten weeks have felt very different, the love and attention to detail that has guided the efforts to keep teaching and learning in place have exceeded expectations," said Head of School Karen Regan in her closing remarks at the graduation ceremony. "The number of people who came together to ensure the proper celebration and recognition of the Class of 2020 is heartwarming."
Regan reports that the Class of 2020 received admission to 115 colleges and universities, with over $5.6 million in merit and athletic scholarships, $31k of that being awarded right here from our local Santa Barbara community. The class fulfilled over 11,500 hours in local community service.
To watch the virtual ceremony, visit www.bishopdiego.org/explore/news/359-graduation-2020.
Laguna Blanca Upper School
Laguna Blanca held a senior car parade for its Class of 2020 on June 10. The 48 grads wore their caps and gowns, decorated their cars, and rode with their families around the Rusack Parking Plaza (next to Merovick Gymnasium) while teachers, staff, and additional family members and schoolmates cheered them on from around the parking lot.
The lively graduates had fun with the parade, with some sitting in the back of pickups or riding in vintage convertibles, some of which overheated! Dean of Student Life and 2002 Laguna alumnus Blake Dorfman served as emcee (as the cars tuned into 96.9 FM), giving everyone the opportunity to listen to their classmates' accomplishments as they were handed their diplomas. Gloved and masked, Head of School Rob Hereford handed each student their diploma through the car window, before the grad hopped out of the car for a quick socially distanced portrait holding his/her diploma. An official in-person commencement ceremony is planned for July 31.
"Our seniors are to be commended for holding up so well and actually thriving and reimagining projects, programs, and events under such trying circumstances this spring. This is certainly not the senior experience we wanted for them, but we are excited to continue the celebration on July 31 at our official commencement ceremony. We also hope our grads will return to campus and visit us in September when we reopen," said Hereford.
You might also be interested in...