Coast Village Road's New Moment in the Sun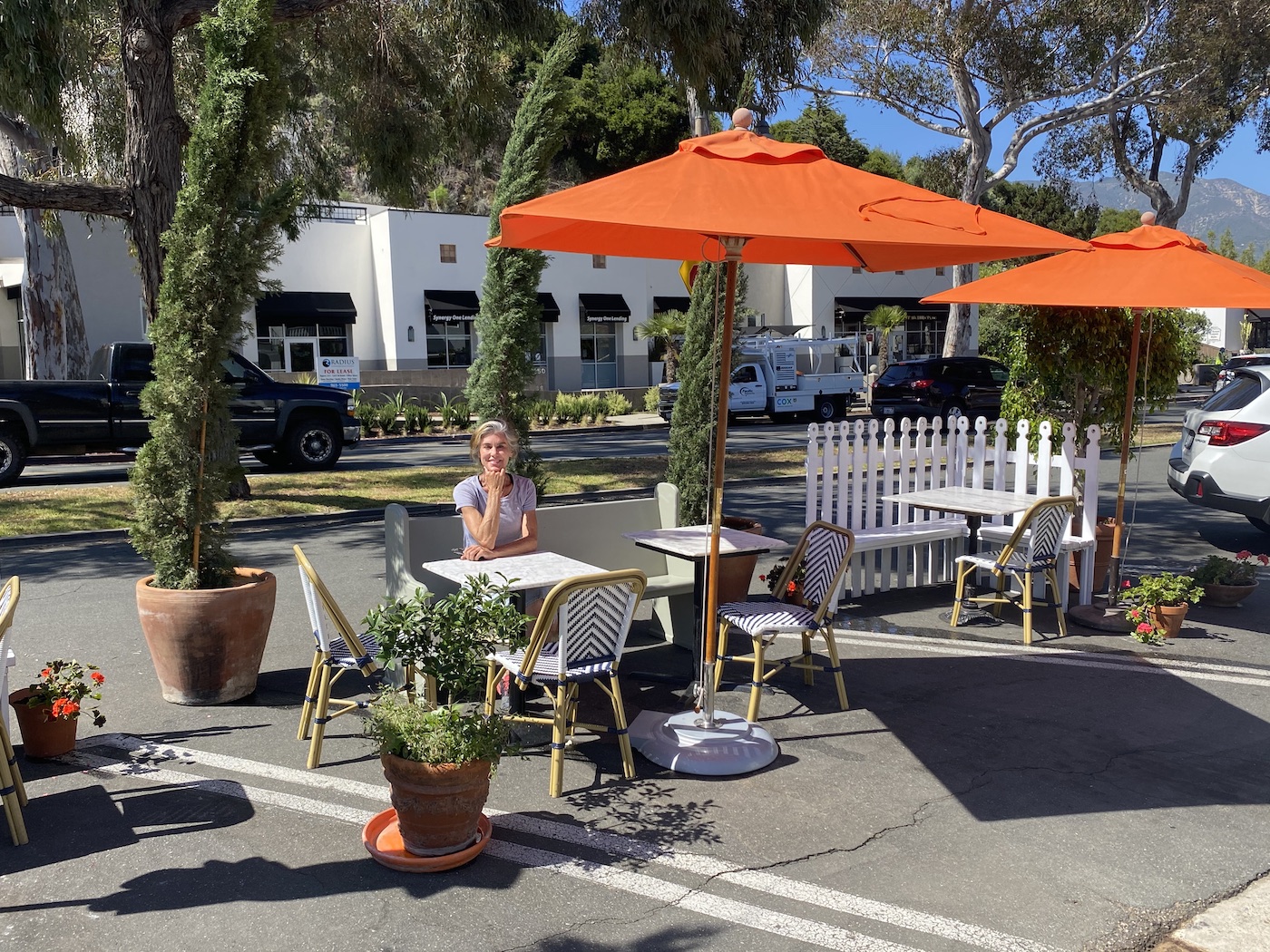 Montecito may oddly benefit from California's post-COVID grand reopening. Coast Village Road may be one of the few dining, shopping, and hotel areas that is elegant, energetic, and well designed for the next new normal. You know the Pandemic New Normal – that's the normal after the Debris Flow New Normal and that other new normal after the Thomas Fire. Let's call it New Normal 3.0. If anyone knows how to adjust to a new normal, it's our nimble business owners along Coast Village Road.
From an engineering perspective, the design and flow of Coast Village Road are almost custom tailored to the new ways we will live, eat, and feel safe in this ever-evolving moment. Given the persistence of the Coronavirus Pandemic and the economic fallout across the country, both Coast Village Road and the Upper Village are extremely well positioned as some of the first places visitors will want to go if they are venturing up from Los Angeles to the south and down from San Francisco to the north.
Balancing tranquility and prosperity are front of mind as Montecitans manage their way through the third disaster to strike this area in as many years.
Poised to Survive the Pandemic
Montecito, nestled impeccably halfway between the mountains and the sea, and Coast Village Road (CVR) resting just below, beneath a canopy of trees, offer top-level restaurants and one-of-a-kind retail. And with a comfortable walkable scale, both CVR and the Upper Village are already naturally suited for social distancing. With a few added Tivoli lights, sidewalk dining, and reduced traffic at night, it's easy to imagine a dreamy esplanade that would rival any fun international leisure destination.
Beneath the surface, Coast Village Road has the makings of an unstoppable retail engine. Run by savvy, committed local restaurateurs and a diversified group of shop owners. Fed by five strong nearby hotels, its proximity to some of the best beaches in Southern California are a huge draw.
Independently Owned and Operated
Another asset CVR has is a thoughtful, assertive group of independently owned and operated local establishments that comprise the Coast Village Business Association (CVA) that, even with their differences, are doing what they need to do to survive. From K Frank to Allora by Laura, from Lucky's to Los Arroyos, these are smart merchandisers and restaurateurs who are responsive to their community and to whom Montecito is loyal in kind.
The Montecito Journal's recent Cash Mob Fundraiser was a great indication of the regard the community has for Coast Village Road and Upper Montecito. Three hundred and twelve orders were placed, one hundred and sixty-eight from Montecito, thirty from outside Santa Barbara and the rest from Summerland, Carpinteria, and Goleta. Virtually every store with a storefront was represented. Montecito wasn't designed for a pandemic, but its tightknit and loyal community may be a model for how restaurants, retail and second floor businesses survive one.
"Coast Village has everything," remarked Councilwoman Kristen Sneddon, who represents Coast Village Road as part of her Santa Barbara District. "It has sufficient traffic, offset parking, interesting mixed use. It has a grocery store. That's one of downtown's problems. It has a strong association and that could also be a model for State Street. It's great to focus in on Coast Village."
The Alarms are Ringing
Make no mistake, however, alarms are ringing. "Economic free fall," is how Tom Steyer described California's current economic condition to The New York Times this week. Tom's now head of the California Economic Recovery Task Force. In some ways, it's worse than that. Free fall connotes a state of cartoon-like forever falling. But it's not the fall that kills you, it's the sudden stop. And there are rocks and dangerous debris along the way everywhere. We are living in an artificial limbo where the effects of the shutdown are on the near horizon. And the compounding consequences of a wide range of "tipping points" lay ahead. Will schools reopen? What will the city and state cutbacks be? Will there be travel? And what will be the compounding effects of those events? Coast Village businesses will have to navigate these factors in one way or another.
The Trickle-Down Reopening
In truth this is a Trickle-Down Reopening. No matter what the State of California says, no matter what Santa Barbara County says, no matter what the City of Santa Barbara says, the Great Reopening doesn't mean much if both customers and shop staffs don't feel safe.
Customers can come and go as they please and even choose not to enter a store or restaurant if they don't feel comfortable. Waiters and shop clerks don't have that option. Many in the public have already turned a blind eye to mask wearing and other precautions, rationalizing their choices by their own perceived lack of vulnerability or alternative medical theories or even just to show their bias about personal liberties. An inconsiderate customer can wreak havoc on a well thought out reopening plan. For those who feel like it, google Typhoid Mary.
"We're in the sixth phase of this disaster," Sharon Byrne, Executive Director of the Montecito Association, commented. "This is the phase that moves from 'I'm very fearful' to 'I'm mad.' Where it becomes every man for themselves which is where everybody's making up their own rules." One of the leaders of Montecito's recovery during the aftermath of the 2018 Debris Flow, Ms Byrne has learned a thing or two about handling a disaster.
Business owners on Coast Village Road, and owners everywhere, remain responsible for workers and clientele. If both employees and clientele aren't safe there is literally no way to continue in business. An owner also has to look at the harsh economics of all those reopening requirements. Depending on the industry, this can mean new expenses for disposable menus, reconsidered packaging, to-go boxes, and those endless purple gloves and face masks, that are already overflowing our landfills, all while operating at 50% capacity or less.
It's with this background understanding that each member of the Coast Village Road Association approaches reopening. A unique factor in Montecito, and why Coast Village Road's reopening is so important, is the potential favorability of the conditions and the sophistication and focus of the owners involved. Hope, intelligence and grit are all absolute requirements.
Everyone has their limits for tolerating doom and gloom, but to be clear this isn't the calm before the storm. In all likelihood these are the last moments to prepare before the approaching whirlwind.
Born in the 'Sixties
Coast Village Road was spawned in the '60s when two entrepreneurs, Mike Towbes and Sherrill Broudy, turned a piece of Old Coast Highway into the hugely prosperous center of the town of Montecito. Settled by the Chumash for over 10,000 years, Montecito was fortuitously ignored by the Spanish. They left the road to the bandits and highwaymen who hid in the oak groves and canyons. As the Italian stonecutters began practicing their trade in the early 1900s, the wealthy health-seeking tourists from the East began buying land and building mansions, attracted to our highly desirable weather and hot springs. Thus, the uniquely blessed enclave of Montecito was born.
While most of Montecito is unincorporated and governed by the County, just the Coast Village Road section of Montecito was annexed into Santa Barbara City in 1960 when the area experienced a sewer emergency and the locals wouldn't spring for their own sewage system. As the backflow grew unhealthy and the smell intolerable, the residents and businesses agreed in desperation to join up with Santa Barbara in return for a sewage system. If you're doubtful of the importance of a robust sewer system, drive down to the Malibu Country Mart and take a good whiff. You'll understand how desperate times can trigger desperate measures.
While piggybacking on Santa Barbara's sewer might have seemed like a good choice at the time, today Coast Village Road by many estimates flows not just sewage but over two million dollars of taxes to the City of Santa Barbara and has lost most of its autonomy.
By and large Santa Barbara governs CVR in the same way it does much of Santa Barbara, which has meant typically as a regulator and development inhibitor. Fortunately, as Santa Barbara City management's stifling economic philosophy has come up against the crisis of the pandemic, it has thankfully begun to radically alter to meet the challenge. This bodes well for Coast Village.
A Competitive Reopening for Businesses
It has become clear to everyone in the business community and finally to the City as well that reopening is a competition with other communities, other hospitality, and other retail centers using a reshuffled deck of limitations and possibilities, especially when the goal is to attract commerce. It will take new ideas, innovative thinking, and the guts to change and survive.
"We have to understand we're in a giant competition now with all of the travel dollars for the West Coast because people are not going to fly to Vegas," Bob Ludwick, the President of the Coast Village Association, offered. "They're going to come to Santa Barbara. They're going to come to Santa Monica. They're going to come to Ventura. They're going to come to the beach communities that they can drive to in two to three hours."
Coast Village Road is comprised of approximately fifty-five buildings, more than twenty-five restaurants, as many as seventy retail establishments, and six hundred residents, with a large number of employees and diverse workers from bus boys to title insurers. Everyone's livelihood is at stake in the massive pivot to reopen. The urgency for change depends on how alarming the crisis is from your point of view.
"How close is your building to the fire, right?" begins Trey Pinner, President of Santa Barbara Property Group, who is also the chairman of the City of Santa Barbara Downtown Parking Committee and Vice President of the Coast Village Business Association. "If your building's on fire, the alarm seems really big. If you're two blocks away, it doesn't seem so big. Theoretically this fire is going off everywhere and we should all be equally alarmed. But unfortunately, everyone has different impacts. If you're a retailer or a restaurant, these are big alarms. And when you take a look at how this affects the City it's going to take a long time to recover because we are so heavily impacted by tourists. So, it is a big alarm."
Changing Paradigms and the Appearance of Parklets
With this many alarms, paradigms change, and a controlled, logical, manageable breaking of old rules can take place.
After the State Street opening, restaurants on Coast Village are already creating "parklets," the new term for adding physically distant gathering space to public streets in the parking lane adjacent to the curb, designed as an extension of the sidewalk in front of a restaurant to increase capacity – demarcated additions, with approved temporary softscape.
"We already did a parklet on Saturday night," reports Alison Hardey jubilantly.Alison is the irrepressible operator of Jeannine's restaurant. Alison temporarily shuttered two of her establishments – the one downtown and the new one in Goleta [now open] to focus on her Montecito flagship. The restaurant is a community touchpoint that has provided comfort with "count-on-able" scones, coffee, and fresh simple food that has reassured Montecito through fires, the debris flow, and now. It's simply unimaginable to think of Montecito without Jeannine's. And clearly Montecito residents agree, as Jeannine's was one of the greatest beneficiaries of the Montecito Journal's Cash Mob.
"Our business benefited twenty to thirty percent by having the parklet," Hardey adds.
"Now that I can space out my tables, I can make it a pleasant experience. We've got to be safe. We've been at this a really long time. We're cognizant of the community. They matter to us, they're our family. I'm telling you, the parklet was the smartest thing we've done. It gave us space. It gave us that social distancing."
But even with the extra space, Allison's calculations are still marginal.
"Thirty percent has to be sit-down and thirty percent has to be to-go," Ms Hardey says, as if the numbers are always in her head. "If you don't hit that you're out. Right now, if I think I can do sixty to seventy percent I'll hang in there, so I've got hope."
The numbers game underlines all her new configurations to save the restaurants that have been a community standard for thirty years since her mother Eleanor founded the bakery.
"Our payroll used to be $200,000 a month. That was for three stores and a bakery. Now we're getting down to $30,000 a month," she explains. But because the restaurant business is seasonal, she has also focused on the near future.
"Try me back in September, because the volume goes down, for everybody, it naturally goes down."
New Ideas and a Sense of Urgency
The Coast Village Association is slated to tackle a host of ideas in meetings this week. They include potentially a greater presence for farmer's markets, family events on weekends in a Montecito version of the Thursday nights in San Luis Obispo that would allow food and alcohol on the side streets and even closing the main boulevard has been discussed.
Other ideas suggest collective operations to benefit multiple enterprises, such as a Coast Village delivery, so restaurants don't have to give up 30% to usurious online delivery services. Alternative people movers such as golf carts or a trolley have been proposed. Such ideas would unite the district around retail, restaurants, and the hotels, to minimize parking and make everything walkable.
Parking Habits and Driving in Transition
Transitioning parking on Coast Village Road remains an issue but the pandemic may hasten adaptation. The old '60s history of the former roadway lingers like a ghost over the area.
"We have 192 parking spaces in the entire district," Bob Ludwick explains. "We just lost two. We're going to lose four more to the Olive Mill roundabout whenever it comes in."
When private parking is counted on the road including access to Coast Village Circle, the number climbs to 300 or more.
"The world of parking is changing," Trey Pinner adds, "I mean everybody wants to be able to pull up in front of their store. It's hard to change people's thoughts on that, but parking is going to change."
Kevin Frank is the focused, soft-spoken owner of K Frank, the men's and women's clothing store that once occupied State Street and moved with great success to Coast Village Road a few years ago. As a retailer he has meaningful concerns about how shops and restaurants share parking. At the same time his approach is collaborative and thoughtful.
"It's a sensitive subject but I'm very supportive of reimagining the manner in which the thoroughfare of Coast Village Road operates," he offered. "We want to create an environment more conducive to outdoor dining as long as it balances the need for easy and convenient parking for every business on the street."
How the road is structured has long been an issue they've approached the city about.
"We've been bugging the city for years to help redesign and reimagine our medians and our traffic flow and our parking situation," he explains. "In the grand scheme of things, we could incorporate more outdoor dining. It would be very cool."
Since reopening this weekend, Frank's business has functioned with social distancing and the usual masks and gloves in ways that are still substantially the same.
"We have plenty of dressing room space and the store is wide open and airy. You can navigate it very simply. It has been fairly easy so far."
Dr. Peter Rupert, the economic expert from UCSB's Economic Forecast Project, has suggested that there is no one-size-fits-all reopening. "We need a scalpel to open up, not a sledgehammer." This is where urban planners and landscape architects come to the fore to make change work for everyone. Fortunately, the Coast Village Association will be addressing redesign in a meeting later this week to reconcile the parking issues and other concerns.
"The subcommittees are meeting to help these businesses function with extra outside areas and accommodate the parking and a safe sidewalk," Trey Pinner said in his role as Chairman of the City of Santa Barbara Downtown Parking Committee. "In our board meeting last Thursday, we came up with a plan to get this going as quickly as possible."
Meanwhile Real Estate in Montecito has Picked Up
One early indicator that Montecito is poised for success coming out of the pandemic is a recent run on real estate. "We are seeing so many people not only just come and look at property, but they're solidifying leases," reports Kelly Mahan Herrick of Berkshire Hathaway. Kelly is also a Montecito Journal contributor. "You could not find a property at the beach to stay in the summer if your life depended on it. COVID has a lot to do with it."
Coast Village Road is certainly a primary attraction. If the retailers and restaurants and second floor service businesses can survive and enhance their street, the area could easily become a beacon for the area, and in many ways a model for future mixed-use. Upper Village is sure to also receive a fair share of the attention as locals and visitors trickle up from points south.
Pivot or Pirouette?
In the grand reopening of this great state, everyone has to decide what's right for them. Safety is the biggest factor. Profitability is another. But for an owner of a restaurant, and to a significant degree a retailer, there's still yet another factor. Magic.
Yes, magic. Why even be in these passion driven businesses if there isn't a way to achieve pre-COVID levels of enjoyment? That is certainly on the mind of Alison Hardey.
"The only way I'm going to keep going is if there's some fun at the end of this road," she adds. "Let's at least make it somewhat magical. All these masks and gloves and wiping down tables, we need to make it more than that."
Ms Hardey clearly did not go into the hospital services business, she went into the business of people, food, talking, music, and lights.
"I love this business and one thing that restaurant people do, we pivot. Well now we need more than that, it's time to pirouette!"
You might also be interested in...