Stepping Down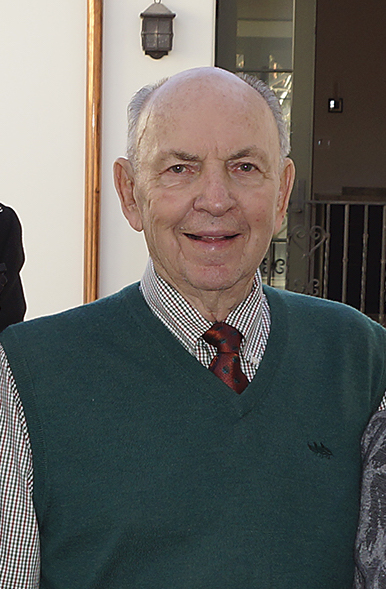 After nearly 40 years of service, Peter Jordano, 85, has retired from the board of directors of Montecito Bank & Trust.
Peter is chairman and CEO of Jordano's, the 105-year-old Santa Barbara grocery distributorship.
"He has been an integral part of our growth to today's nearly $1.8 billion in assets," says Janet Garufis, the bank's CEO.
And, from a personal point of view, I always enjoy seeing Peter, a most affable individual, and his Swedish wife, Gerd, at the myriad charity events we frequently attend.
Keeping it Clean
Santa Barbara's Surf's Up Bath Company, which manufactures sanitizer and bath products, has launched a new FDA compliant alcohol-based hand sanitizer, with ten per cent of the inventory donated to COVID-19 relief.
In conjunction with the launch, 1,000 bottles of hand sanitizer are being donated to the local non-profit One805 in an effort to support COVID-19 relief, with the product being distributed to first responders and frontline providers serving high-risk roles throughout Santa Barbara County.
"We are thrilled to bring this product to market at a time when it is needed most and give back to those protecting our community," says Brooke Hansen, company director. "The support of local purchases has allowed us and our entire community to pay it forward.
"We look forward to future partnerships of this kind as we ramp up manufacturing."
Come Here Often?
The late Hollywood icon Kirk Douglas, who died in February aged 103, was "a flirt to the very end," says his Oscar winning son Michael Douglas, 75.
The former Montecito resident says Kirk, who also had a home in our rarefied enclave, was constantly teasing him and trying to flirt with his Welsh actress wife Catherine Zeta-Jones, 50.
"There wasn't anyone like him," Michael tells the TV show Entertainment Tonight. "There's another generation, that was the great generation, post-World War II… and dad was one of a kind.
"I think he's very happy. I know he takes particular pride – not so much in whatever I worked with and I'm doing with the Motion Picture Television Fund – but I know he loves Catherine and the work that she's doing.
"He always used to tease me. We would call him up and he would be like 'Enough with you, let me talk to your wife.' He was a flirt until the very end."
You might also be interested in...