Rick Caruso on Trump & Newsom Economic Recovery Committees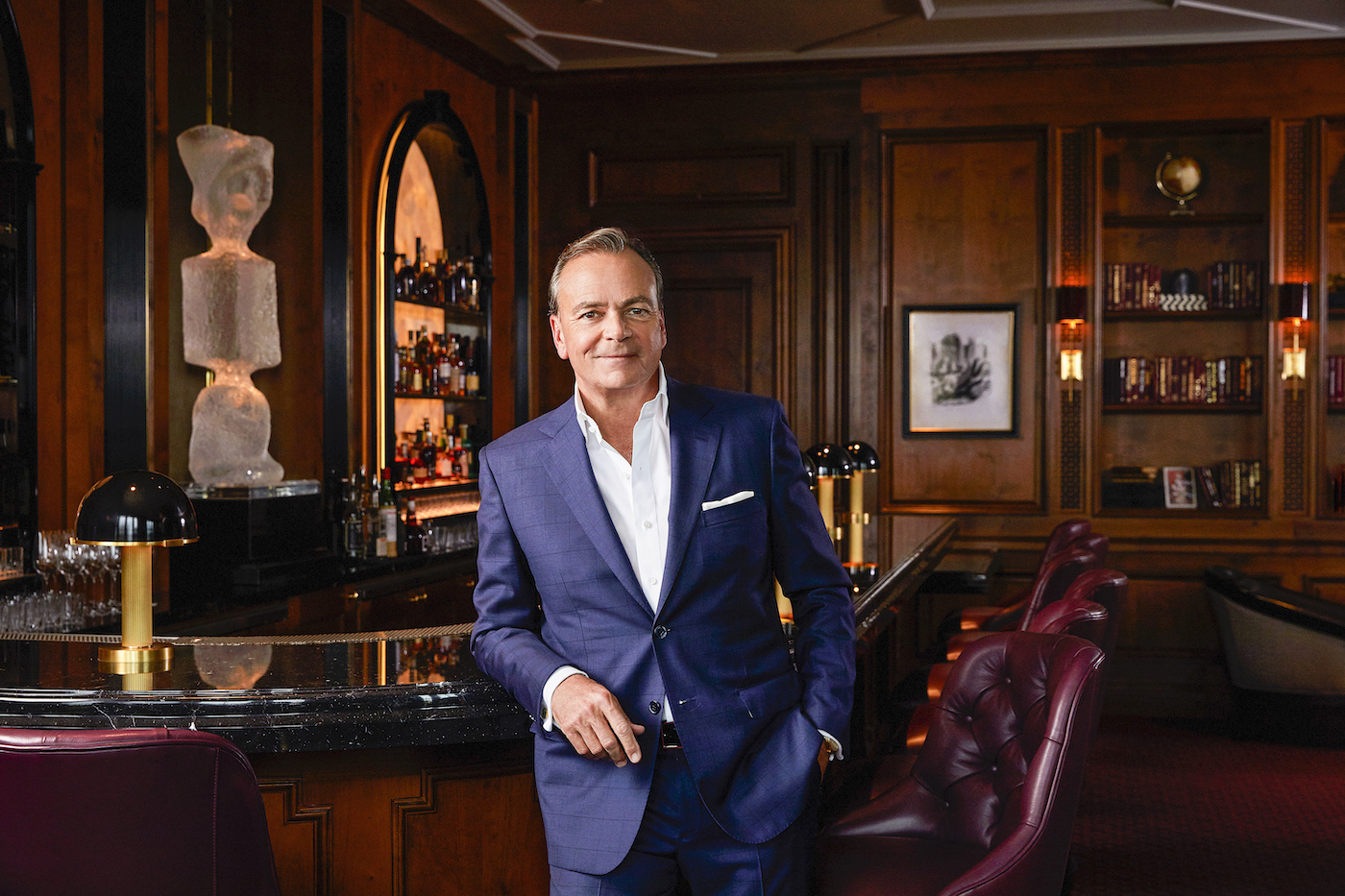 Rick Caruso, Founder and Chief Executive Officer at Caruso, owner/developer of Montecito's luxury resort The Rosewood Miramar Beach, and philanthropist, was appointed on April 14 to U.S. President Donald Trump's Great American Economic Revival Industry Groups Task Force Committee, a task force created to combat the economic impact of the ongoing COVID-19 pandemic. Days later, on April 17, he was appointed to Governor Newsom's Business & Jobs Recovery Task Force, with business and civic leader Tom Steyer as its Chief Advisor and co-chaired by Governor Newsom's Chief of Staff Ann O'Leary. Newsom's task force brings together Californians from a diverse range of the state's economy to develop recommendations for a plan that works for all Californians, with a focus on the regions and communities hardest hit economically by the pandemic.
Caruso brings a rich education and background to these positions. He was president of the Los Angeles Police Commission, a member of the Board of Water and Power Commissioners, and is Chairman of the Board of Trustees at the University of Southern California. Mr. Caruso holds a B.S. from USC and a J.D. from Pepperdine University School of Law in 1983 as a Margaret Martin Block Scholar. In 1991, he launched the Caruso Family Foundation to help students at risk from early childhood through college. Since late March, the Foundation is currently doing work in Montecito and the Los Angeles area to help locals during the COVID-19 lockdown.
Mr. Caruso recently took time from his busy schedule for an e-interview with me about his work with both President Trump and Governor Newsom:
Q. Who is on President Trump's economic revival committee with you?
A. The Great American Economic Revival Industry Groups include over 100 business leaders throughout a vast array of industries from agriculture, financial services, real estate, food & beverage to technology and manufacturing. The group also includes leaders from unions, professional sports, think tanks, and more. The list of executives and thought leaders include Apple's Tim Cook, New England Patriots owner Robert Kraft, hedge fund manager Ken Griffin, Amazon's Jeff Bezos, and former US Secretary of State Condoleezza Rice. (See the 411 for link.)
Are you leading any of the task forces on President Trump's committee?
The White House's newly formed economic advisory group is divided by industry so I am working with my peers in the real estate industry group.
What are the main goals of President Trump's economic revival committee, and in your advisement, which goals can be accomplished and how?
1. This council is a group of bipartisan American leaders who have been tasked with helping the White House chart a course for reopening the economy while ensuring the health and safety of the general public. The steps initially taken – the sequence of protection, emergency funding, and recovery – was essential to keep our populations safe. We must now refocus our efforts on recovery, especially in areas with fewer resources.
2. I believe this crisis is not one that government can solve alone. This requires the will and participation of both private and public sectors through business, the medical community and beyond in order to reopen the economy in a safe and strategic way. We must unify our efforts in a common goal against a shared adversary.
3. We also need to preserve our economy – and the way to do this is through protecting small businesses. In our country, small businesses make up millions of people's livelihoods and they have been most acutely affected by this crisis. The revival of small business retailers needs to be the "ground zero" of our economic regrowth after COVID-19.
Who is on Governor Newsom's Business & Jobs Recovery Task Force with you?
Governor Newsom's Business & Jobs Recovery Task Force includes Apple's Tim Cook, Chan-Zuckerberg Initiative's Priscilla Chan, Salesforce's Marc Benioff, Walt Disney Chairman Bob Iger, and Netflix's Ted Sarandos.
Is Governor Newsom's Business & Jobs Recovery Council divided into various business sector task forces and which one(s) are you involved with?
Groups are not sub-divided by industry (at the state level).
Outline the main goals of Governor Newsom's Business & Jobs Recovery Council, and in your advisement, which goals can be accomplished and how?
1. Millions of Californians are out of jobs right now. The toll on our economy, mental health and our communities are equal in magnitude to the virus' threat to our health and safety. In the coming months, our goal is to bring intelligence from a broad spectrum of industry leaders throughout the public and private sectors to help develop actionable recovery recommendations that take into account those communities hardest hit by this pandemic. Our hope is to leverage the task force's expertise to help rebuild California and provide a model for the rest of the country.
2. Our work on the task force is just beginning, but what I can share with you is my personal perspective on how and where we need to focus. This will be the same perspective I will share on a national level as well with our state, county, and local officials.
3. We need to focus on small business owners for two primary reasons: 1 – they are the most vulnerable when it comes to surviving these economic conditions, and 2 – they are vital to the American economy. Being able to provide small businesses a "head start" program will allow municipalities to monitor the virus more successfully by "following the data," and help us re-open the economy slowly while taking great care to protect the health of the general public.
What businesses locally, and in California, are best suited for moving the country forward toward economic success and what do they need to do it?
We need to keep our focus on small businesses because they are what make up the connective tissue in our communities. One of the things we've learned is that isolation is not a great way to live. We want to be out, but we're going to choose places that enrich us, because we've just had weeks or months of being inside. We may be more selective with our time, but I already see how communities are supporting their local businesses now. They are buying from sources that have greater impact, they are ordering take-out from local restaurants more frequently and I've seen some pretty amazing fundraisers to support people who have experienced loss of business. It's a fundamental part of the American spirit – it's in our DNA, it's who we are – we will be drawn to supporting and championing the individuals who represent the American dream. I hope our policies guide this and help small businesses get back on their feet again.
What is the timeline in your professional opinion at this point, and what factors will change that timeline?
A phased timeline needs to be developed in conjunction with medical experts. These phases will impact different cities and municipalities at different times depending on the diminished numbers of the virus outbreak in a given area as well as whether or not the healthcare system can accommodate the current load of patients. I am a firm believer that we can open the economy in a methodical way that is wholly dependent on data.
Bringing this to Montecito, your business the Rosewood Miramar Beach and other businesses in the area, what is your overview and suggestions for the health of our local economy?
My recommendations for the national and state officials also apply to my businesses. We are preparing to usher in a new era of hospitality. I think right now is the time to innovate and we are working hard to determine what best practices are across all industries and vetting those with health organizations and medical professionals. We want our guests, employees, and tenants to know when we re-open that their health and safety are our top priority. We're in touch with top epidemiologists for their recommendations. We're in touch with our guests and employees to understand their concerns. We are taking a 360 approach to this. The Rosewood Miramar Beach Montecito has a tentative date to reopen May 21, 2020. Our team is diligently working on new initiatives as they relate to the health and safety of our guest experience on property.
And the Caruso Family Foundation's assistance during the lockdown?
The Miramar Food Truck has been serving the Montecito community throughout the COVID-19 crisis. Launched in late March, the #MiramarOnTheMove initiative has visited several locations throughout Santa Barbara and Los Angeles Counties, providing frontline workers and first responders with complimentary hot meals. To date, #MiramarOnTheMove has served over 12,000 meals to essential workers and those in need. Most recently, the food truck visited Los Angeles to provide 600 meals to the Weingart Center, a Skid Row based nonprofit agency that provides homeless individuals with the basic skills necessary to stabilize their lives, secure income, and find permanent housing. In an effort to support our local community, we are also redoubling our efforts with Para Los Niños and Operation Progress so they do not go hungry during this critical time. Because of need, we've also made a commitment to Meals on Wheels. We're supporting LAFD through funding PP&E so they can set up mobile testing stations throughout our city. We have also worked with our tenants at multiple properties to provide meals for first responders. It's been a joy to see how we have come together to serve our most vulnerable populations.
Anything else our readers should know and how can they be involved?
Have faith and know that there is light at the end of the tunnel. This crisis will end and when it does, I know we will emerge with a new perspective, a deeper appreciation for human connection and human contact. I know, in the end, we will retreat some from our digital lives so that we can spend more time with one another, face to face. And that will be a beautiful thing.
411: www.rosewoodhotels.com/en/miramar-beach-montecito
www.caruso.com
www.whitehouse.gov/briefings-statements/president-donald-j-trump-announces-great-american-economic-revival-industry-groups/
www.gov.ca.gov/wp-content/uploads/2020/05/Governors-Task-Force-on-BusinessJobs-Recovery.pdf
You might also be interested in...