Santa Barbara Zoo Hosts "Drive By, Wave Hi" Donation Parade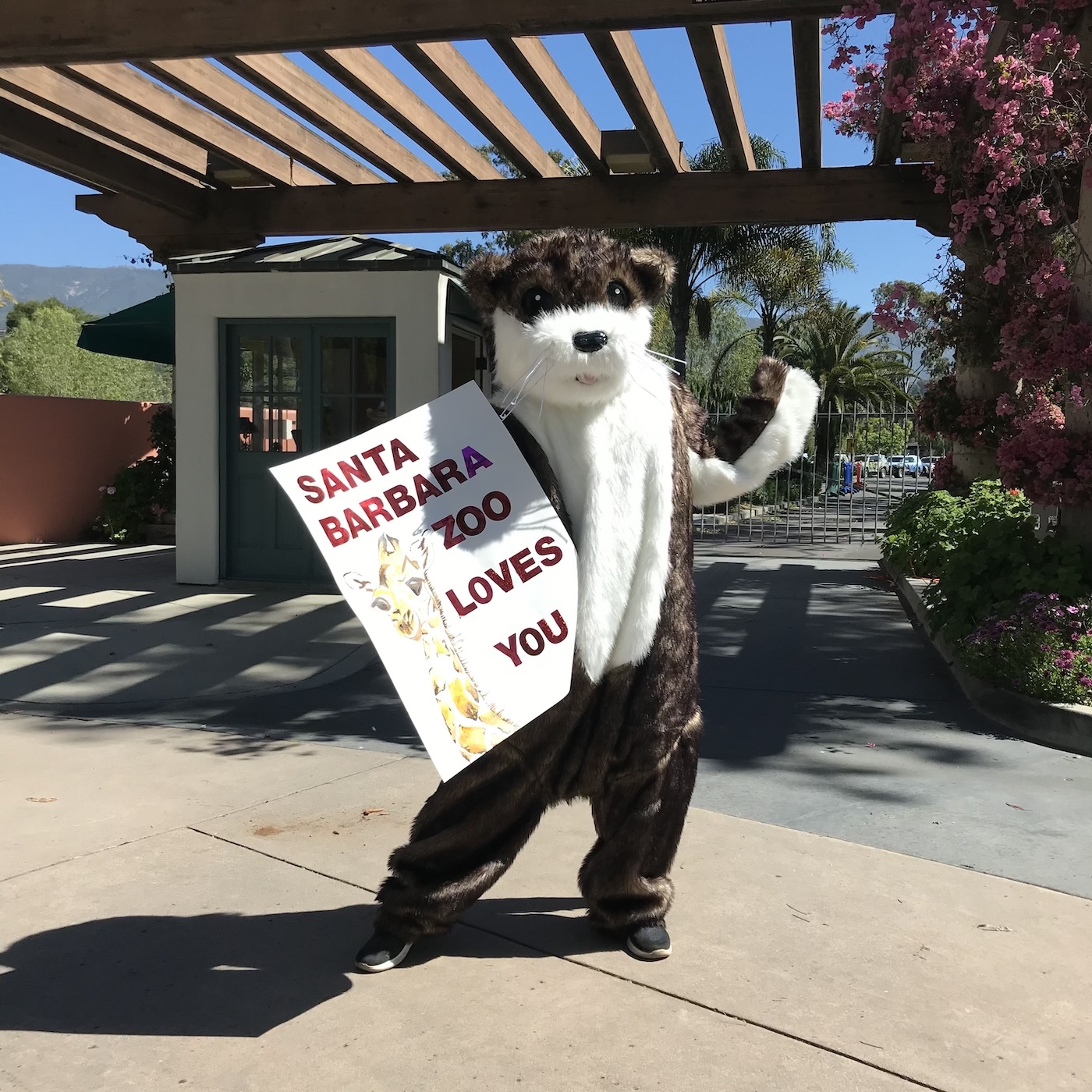 Ever since March 17, the Santa Barbara Zoo has been off limits to the public. That's not surprising, given California's stay-at-home restrictions, but it's a disaster for the Zoo, its employees, and animals. In fact, the 57-year-old institution is facing the most dire financial crisis in its history. For that reason, on Saturday, April 25, Zoo staffers and volunteers dressed up in animal costumes and waving thank you signs hosted a family-friendly drive-through donation parade from 10 am to noon.
According to Elaine Mah Best, the Santa Barbara Zoo's Vice President of Advancement and Marketing, about 80 cars participated in the parade, donating a total of $12,829. "In addition, we had eleven people donate a total of $2,000 for the Emergency Fund online as of Saturday at 1:30 pm," Best said. "Not bad for a two-hour long event that we started planning just a week in advance! What was especially heartwarming was that I heard over and over again from the folks driving through 'Thank you for doing this,' 'We miss the Zoo so much," and 'Our family loves the Zoo.' It was really sweet to see so many Zoo members and fans come out to support us."
Because of the Zoo's closure, it has been forced to furlough roughly 100 full-time and part-time employees, reducing its payroll to just the essential staff necessary to keep the animals alive.
"These difficult decisions were all made in an effort to maintain the Zoo's top priorities," said Rich Block, the Santa Barbara Zoo's president and CEO. "We remain dedicated to the health and welfare of the animals who reside at the Zoo, the safety of our employees working on-site, and the continued efforts to save local endangered and threatened wildlife."
It's difficult to exaggerate the impact that the COVID-19 shutdown has had on the Santa Barbara Zoo, which houses more than 500 animals on 30 acres of botanical gardens. According to a recent press release, it is "currently relying on cash reserves and support from the community to continue to operate" given that 97 percent of the annual budget relies on earned revenues from operations."
Speaking of numbers, it costs approximately $630,000 per month to operate the Zoo at its current capacity. Breaking down the budget by species, each week the penguin colony costs $250 to feed, the five California condors cost another $150 per week, each giraffe needs $70 per week of food, compared to $120 for the three otters. The flamingo flock costs $200 to feed, all turtles and tortoises eat a total of $150 of food per week, and it costs a whopping $1,200 each week to purchase so-called feeder insects, which are used to feed all types of animals. In all, the total weekly animal food bill is $6,000.
During normal times, the Zoo operates several conservation and science education programs each year. But this was when the Zoo enjoyed an average of 480,000 visits per year, more than any other institution in the Santa Barbara area, thus bringing in significant extra tourist dollars to the city and its businesses. "The Santa Barbara Zoo has served as a community anchor for over fifty years, and we want to continue serving the hundreds of thousands of families whose lives we touch every year," Block said. "With your support, we know we can get through this together."
It's not too late to donate. Go to app.pivvit.com/campaign/support-the-zoo-during-covid-19-recovery, or send a check payable to "Santa Barbara Zoo" to the attention of Elaine K. Mah Best at 500 Niños Drive, Santa Barbara, 93103.
You might also be interested in...