Itching to Re-Open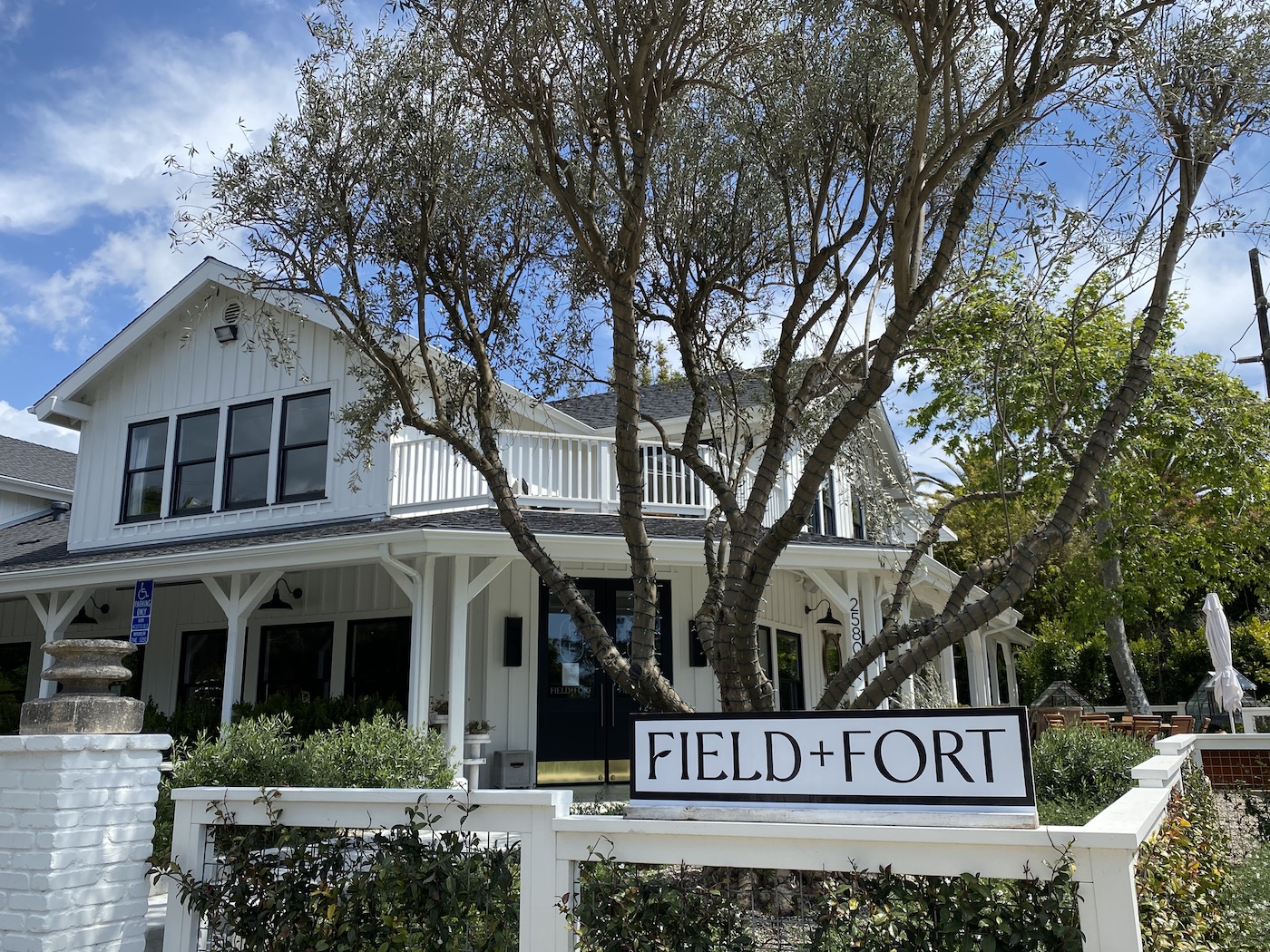 "We're itching to get open and…" said Kyle Irwin, "Welcome everybody back!" business partner Susie Bechtel chimed in, finishing her business partner's sentence. The duo opened their highly anticipated Field + Fort design shop and café in Summerland just this past November to great acclaim – only to shutter the doors some four months later, thanks to circumstances beyond everyone's control. "We'll be back and better than before! That's the plan," Irwin cheerfully promised on our recent Zoom chat.
Their design showroom features carefully curated "essentials for elevated living" that include beautiful, high-end antiques and home furnishings – many pieces sourced from Europe – as well as tasty pantry and tasteful gift items. But more than that, Summerlandians (and others) were anxious for a place to gather and nosh in the 'hood. Field + Fort not only provided a beautiful space with indoor and outdoor seating and a communal dining table, but a stellar breakfast/brunch menu from kick-ass chef Austin Moore, a native Santa Barbarian who returned to his Santa Barbara roots after cooking stints in Portland, Oregon.
When COVID-19 hit, Kyle and Susie decided it would be safest to protect their "terrific" staff of 25 employees, whom they continue to keep on the payroll. A few are still working in Irwin's interior design side of the business.
Spread the News: 'Fort Is Stopping the Spread
"We made the bold decision on the 15th of March to close," said Bechtel. The next day the California order came from the Governor. I asked if they thought about pivoting to take-out food, but the café was a small part of the business and the logistics were too complicated – especially with so many "unknowns" about the virus.
"We weren't set up to do take-out, since we don't do dinner. Our thought on take-out was that it still required so much of our staff to be there – and then deliveries – the food chain – it didn't make sense if we are trying to slow the spread down," Kyle noted.
That being said, I did see Meg Ryan picking up take-out on one of my many visits (Austin's black porridge is orgasmically good).
"In a very short period of time, we built a team and a culture that doesn't exist many places. All of this was really, really important to us. We feel so grateful to have the team that we have," said Bechtel, "We were committed up front to putting together a really extraordinary team to provide a level of service that you don't typically find in places like this."
Acknowledging that there is so much that is still unknown about COVID-19 and how the future bodes for retail, Kyle and Susie are nonetheless preparing for brighter days and gearing up to re-open with an expansion into the building next door (the former Gentleman Antiquarians space) to showcase pieces privately to clients and designers. A container of pieces from Europe recently arrived, and pieces stacked in their Carpinteria warehouse will be moved here as well.
Field + Fort's Grand Re-Opening Will Be Bigger and Better Than Ever
"The new showroom will be another thing to open up with!" said Kyle, adding, "Yesterday we were at the store, spacing tables out and removing tables with the thought – and in preparation of – what's to come. We want to be able to hit the ground running on Day One."
In the meantime, Irwin, a talented designer, is keeping busy with two interior design projects in Los Angeles and in Santa Barbara.
"It's been crazy! It's hard to move furniture and keep social distancing," he admits, acknowledging other challenging logistics such as an upholsterer and a critical metal shop that had closed.
Things at Field + Fort might look and feel a bit different when they reopen, per Gavin Newsom's predictions for restaurants and retail, including fewer chairs at the communal table.
To hear them tell it, Irwin and Bechtel's "thing" was all about community and bringing people together. They admit that they have to figure out the quandary of how to bring people together – while keeping them physically distanced.
"Talk about a place where hugs are a part of the interaction! That habit alone is going to be hard to break," said Bechtel, concluding, "Kyle and I love Summerland. It's such a special little community and we've always felt that way. Since opening, and being there every single day, we have even more appreciation for it."
Socially Distant but Very Much Socially Conscious and Engaged
Even after just a few months in business, Field + Fort is missed in Summerland and although many can't wait for the showroom, café, and life in general to reopen, a big bravo to Kyle Irwin and Susie Bechtel for taking care of their employee's wages during the interim, thanks to those successful first few opening months. It sure will be swell to see Chef Austin and the entire terrific team sooner, rather than later – in masks and gloves, if required – as well as friends and neighbors for a great big embrace, in whatever form it may take.
Air hug anyone?
You might also be interested in...