Tommy Delgado and Hunter Self of J&S East Valley Garage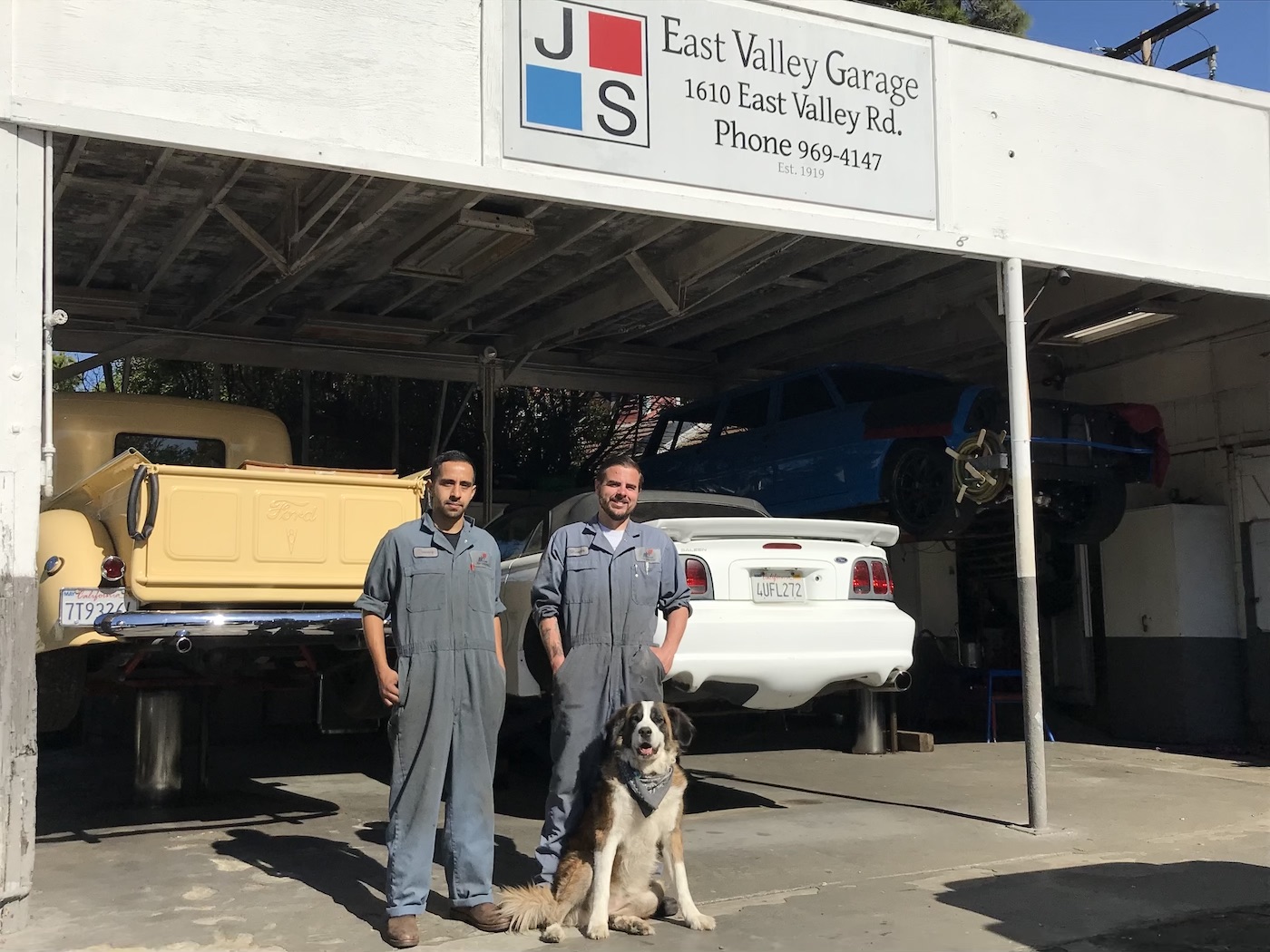 Back in the day, if you needed your car worked on for whatever reason, you took it to the one place in town that could do the repair job: your full-service neighborhood gas station. And for several decades in the past century, J&S East Valley Garage on East Valley Road was exactly such a spot. Originally founded in 1919 under a different name that is now lost to generations gone by, the garage got its current name in 1962, courtesy of the initials of previous owners Jay Roach and his father in law, Smitty, who originally bought the place from Elroy Blocker.
"Elroy and Jay partnered up," says current owner Hunter Self. "Jay passed away in 2012, but his wife still lives on the property next to us and is our humble landlord." Self, for his part, started working at the garage in 2001, when he was a student at Dos Pueblos High School and Jay let him sweep the floors and shadow the mechanics. "Jay let me work my work my way up," adds Self, who subsequently attended Santa Barbara City College's automotive program. "Since then, I've been building motors, doing full machine service as well as custom machine welding."
Although the nature of the shop's business has evolved over the years, it retains the antique charm of an old-time gas station and garage. "We started as a full-service repair shop," Self says. "In the 1960s, you could drop off your car and get everything done. A garage like this would build motors and do everything from resurfacing heads to overhauling engines, and we still do all that."
Because of COVID-19 concerns, one of Self's welder/fabricators who is caring for a family member with a compromised immune system is staying home for now. But on a recent morning, Self's other main employee, Tommy Delgado, was busy at work underneath one of a trio of vehicles currently being fixed inside the garage. "We're taking precautions," Self adds. "As much as we love hanging out with everybody and shaking hands, we are not doing that. And we spray down everything: keys, credit cards, our desk, and I have a pen holder full of clean pens."
Although J&S East Valley Garage has a dedicated local clientele – it would be fair to say the demographic tilts heavily to older men with a penchant for racing classic cars –many of the shop's customers are out of town. "We have an eclectic mix of cars coming in from around the country and all over the world," Self says, adding that he is currently building a twin-turbo engine for Jesse James of West Coast Choppers fame.
As a side hobby, Self serves as crew chief for a land speed racing team with driver Arley Langlo; the team, J&S Racing, has competed at Utah's Bonneville Flats and El Mirage, where the current record for blown fuel streamliners is 423 and 304 mph respectively. "That's my recreation," Self says. "A lot of my market is race car stuff. I try to keep my niche to that. The dealership model just doesn't work for me. We've been taking it back old school here," he explains. "Everything that everyone else is afraid to work on: That's what I love doing."
J&S East Valley Garage is located at 1610 East Valley Road. (805) 969-4147. Open 8 am-5 pm, Monday-Thursday, 8-noon, Friday.
You might also be interested in...