The Right Stuff: Santa Barbara's Kate Farms is Changing Lives with Plant-Based Lightning in a Bottle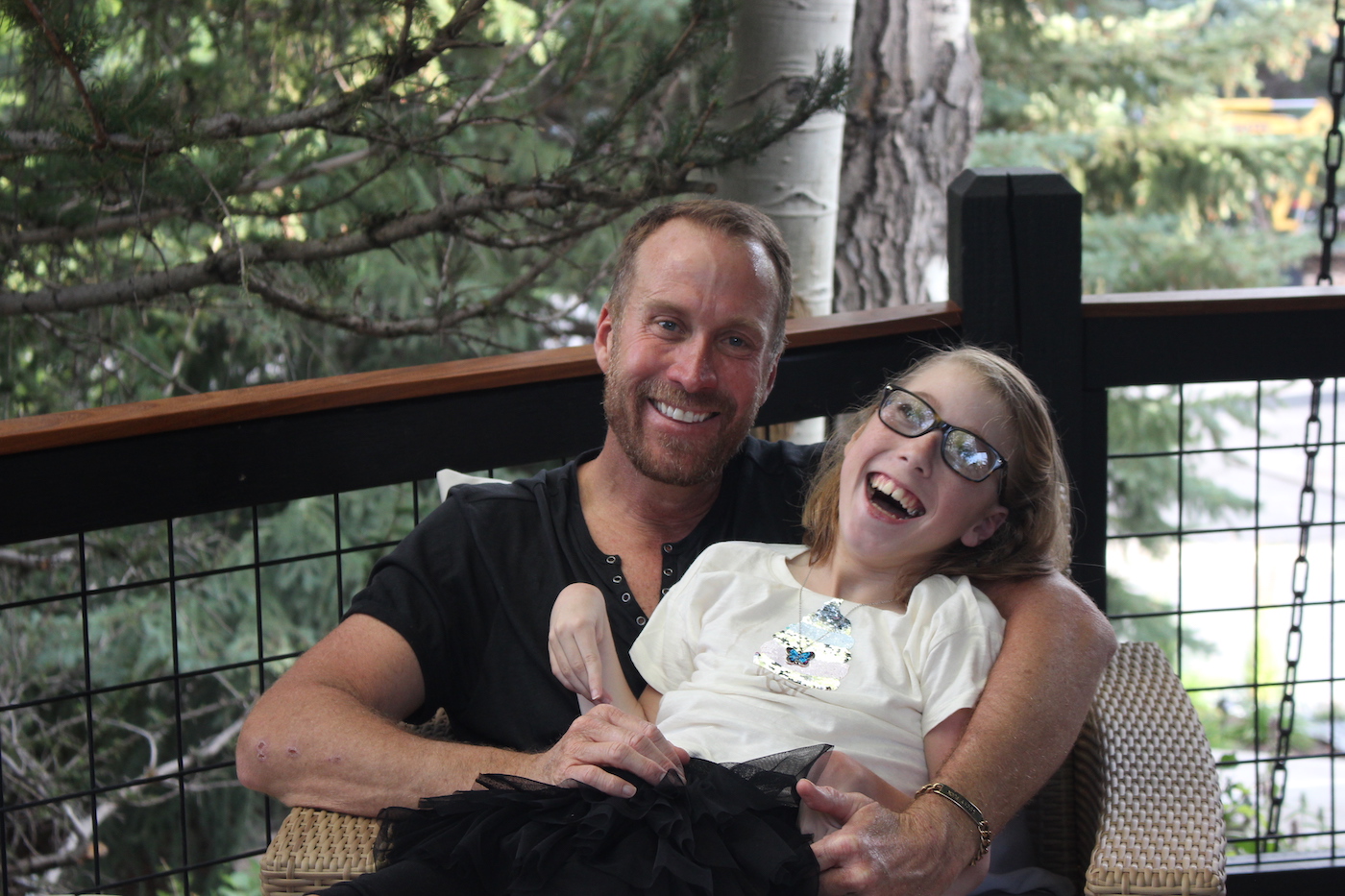 Plant-Based Nutrition with Personal Roots
Perseverance must be all over the Laver family DNA. It was there for tennis giant Rod Laver when he won the Australian Open in five sets, four hours, and one-hundred-degree heat. It was there for Laver's nephew Richard, who, with his wife Michelle spent years developing their own home-grown nutrition drink for their ailing daughter Katie. And perseverance has been there for Katie, too, who, at the age of five weighed a mere 16 – you read that correctly – pounds.
Today, thanks to Richard and Michelle Laver's persistent efforts, along with the efforts and strategic navigation from some notable Santa Barbara investors, Katie Laver is thriving and her namesake nutritional drink, Kate Farms, is a burgeoning local enterprise with 110 employees, providing vital nutrition to thousands of patients throughout the country. In fact, Kate Farms is now the most prescribed and recommended plant-based liquid formula drink in the country. However, the road getting to #1 was anything but traditional.
For the Lavers, their mission to bring plant-based nutrition to market is rooted in their daughter Katie's cerebral palsy. The nature of her disease meant Katie needed a feeding tube and liquid nutrition for her very survival. Unfortunately, the commercial formulas available at the time didn't work for her, in part because of her intolerance to dairy, casein, and sugars in the existing medical formulas. So as a result, Kate cycled in and out of hospitals often during her first five years of life.
"Katie was sick and getting sicker," Richard Laver recalls. "She was five years old, down to sixteen pounds, losing her hair, her teeth were rotting. She was getting food but the doctors couldn't say anything more than she was failing to thrive and could die."
One day, while walking through a neighborhood farmers' market, Richard came to a frustrating realization. "I was looking at all these fruits and vegetables," he says, "and thought about how my daughter can't chew foods and can't get these essential anti-oxidants into her body." Richard wondered to himself what would happen to his health if he stopped eating such healthy food. "Bingo," he realized. "No matter how many calories we put in her body she keeps losing weight, so adding more calories isn't the answer. She has to have something that will help her actually get healthy and thrive."
Michelle and Richard began visiting local health food stores hoping to find the healthiest ingredients to replace the formula that wasn't helping Katie and working with nutritionists experienced in vegetarian nutrition.
According to Richard, it took a couple of months for the couple to discover that Katie had no antioxidants in her system – but a lot of sugar thanks to the only other nutrition shakes that were available at the time. Via a series of experiments with concoctions that Michelle mixed together, the couple gradually perfected a recipe for Katie that was not only healthy because it was vegan and all-natural, but also surprisingly tasty. Instead of animal protein or dairy-based ingredients, the Lavers' formula focused on a combination of organic, plant-based proteins, non-GMO ingredients and high in antioxidants and without the common allergens. Within six weeks of going on the homemade formula, Katie was putting on weight and keeping it on.
Introducing Kate Farms
By 2011, Kate's health had improved dramatically and she no longer required frequent visits to the doctors or hospital. After two years and roughly a dozen successful productions, the Lavers introduced their new company, Kate Farms, and their first nutritional shake to the world at the Expo West convention in Anaheim. The shake made history by being the world's first dairy-free, gluten-free, and soy-free meal replacement shake available on the retail market. "When we launched at Expo West, we were the hit of the show," Michelle says. "It was like you see in the movies. We had so many orders, we had no idea how we were going to fulfill them."
Before long, Kate Farm's Komplete shake was available in nationwide chains like Vitamin Shoppe and Sprouts, as well as about 2,000 smaller organic and health food stores across the country.
Enter Brett Matthews
To grow, they needed additional funding and help to run the business. That's when a neighbor suggested the Lavers speak with angel investor Brett Matthews, a well-known Santa Barbara-area businessman with a reputation for investing in companies where ethics and a higher mission are valued. "We were told that Brett likes to invest in businesses with a pay-it-forward attitude to do good for the world," says Michelle. "We were introduced over text message and went to lunch with him two days later, and the rest is history."
After a successful business career that began at Procter & Gamble and ended with the 2005 sale of the company he built with his wife, Ginger Salazar, Brett Matthews moved to Montecito. Though he continued to invest in companies, much of his focus was on family and serving on the Montecito Union School Board. But Brett's life took an unexpected turn in 2012, when one of his children developed an illness that became progressively complicated and perilous.
"Unexpectedly, my son was suddenly getting very sick," says Matthews. "He was sick most of his junior year at Santa Barbara High School, and doctors couldn't figure out his diagnosis. We finally figured out he had an autoimmune disease and his symptoms were triggered by major food allergies. Ginger and I learned about the power of food and plant-based nutrition to heal our son, and I began to think about how to help bring healthy food and nutrition to people with major medical needs."
"I was looking for companies that had an ethos of 'food as medicine' to invest in," said Matthews. "I met Richard, Michelle, and Katie and saw how their formula helped Katie, and how the same ingredients helped my son. Ginger and I invested with an eye towards bringing this amazing, healthy product to many more people with major medical conditions. We asked ourselves, 'Why can't the people who need good nutrition the most get access to it?'"
To Matthews, the answer was clear. Kate Farms needed to pivot from the retail market to the healthcare, i.e. hospital and homecare markets. "Brett was the perfect man for the job," Richard Laver says.
To lead Kate Farms in a new direction, Matthews became the company's chief executive officer. He recruited veteran healthcare industry professionals with the expertise and passion it would take to convince others to join the board of directors. One of his first picks for the board was local investor Jeff Jacobs, who cofounded the Harpo Entertainment Group, one of the most successful multimedia brands in the world.
"I'd been a friend of Brett's for a long time," Jacobs says. "He told me that he was working on something he thought was a pretty extraordinary opportunity. He is a man of high integrity as well as an excellent businessman." So when Matthews told Jacobs about Kate Farms and asked him to meet the Lavers, Jacobs didn't hesitate, saying, "I'll invest and would be honored to join the board."
With Matthews at the helm, Kate Farms was able to craft a strategy to successfully introduce the product to hospitals and home care providers throughout the country. It was heavy lifting since, among other things, Kate Farms had to introduce the product to doctors and dietitians while building a national sales force that could break into an established marketplace dominated by two legacy companies with near-total market share at the time.
"The key thing is that when patients and their caregivers – which in a lot of cases are parents – started hearing about a plant-based product that was healthy, they asked their doctors for it. The doctors and nutritionists and dieticians looked at our ingredients and compared them to what was out there," Jacobs says. "When patients started to thrive, so did Kate Farms."
Matthews set out networking to build his board with industry professionals. A good friend of Jacobs, Robert Zollars, former president of Baxter International's U.S. distribution and former executive vice president at Cardinal Health, joined the board. Zollars had a friend, Celeste Clark, with a PhD in food science and human nutrition also came on board. Richard and Michelle's friend Carol Ammon, a pharmaceutical entrepreneur and executive joined too. Local Kate Farms investors Chris and Wendy Blau introduced Brett to their family friend, Pete Nicholas, one of the leading healthcare innovators in the country, having founded multi-billion-dollar Boston Scientific, joined the board and became an investor.
"As an early investor, I see some parallels between Kate Farms and Boston Scientific," says Nicholas. "By disrupting the medical device market, Boston Scientific ultimately created better patient outcomes. Likewise, Kate Farms, by bringing superior plant-based medical nutrition to the market, is disrupting what is basically a stagnant category – and driving great patient outcomes too. With this seasoned team and strong culture, I'm confident Kate Farms will continue to change patients' lives."
Matthews also recruited a strong team to join him to help expand the company, people who are proven industry leaders and who exemplify Kate Farm's core recruitment vision: people with heart who want to serve others and grow a great business. His executive team includes Catherine Hayden as general manager, Pat Gahan as chief sales officer, Dr. Cynthia Ambres as chief medical officer, John Hommeyer as chief experience officer, Casey Bauer as executive vice president for product and operations, and Tom Beecher as chief financial officer. They in turn have built a great team of more than 110 Kate Farmers dedicated to serving people with medical conditions.
Says Matthews, "This is a total team effort. It's exciting to see a group of people come together to truly help people at a time of need while also building a great business." He continues, "We are also thankful and grateful for our many investors – with amazing value added skills across health care, finance, operations, and executive leadership, who have invested behind truly making a difference."
Making Kate Farms available to all people regardless of socio-economic status is a key principle at Kate Farms. Getting major insurance companies to cover Kate Farms for hospital and home care patients was and is an arduous process, due in part to regulations that vary state to state and the variety of restrictions at the federal and private insurance levels. "We were successful getting covered by Medicare and approved for 49 out of 50 states so far for Medicaid," Matthews says. "We're also covered by several states on their Women Infant and Children (WIC) programs as well as over 2,500 private insurance plans."
Kate Farms has a "cross-functional team" including food scientists, registered dietitians, and insurance specialists who handle the rigorous and lengthy multi-stage process of getting the company's formulas covered by insurance. "Then the process doesn't stop once we are approved by insurance plans," says Mia Elias, director of customer care, "because we then work directly with patients, caregivers, and healthcare providers to get their specific formula covered and delivered. We are on the same team as our patients, caregivers and healthcare professionals." Elias manages over 20 Customer Care specialists with many graduating from Westmont and UCSB.
Game Changer in a Bottle (or Actually, a Carton)
Kate Farms has continuously evolved the formula to help adults as well as kids. In 2016, after five years of chronic health and digestive problems, former San Luis Obispo resident Brittany Detrick's doctors diagnosed her with gastroparesis and chronic intestinal pseudo obstruction. "It's a fancy way of saying I have paralysis in my stomach and in my intestines," Detrick says. "So I would eat something and it would stop inside me and eventually ferment and I would regurgitate."
Detrick credits Kate Farms with keeping her healthy. "I was on (the Kate Farms drink) but it wasn't covered by insurance, so my dietician got free sample after sample from Kate Farms for me. Now, I'm having a full and good life."
Santa Barbara resident and philanthropist Thomas Rollerson says he's relied on Kate Farms to care for his aging parents. Five years ago, doctors diagnosed Thom's stepmother with Bulbar ALS, or amyotrophic lateral sclerosis, which works like Lou Gehrig's disease, except in reverse. "It starts in the throat instead of your feet," Rollerson explains. "My stepmom lost her ability to use her tongue and to swallow, which is rather essential for eating and nutrition."
At the time of her diagnosis, she had a life expectancy of just two years. But because she still had her mental faculties, she insisted on mixing her own fruit smoothies, even studying clinical pharmaceutical trials for ALS to glean information. It was during her research that Rollerson's stepmom discovered Kate Farms. "It was the first and only product she embraced," he recalls, "because everything in the product was what she had been putting in her shakes. It was pretty extraordinary for her to find."
Dr. Richard Belkin, a pulmonologist at Cottage Hospital in Santa Barbara, says he has personally witnessed the benefits that Kate Farms has brought to his patients. Belkin believes that Kate Farms is the ideal meal-replacement health shake on the market. "A lot of it has to do with what the patients are willing to take and what leads to great results," he elaborates. "I've had a great experience with Kate Farms, because it's a great way for patients with underlying deficiencies to gain weight."
In recent months, Kate Farms has expanded its operations to include distribution to major hospitals around the country, and has enlarged its product portfolio with both adult and pediatric formulations of clinically-proven, plant-based ingredients that help a variety of patients with medical conditions like cancer and neurological, autoimmune, and gastrointestinal illnesses.
In March, the American Society of Parenteral and Enteral Nutrition (ASPEN) released new clinical data on Kate Farms demonstrating improved tolerance and weight gain for children with a study from the largest independent pediatric gastroenterologist practice in Atlanta, Georgia, GI Care for Kids. Also, a case study from Valley Children's Hospital demonstrated the benefits provided by Kate Farms to patients with Crohn's disease. Finally, a case study conducted by Phoenix Children's Hospital showed how Kate Farms, with its phytonutrient blend, resolved symptoms of gastrointestinal intolerance and led to weight gain with a patient who had undergone a bone-marrow transplant. "The totality of research, not just my own, indicates that plant-based formulas are effective in improving tolerance, supporting weight gain and improving patient outcomes in a variety of conditions, both oral and tube feeding," wrote one of the study's co-authors, Dr. Stanley A. Cohen, a pediatric gastroenterologist. "And patients report feeling better, which leads to improved adherence as well." Kate Farms is now the number-one plant-based formula prescribed and recommended in the U.S., according to independent distributor data. Because the company's formulas help people with major medical conditions whether they drink it orally or get their nutrition through a feeding tube, the products can help people with less severe conditions as well, customers who may not be eligible for insurance coverage. Kate Farms serves those patients via katefarms.com and locally at Tri-County Produce on Milpas Street.
The company also has a history of providing their shelf-stable shakes to people in need during times of disaster. Kate Farms donated to Hurricane Harvey victims and, during the 1/9/2018 debris flow aftermath, to the local chapter of the American Red Cross Foundation. During this unprecedented time of COVID-19, Kate Farms has made a commitment to donate $1 million worth of product to those at risk and in need of good nutrition. And Kate Farms has teamed up with Meals on Wheels in California to provide free deliveries to the program's clients from Southern California to the Bay Area.
"Kate Farms is a terrific organization," says Bill Cruikshank, executive director of Meals on Wheels of Long Beach. Recently, Cruikshank supervised a delivery of Kate Farms shakes to the Century Villages at Cabrillo in Long Beach, which provides housing, social, and medical services to 2,000 people, many of them veterans who were previously homeless.
"A lot of those vets are homebound and suffering from disabilities that prevent them from shopping for or preparing food," Cruikshank says. "We did a route delivery a week ago, delivering meals and two bottles of Kate Farms meal replacement drinks to everyone. We had a wonderful reaction from the clients."
The company has recently donated 20,000 cases of product to those at risk in Brooklyn and has plans to distribute Kate Farms pro bono here in Santa Barbara. It also has identified neighborhood clinics that are providing crucial work in the community and has donated shakes to front-line healthcare workers to help keep their bodies strong and nourished during this critical time.
"Kate Farms is excited to be leading the movement for companies to bring a higher standard of nutrition into healthcare," says Brett Matthews. "If better nutrition is in healthcare, it means fewer people will get sick and more people will get better. And if you are healthy and feeling good, you can live your best life. Everyone wins."
It is important to note that large numbers of Kate Farms devotees not only improve their conditions, but many actually thrive. Sixteen year-old Hannah Jordan is one such example. Diagnosed with a metabolic disease, when she was four her body was the size of a one-year-old's. Despite getting her nutrition from a feeding tube, at age 13 Hannah decided she wanted to be a competitive bike racer. Then at age 15 she needed better nutrition for her feeding tube because she was pushing herself so hard as a bike racer and found Kate Farms. Today Hannah is a top hill race climber in the nation who competed this past fall in the World Hill Climb Championships up Gibraltar Road here in Santa Barbara. She won.
Says Hannah, "Kate Farms has truly changed my life. I wouldn't have been able to do any of this without it. This company is changing lives every day through their formulas, but most importantly through their compassion. I've gone from barely surviving to thriving, and could not be more grateful." It's a good thing Brett Matthews had such an unsuccessful retirement.
You might also be interested in...