McLean Meditation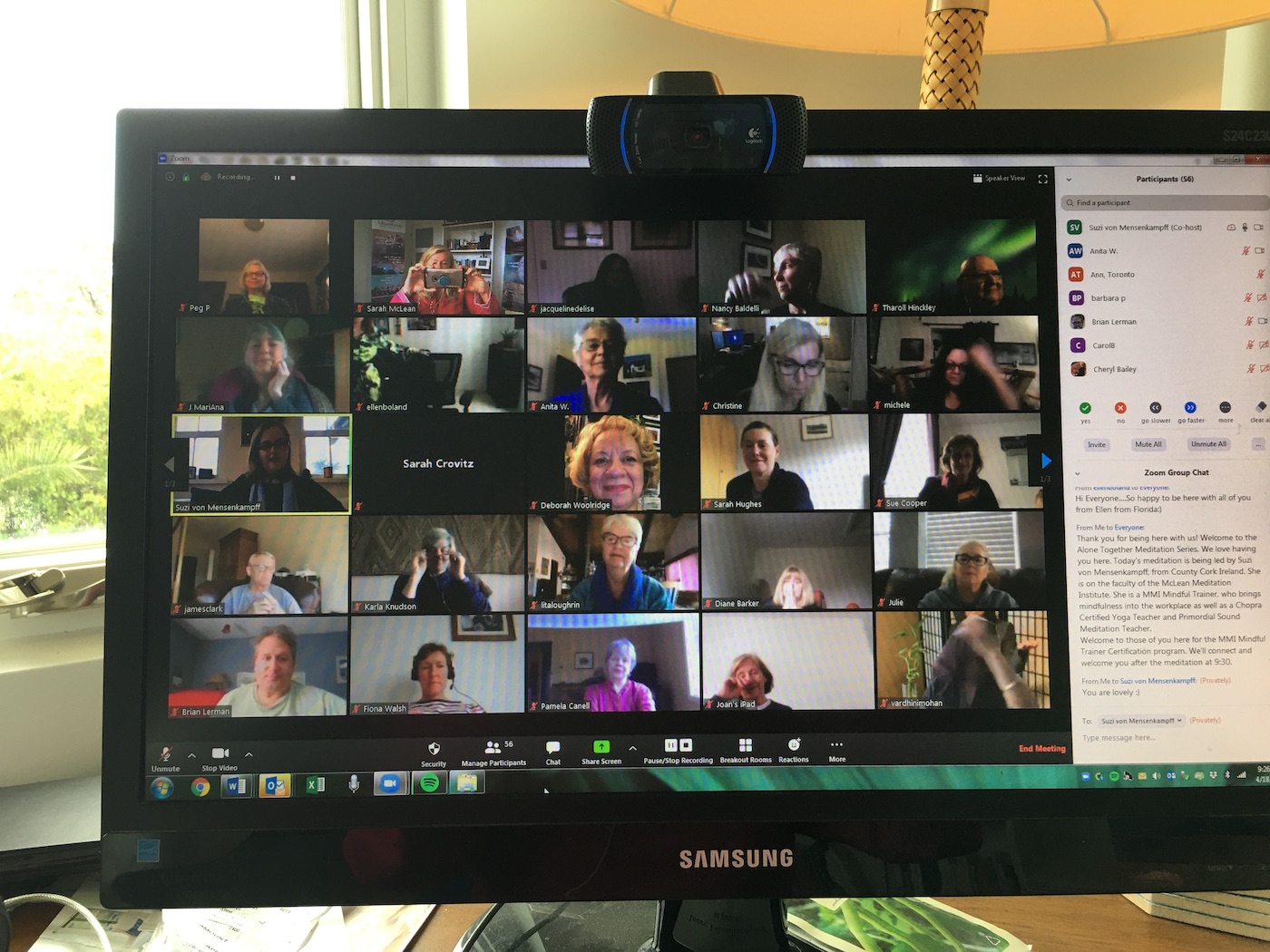 When the coronavirus crisis first arrived in America, Sarah McLean figured she'd hunker down with her husband in the couple's recently-purchased Santa Barbara home to wait out the shelter-in-place situation. The quarter-century veteran contemporary meditation and mindfulness teacher who co-founded the Montecito Meditation Center last year considers herself something of an introvert, and laying low looked like a good idea – and that was before she contracted what she believes was one of the unconfirmed local cases of COVID-19 on an earlier trip to celebrate Chinese New Year's in Las Vegas.
But then one of her longtime students of her meditation teacher training program implored her to lead online meditation sessions for people who were having trouble coping with the crisis, and, after McLean recovered, she decided to give it a go.
"Meditation is the perfect antidote to fear, panic, and overall dysregulation," she explained. "It's important in times like this to appreciate the life you have, to stay home and be grateful for the home you created, the people you can count on, the beauty around you and what you do have in your own life."
What the virus and global pandemic has done, said McLean, is make our awareness of our own mortality much more acute.
"The truth is nobody knows how long you have on the planet, but the coronavirus has made that be more alive in our consciousness and created a lot of fear. I started the (Zoom) calls to help people soothe their nervous systems, help them deal with anxiety and fear by being in the present moment."
McLean began leading four different half-hour sessions over Zoom every day for several weeks, cutting back to twice daily offerings in the middle of April, but she continues to conduct the online sessions completely for free for anyone who wants them every day, including weekends.
"It's gone on longer than I thought it would, but people still want my help," she explained, noting that more than 50 Zoom accounts are tuned into her platform for each session, usually different people at each meeting.
"I keep hearing things like 'this has saved my life' or you've put some normalcy in my day' or 'it's given me a touchstone to look forward to,'" she said. "I think it's because so many people are alone in their homes." Or they have extended families, which can also put a lot of pressure on you, like having kids you now have to homeschool, she noted.
"How do you manage relationships, and come from a place of love and compassion when your kids or parents are driving you crazy 24 hours a day? That's why I'm trying to give people cues and tips to manage your own nervous system and create resilience with relaxation, mindfulness, and meditation and also provide ways of communicating, using emotional intelligence and being compassionate with yourself."
The meditations have grown in popularity because people are getting the (virtual) hands-on that they need, McLean said.
"We talk about real things, such sadness and the myriad of other emotions that occur, and how to manage your attention so you don't get stuck in a cyclical thought pattern. We deal with whatever you're experiencing."
But even more than the meditations themselves, her online audience is becoming a community, she said.
"That's the most amazing thing. They have started to talk to each other, message each other, send each other presents. They show up into the Zoom room early and start chatting. It's really very sweet."
The variety of people who show up on the calls has spanned from all across America as well as other countries, creating a virtual spiritual community for those who may not have one in real life – including people from "Southern 'Red' states who have no one else to talk to because they have such a different perspective than their family members," McLean said. "I draw from all the traditions for quotes and inspirations, and I think that appeals to a lot of people."
The format calls for some sharing before McLean and/or her staff lead a 15-20-minute meditation, followed by more casual conversation, she said. "People can just stay as long as they want and about half of them always do. It's a sweet kind of service. I don't even know how it happened."
The topics are rarely planned in advance, McLean said, as she depends on "my own humanity" and experience. "Sometimes I talk about stages of grief, or how to handle anger, and the responsibility of emotions. I really just feel what's supposed to happen that day. I've been doing it for a long time, so I just trust what comes up."
The morning event last Sunday, for example, included a body scan for relaxing the nervous system, plus breath awareness and a loving kindness meditation. "I've done everything from the Wheel of Awareness from Dan Seigel to mantra practices to breathwork to contemplative poetry," McLean said. "Nobody has to know what they're getting into. You can be brand new – I'll teach it on the spot."
(Sarah McLean's "Sowing the Seeds of Peace" online meditations take place at 9 am and 4 pm daily on the Zoom platform at https://zoom.us/j/9282040067 [password: peace]. For more information, visit www.facebook.com/events/153241605936080.)
You might also be interested in...