Flying Down the Highway to a New Normal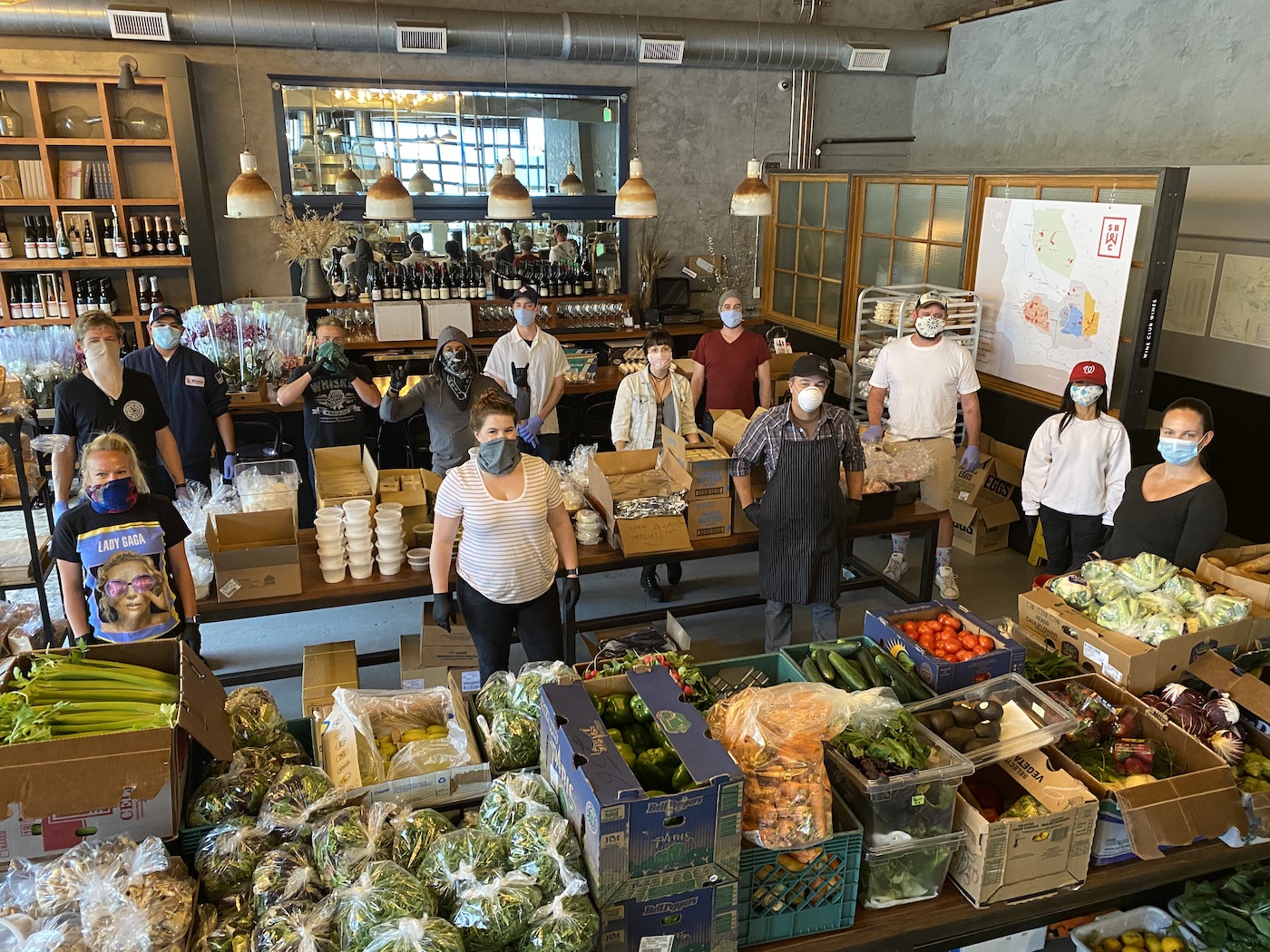 Driving the seven hours from Nevada City to Santa Barbara, Sherry Villanueva was talking about shifting gears. Back in February, Acme Hospitality, the boutique restaurant and development group she manages, moved into the hotel business. At that time the company was in the midst of renovating two of the most iconic hotels in Nevada County, California, gems of the Wild West. The Holbrooke Hotel, built in1862, once lodged the likes of Mark Twain, Ulysses S. Grant, and the notorious mistress of King Ludwig of Bavaria, Lola Montez. In the 1850s, The National Exchange Hotel, was the site of one of the "most sophisticated" gold rush mining camps in the untamed frontier. Sophisticated, as in downright highfalutin' and ace high.
When the Lark opened in 2013, Ms Villanueva and her crew took Santa Barbara by storm, creating a new paradigm of design, service, and expectation in Santa Barbara's Funk Zone. Since then they've opened a slew of new bars and restaurants, each one eclectic and attention-grabbing. A former marketing executive, she'd been so busy designing and running new establishments that it had been hard to track her down. Then suddenly, on March 15, the emergency brakes slammed on, screaming the entire economy of the United States, and much of the world, into a tail-spinning, gear-grinding halt.
"We had been on schedule to finish the renovations and open, but obviously now that's changed," Ms Villanueva noted. "We're still excited about the properties because we believe they're positioned well." Both hotels have easy drive market access to the Bay Area and the Sacramento Valley.
"I think post-crisis there's going to be renewed interest in Americans discovering regional locations within the United States," Ms. Villanueva added. "Our two hotels are located with direct access to incredible natural resources, hiking, fishing, swimming, and boating, right on the way to Tahoe."
Acme's track record as a business driver in Santa Barbara's Funk Zone along with their flagship restaurant, the Lark, instantly summon up pre-COVID nostalgia of sipping artisan cocktails, laughing shoulder to shoulder in a noisy, lushly designed, wood-lined bar and dining area, while nibbling on plates of pork belly and oysters. There's also Acme's sister restaurant, paella-slinging "crazy-girl" Loquita, that features exotic cocktails such as its award-wining Costa Blanca gin and tonic with Makrut lime infused gin and the juice of blood oranges. But more than the drinks, more than the food, more than the ambiance, the secret of Ms Villanueva's restaurants has always been the people who worked there.
"We have 350 employees. We furloughed 345," Ms. Villanueva recounts. "Then there's probably 1,500 people that are connected in various ways to the restaurants. Delivery drivers, farmers, wine distributors, the cleaning crew, plumbers, all the people we knew and worked with who were interconnected."
Still driving, she hesitates a moment, forming her thoughts, silent on her handsfree phone, speeding down the empty highways up north.
"I think that's something we've all learned now," she adds, "How interconnected we all are. Interdependent, which is I think, a valuable thing to learn."
Restaurateurs are a unique culture. They are passionately coupled to their restaurants, deeply attached to their staff, and avidly involved with their guests. Restaurant economies are different, too. Unlike other kinds of retail or small business economies, the hospitality business is driven by reinvention, constant change, personal service, tipping, and other factors.
Restaurants collectively are the largest private sector employer of people in the country, 10% of the workforce, 15.1 million restaurant employees in the United States virtually all unemployed at the moment. No one gets rich on restaurant wages, but waiters and bartenders, even bussers, can have a good life. Restaurant profitability runs at very low margins, dependent on current cash flow.
"You buy food, you get invoiced, you sell that food, and then that invoice is due," Ms. Villanueva explains. "You're using today's sales to pay for yesterday's, it rolls like that. When sales shut down, it's like a freight train coming behind you. Accounts payable, all your bills, instantly due."
The financial toll of the shutdown and uncertainty is devastating, add a family scare and lesser people would have collapsed. Ms Villanueva's 27-year-old daughter in Dallas, Texas, was hospitalized four weeks ago. She had persistent high fever and respiratory challenges. She tested negative for the coronavirus, but clinically she had the symptoms.
"She was in total isolation for two days," Ms. Villanueva recounts. "I would have taken the twenty-two-hour drive immediately, but her symptoms were shifting more positively. Luckily she had a significant other boyfriend who was just fantastic." Her daughter has fully recovered.
Restaurant Employees – The Soul of the Enterprise
Her 12 restaurants and bars – the Lark, Loquita, Tyger Tyger, Helena Avenue Bakery, Lucky Penny, Notary Public, Monkeyshine, Pearl Social, The Santa Barbara Wine Collective, and the recently acquired Santa Barbara landmark, The Paradise Café – an extraordinary number of diverse establishments – went from busy and near capacity to shuttering in 24 hours.
Just the amount of work it takes to empty nine walk-in refrigerators with no staff was a challenge. But most of all it was losing the people, those individuals who many guests of the Lark and Loquita know by name, by face, by smile and by their warmth. It was devastating.
"I would be lying if I didn't tell you this is by far the most difficult thing I've been through," Ms Villanueva admits. "When the governor basically shut down all dining and restaurants, the first thing we did was figure out how we take care of our employees."
Naturally for a restaurateur, taking care of her employees started with food. Food is one of the hidden perks of restaurant working, those little meals before or after work straight from the kitchen, that nurtures and replenishes the staff.
"We started a free grocery pantry where employees can come," Sherry recounts. "We basically set it up like a grocery store. There's a produce section, a protein section, and a dairy section and they just come and take what they need."
Acme has funded and run the pantry multiple times a week since March 17, two days after layoffs began, then recently, as funds ran out, launched a GoFundMe campaign.
"We've raised about $35,000 so far," Ms. Villanueva remarked. "A lot of our regular guests, just people we work with in the community, people we've supported through nonprofit events in the past, reached out to us. There's a silver lining when the community comes forward in generous ways, we would have never imagined."
The Villanueva family is no stranger to charity work. They have completed more than thirty service trips together to places in Mexico, Guatemala, El Salvador, Bolivia, and Zambia. Being on the receiving end of charity is a new experience.
Pivoting to New Ideas
Restaurants are nimble. All of them in one way or another have tried to pivot. Takeout has been offered as a solution to the hospitality shutdown, but it's far from perfect for some establishments.
"We're just not a takeout restaurant. It's very misleading," Ms. Villanueva explained. "There's this idea out in the general public, that we can just become a grocery store and sell bags of flour. But we didn't design our menu to travel. We designed it as an experience."
Some restaurants in Santa Barbara, like Barbareño and Handlebar Roasters, are pivoting to working as grocery stores and have had some success.
"I think the ABC (Alcohol Beverage Control Board) was great by saying you can sell off premise cocktails," Ms Villanueva said in support of these efforts. "That was a huge opportunity for many bars and restaurants to add a bottle of wine or add a batched cocktail with their order. It helps them get a better check average, which aids their survival. Restaurants right now are not looking to be profitable; they're looking to not die."
Supplying County Food Banks
Acme tried takeout for a little while, but it didn't work for them. Instead they started investigating other areas. They decided Food Banks were underserved. It was a cause the company and their employees could get behind.
"We're redirecting a small subset of our team to a prepared food prep program for the Food Bank," Ms. Villanueva explains. "We're making ready to eat, ready to heat up, completely prepared and packaged dinners. They are going out to all Food Bank partners. The first delivery happened last Monday."
The Food Banks are purchasing the meals from Acme at near cost. It's not a profit center, but it puts about eight people back to work.
The elephant in the room is the future of restaurants. Does it include half capacity and servers in masks? Ms Villanueva took another pause, as she flew down the highway.
"It's insane from a business point of view," she remarked. "Can't we be more creative? We're in an unprecedented crisis, so it takes unprecedented creativity to get out of it." It goes without saying Ms Villanueva has ideas to propose.
"I'm driving to Santa Barbara now to meet with the City Council," she begins. "If we need to rework furniture to maintain distancing with 50% less furniture, that's fine. There are creative ways to put employees in masks and add hand washing stations. Public health safety is going to have to be on top of the restaurant experience. But people want to stay safe and go out. I am asking to expand my dining room into my parking area, so that I can place more seats."
People Are Social Animals
Every day sees another change. How operators can stay in business with new restrictions is a big question, and many of them will not. What's clear is that the next six months isn't the future, it's a transition to the future.
"People are social animals. People like to have fun. Nothing brings people together better than food. I think we will get back to a place, even if it's after a vaccine, where people have the confidence to be close to one another." Getting from here to there is the challenge.
The Federal Government Stimulus programs that were released did not help restaurants in the short run. The PPP program was designed to help small businesses of which the restaurant industry is the largest employer but loaning to pay payroll while mandating closure doesn't compute with a cashflow business.
"They want me to bring my employees back, hire them, but I'm not allowed to open," Ms Villanueva explains. "By the time I am allowed to open, the money is gone, and we've had no income. It doesn't make sense."
Restaurateurs are looking for the Federal Government to be in partnership with independent restaurants. There are many levels of challenges for hospitality businesses that have to be thought through.
"I feel the same way about the city of Santa Barbara," Ms Villanueva added. It keeps coming back to people. When her employees were furloughed, Ms. Villanueva went directly to the City Council right after the shutdown.
"I tried on behalf of my employees to help the City understand what's really going on," she recounts. "For two weeks, the unemployment system was so overwhelmed it crashed. It was impossible to even file a claim. So, you're talking about workers, who like many, live paycheck to paycheck, who were concerned that unemployment payments were not ever going to reach them."
Need for City Partnership
No matter what the past issues have been, no matter what partisanship or territorial matters have interfered, it's common sense that every sector of our community and society need to collaborate and work together.
"Traditionally there's been a lot of acrimony between business owners and the city," Ms Villanueva concludes. "I think business owners want to change that and come to the table with the City. The business community is hungry to work with the City, desperate I would say, to look for partnership on many levels."
There is little doubt the time is now for rules to change for the sake of the public, for the sake of businesses and, in the end, for the sake of the City. Will those rules change without consultation or with consultation? Where will the ideas come from? Other counties and cities have already moved toward interdisciplinary, collaborative approaches with local business, local health officials, universities, and economic development experts. These approaches are needed to keep cities vibrant and economically viable, and in a crisis even more so.
As other communities rise out of this shutdown, the question becomes: will Santa Barbara pull together and remain competitive with cities where there has traditionally been far greater cooperation?
People Love Each Other
It's predicted by some health experts that we'll never shake hands again. Restaurants in many ways are at the forefront of reinventing how humans will interact with each other.
"People love each other. Humans are social creatures, physical creatures. Everyone's as worried about their neighbor as they are about themselves. I would say the "new normal" is a more enlightened normal. People will want to be together, to celebrate and be close. We're still socially connected creatures who love to be together… I always tell my staff, you can do hard things. That's my mantra," she added. If anyone can do hard things, it's Sherry Villanueva. But like everyone else, she's got her work cut out for her.
You might also be interested in...