Blast from the Past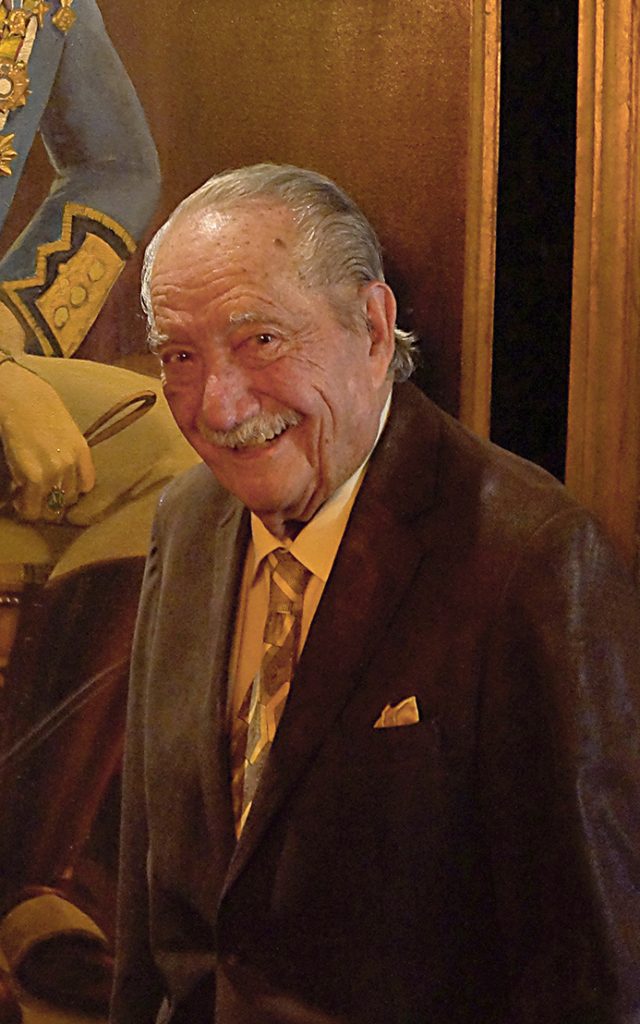 Milt Larsen, who just celebrated his 89th birthday, and his wife Arlene have closed their Magic Castle Cabaret near the Bird Refuge as well as the historic Magic Castle in Hollywood during the ongoing pandemic.
Milt tells me has been spending the time in quarantine watching his extensive video collection, especially the Hollywood Palace shows from the '60s and '70s.
"Stars like Jack Benny and Bing Crosby would do performances and each show would feature some of the greatest variety acts available," says Milt.
"There were acrobats, dancing elephants, standup comics and dancers. It's like being in a time machine watching people like Benny introducing a very young Liza Minnelli."
In the '50s Milt started working on TV's Truth or Consequences show, produced by Ralph Edwards.
"I got to know many of the people working on the project. It was a different time and era, but I'm glad I found these DVDs to enjoy the amazing talent on display."
Ellen Goes All In
Montecito TV talk show host Ellen DeGeneres is donating $1 million and offering one fan the chance of a lifetime to help charities after being challenged to go "All In" by actor-activist friend Leonardo DiCaprio.
After the Oscar winner offered donating fans the chance to have a walk-on role in his upcoming movie Killers of the Flower Moon, Ellen, 62, matched his pledge.
As well as $1 million donation to coronavirus relief efforts, including Meals on Wheels, No Kid Hungry, and America's Food Fund, the multi-Emmy winner promised to give one fan the chance to co-host her Warner Bros. Burbank-based show.
"I have been devastated by seeing all the people lined up waiting for food," says Ellen. "I can't imagine what it's like to be sitting for hours and hours waiting to get food, and hoping there's even going to be any left by the time you get there.
"It's heartbreaking and overwhelming… I'm really hoping that this inspires anyone who's in a position to help to help because there's a lot of need out there."
Flower Power
Westerlay Orchids in Carpinteria is showing its support for community members on the front lines of the COVID-19 pandemic.
The company has just announced its 100,000 Orchid Challenge where they are offering a selection of more than 100,000 donated and deeply discounted orchids to show their gratitude and support.
To date Westerlay, which ships more than three million plants annually, has donated more than 20,000 to institutions like USC, and plans to deliver 5,000 more this week.
Founder Toine Overgaag says: "We need the community's help to reach this goal, so we are looking for significant financial sponsorships to help cover partial costs while ensuring the livelihood of our 120 employees and the survival of our business."
If you care to join the challenge, call 805-705-5341 or email Overgaag at Tovergaag@WesterlayOrchids.com.
A blooming good idea…
Viral Video
Italian tenor Andrea Bocelli, mesmerizing in his Music for Hope live concert from the deserted Duomo di Milano, has broken world records.
The blind opera singer's Easter Sunday performance has become the biggest live streamed classical music event of all time, with a combined 35 million people viewing the 30-minute concert.
The historic event reached more than 2.8 million peak concurrent views, making it one of the biggest musical live stream performances of all time and the largest simultaneous audience for a classical live stream in YouTube history.
The video received more than 28 million views across the globe in its first 24 hours.
"It was an immeasurable honor and privilege to lend my voice to the prayers of millions of people gathered in a single embrace – a small, great miracle of which the whole world was the protagonist and which confirms my optimism about the future of our planet," says Bocelli.
You might also be interested in...