Rosewood Miramar's Chef Massimo Falsini Serves First Responders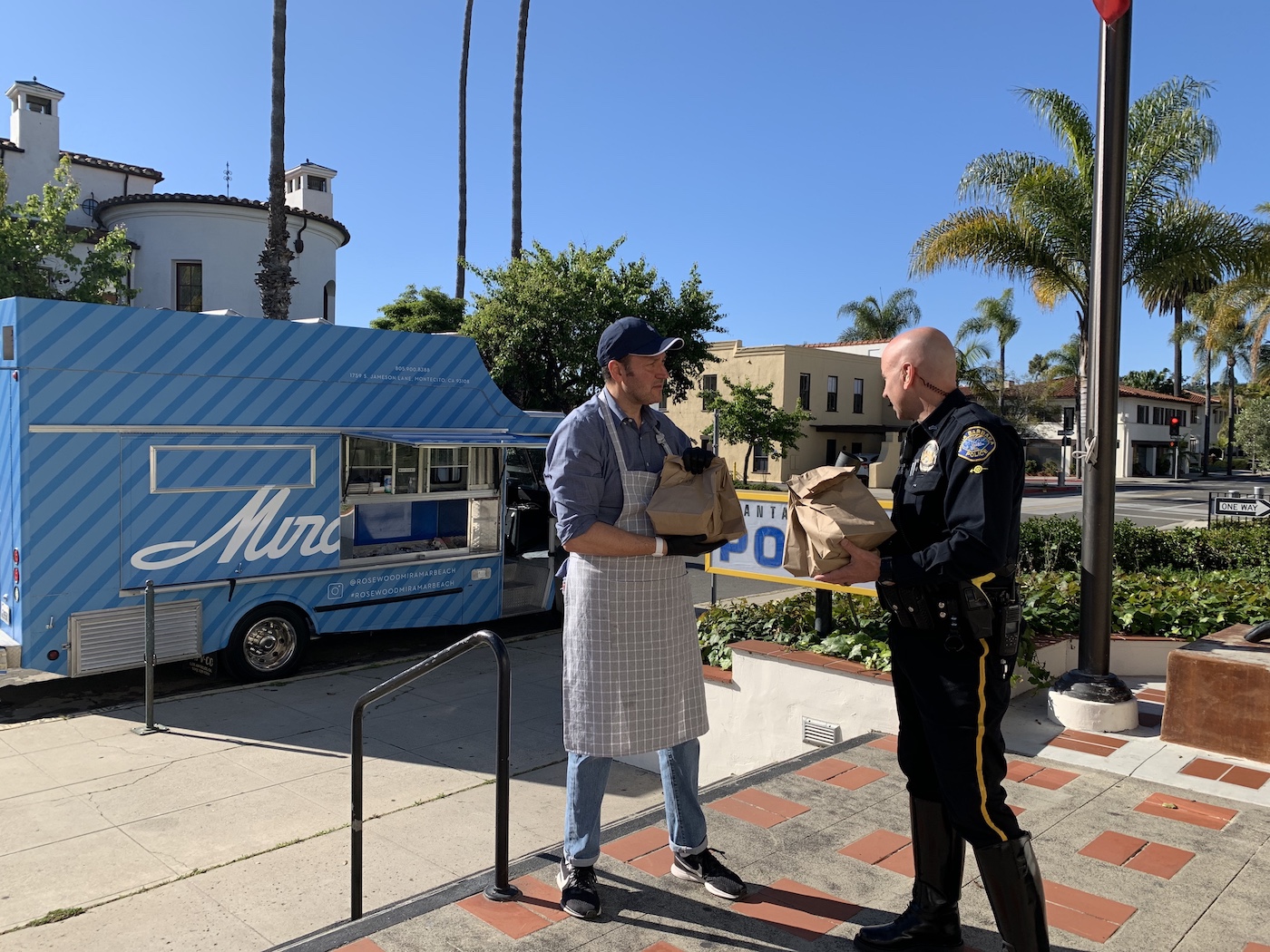 Santa Barbara's hospitality industry has been hit hard by COVID-19. Several local hotels have laid off their staff and are now closed, putting a halt to the local service industry. Those who remain on property are keeping busy, however. For his part, Rosewood Miramar's Executive Chef Massimo Falsini is working with first responders and other essential members of our community. Earlier this week, we caught up with Falsini to see how things are going.
What is your daily schedule like these days?
I am here at the Miramar launching a new community outreach campaign called "Miramar on the Move." Our culinary team prepares an average of 300 to 350 meals per day that we distribute around Montecito and Santa Barbara. We began last Friday and visited eight locations on our first day. We served 500 breakfast burritos to first responders, essential workers, and those in the care of local nonprofit organizations. We will continue to provide breakfast or lunch Monday through Friday to all those in need of some comfort and a nutritious meal.
What services does Miramar on the Move Provide?
Miramar on the Move provides complimentary, fresh meals via the Miramar Food Truck to those in need throughout Montecito and Santa Barbara. This includes visiting first responders, essential workers, and nonprofit organizations servicing disadvantaged individuals in our community to bring a hot meal each weekday. I prepare a different menu for each day that we go out in the food truck to provide nourishment and healthy fuel to our neighbors and local heroes.
When you're not on the move, are you trying any new recipes that you hope to incorporate at your restaurants?
For sure. This is the right time to do this. Lots of new dishes will come out in different outlets at Miramar. Now is the season of the artichoke. They are beautiful at our local Farmers Market. During the holidays I prepare a recipe from my Grandma Adriana, "Carciofi alla Romana." Every holiday this dish was in my grandparents and Mamma's table served directly from the pot in order to avoid the loss of any flavorful extra virgin olive oil, used for the "almighty" scarpetta or "fettunta" Toscana.
Roman Artichokes Confit – CARCIOFI ALLA ROMANA
Ingredients
6 big artichokes
1/4 head of garlic
2 lemons
1/4 bunch of fresh mint
1 TBS fleur de sel
1 bay leaf
1 QT extra virgin olive oil
1 pint dry white wine
Clean the artichokes, remove the hairs inside and brush them with lemon. Leave them in ice water with lemon juice. Cut the garlic heads in half and place them in the oil with the lemon as well. Place the artichokes in the oil. Add the mint, salt. Allow the artichokes cook in the oil for 10 minutes and then add the wine. Cover with aluminum foil, leaving a small open spot. Cook for 30 min +/- until artichokes are soft at the core. Serve them warm, directly from the pot.
Tip: Toast some great sourdough and scratch some fresh garlic cloves then place the artichoke with the "precious" jus over it.
Buon Appetito!
You might also be interested in...