Cannabis and Toilet Paper in the Coronavirus Era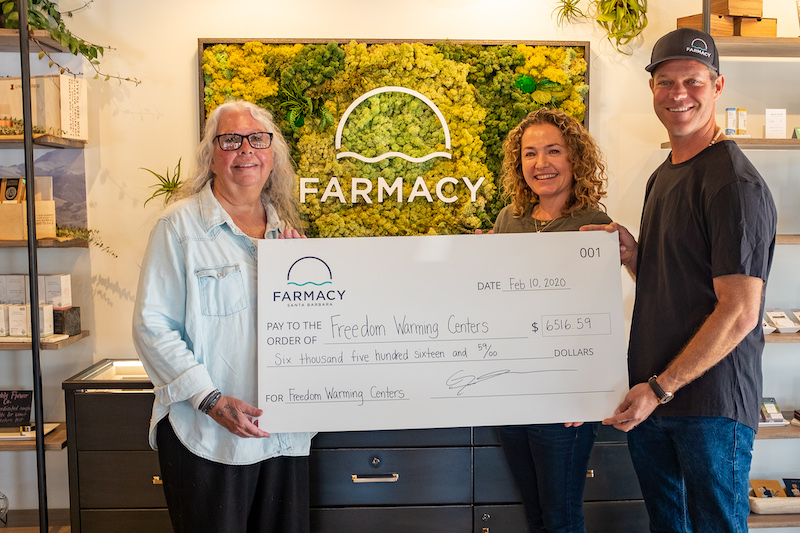 Thanks to the fact that California has deemed cannabis to be an essential part of the state's economy, Santa Barbara County's cannabis industry is one of the few major employers that isn't either completely shut down or drastically downscaled during the COVID-19 pandemic. CARP Growers, which represents legally licensed Carpinteria cannabis farms such as Autumn Brands and Glass House Farms, has mandated that all members post special coronavirus safety instructions for employees in both English and Spanish.
"CARP Growers member farms set up emergency subcommittees very early and swiftly to address best practices and protocols for employee safety," says spokesperson Peter Dugre. "These include on-site social distancing of six feet, masks, gloves, and temperature checks at entry, enhanced sick and family leave pay and staggered lunch scheduling to prevent grouping." That said, even before the outbreak, hourly employees who handle, weigh, and trim the cannabis harvest, many of them working-class Latina immigrant workers, were already wearing surgical gowns, rubber gloves and facemasks, and those standard safety measures remain in place.
The group has also raised tens of thousands of dollars for its 93103Fund, which seeks tax-deductible contributions to help support local nonprofits feeding and sheltering vulnerable residents during the crisis. In just one week, thanks to a $20,000 donation from CARP Growers and other local donors, the fund has already swelled to $65,000. Meanwhile, Dugre adds, farms who are members of the association have contracted with local restaurants in a program called "Keep the Lights On" to provide free individually wrapped lunches to up to 1000 employees two days per week, something that goes a long way to support the county's hard-hit dining industry.
The president of CARP Growers, Graham Farrar, is also the owner of Santa Barbara's The Farmacy, a dispensary that is now offering online ordering, curbside pickup, and delivery service, including to Montecito. Farrar believes that history is in the making right now, because this is the first major statewide health emergency where legal cannabis has been available to adults 21 and older. "Some people look sideways at the fact that cannabis has been declared essential," Farrar argues. "But the fact is that California has a twenty-plus year history of treating cannabis as medicine. And now, what people want are toilet paper and cannabis, or so it appears. People are using cannabis as medicine now more than ever."
As with the rest of the CARP Growers members, The Farmacy is participating in the "Keep the Lights On" program, providing free lunches to employees from nearby restaurants like Mesa Burger, as well as issuing checks to local nonprofits like Freedom Warming Centers, which provides shelter to the homeless when temperatures dip to freezing levels.
Farrar points out that there is well-documented research showing that cannabis can help fight anxiety and insomnia, two health problems that many people are suddenly experiencing now that they've lost their jobs and are stuck at home with no place to go. "We saw a big spike in consumption when people had fears that the supply would get cut off," he explains. "Then we saw a small dip as people settled into the groove. Now, consumption is about 10% above baseline."
To meet the extra demand, including from senior citizens who live in Montecito, The Farmacy tripled the size of its delivery fleet. For in-store pickups, the dispensary first allowed just 10 customers inside at a time, then only one customer per budtender, and finally moved to a system of express pickup – customers must order ahead of time – and delivery.
"We have an EPA-registered biocide that we clean the facility with multiple times a day and at night so we know we are operating in a sterile environment," adds Farrar. "Every employee has their temperature checked and are screened before entering. For our staff, it relieves their stress, but they are also in a space where they recognize that the community is really grateful and thanking them for providing an important service," says Farrar. "It's working really well."
You might also be interested in...