Santa Barbara's Stitch Witch Now on Mask Duty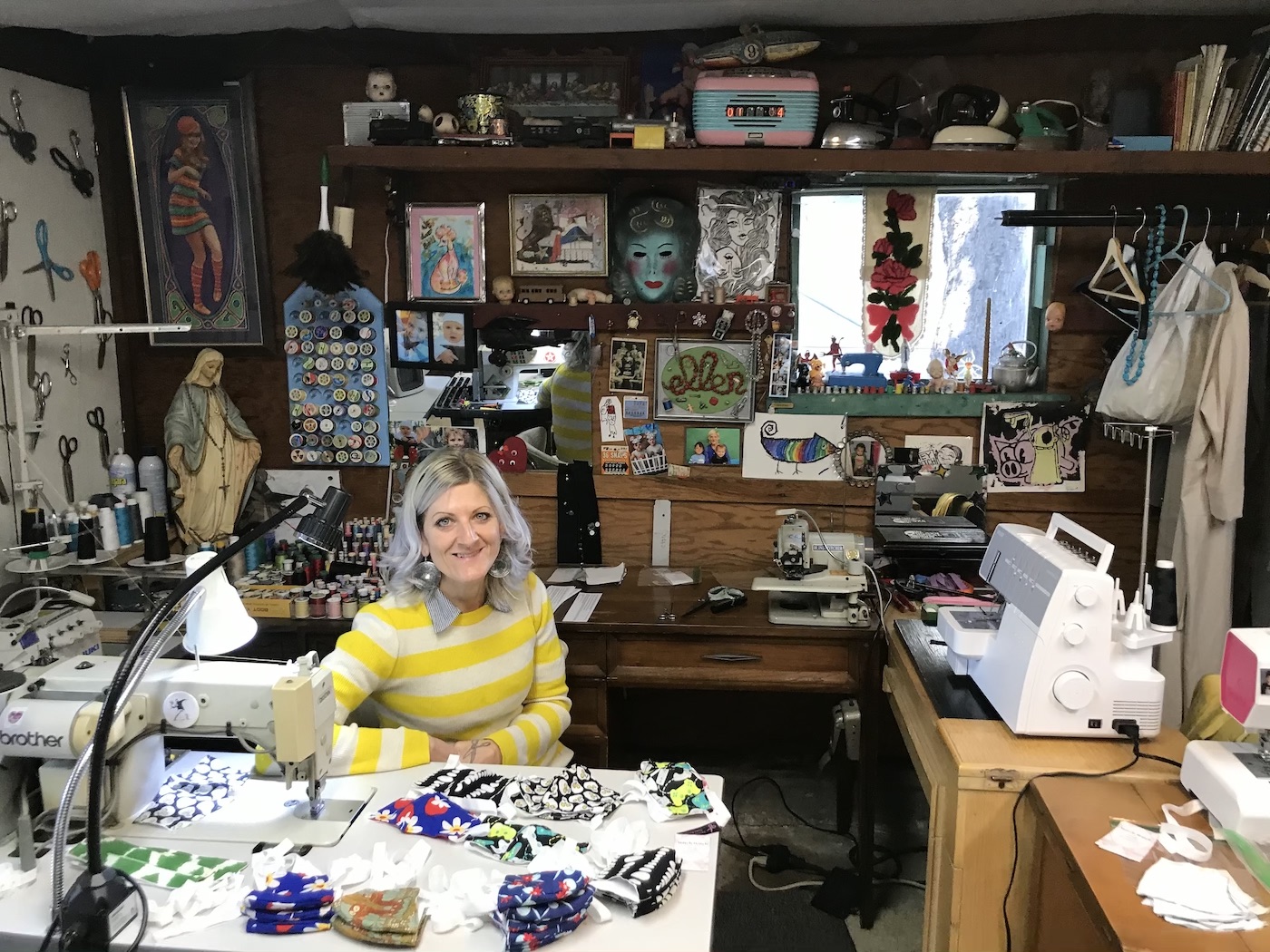 A decade ago, after working at Nordstrom for several years, Ellen Sztuk took a lunch break one day and called up her husband, telling him she was going to quit her job. That night, when she came home from work, her husband asked her what she could possibly be thinking. "I told him that I am going to be the 'Stitch Witch' of Santa Barbara," Sztuk recalls. "I made some business cards and in no time I had five clients. I realized this is what I am supposed to be doing my whole life."
Born and raised in Salt Lake City, Sztuk has lived in Santa Barbara for the past 17 years. Although her great-aunt used to sew and she remembers learning what a hand stitch looked like, nobody else in her family practiced the art form and Sztuk is self-taught. "I went to a little bit of design school to get the gist of things," she says. "Then I started going to Goodwill and taking things apart to see how things are constructed, so it's been a natural learning experience for me."
Sztuk converted the garage of her craftsman-style house in Santa Barbara to a workspace where she has since built a solid business as a seamstress, performing all kinds of work from simple alterations to more complicated custom jobs while also raising two kids, a boy and girl who are now eight and five, respectively. "I was just going on a wing and a prayer," she says. "I've been able to establish a great clientele and am not afraid of taking on any work, so if people call me and ask if I can do something, I always say yes."
When the coronavirus pandemic hit her radar, Sztuk and countless other seamstresses across the country took it upon themselves to begin making masks to help the public protect themselves from the disease. Although the masks are not designed to specifically protect wearers from the virus, they do have the effect of keeping people from touching their faces, particularly their noses and mouths, which greatly reduces the likelihood of infection.
"We are like Rosie the Riveter," Sztuk explains, referring to the famous World War 2-era poster urging women to work in factories to help speed up emergency wartime production. "There is a big need for masks and obviously we have a shortage of them for nurses and because of that, everyone who can sew is making masks for friends and family and for shelters, whoever needs them."
After a client gave one of Sztuk's masks to well-known Montecito realtor Adam McKaig, her orders skyrocketed. "I guess he was my influencer," Sztuk reasons. "People are still calling me for masks. I've made about 250 of them so far. I don't have time to do anything other than sew them."
Sztuk says that until the pandemic passes, she will continue to make as many masks as possible. "This has given me a sense of purpose," she says, adding that for every mask ordered she will make and donate another mask. "I mean this is what I do," she concludes. "It feels good to be making things that people are going need."
To order masks, contact Sztuk at Stitch Witch Alterations, 805-363-2067; stitch-witch-alterations.business.site.
You might also be interested in...