Friendship Center, Easy Lift, and Bucket Brigade Team Up for Home Food Deliveries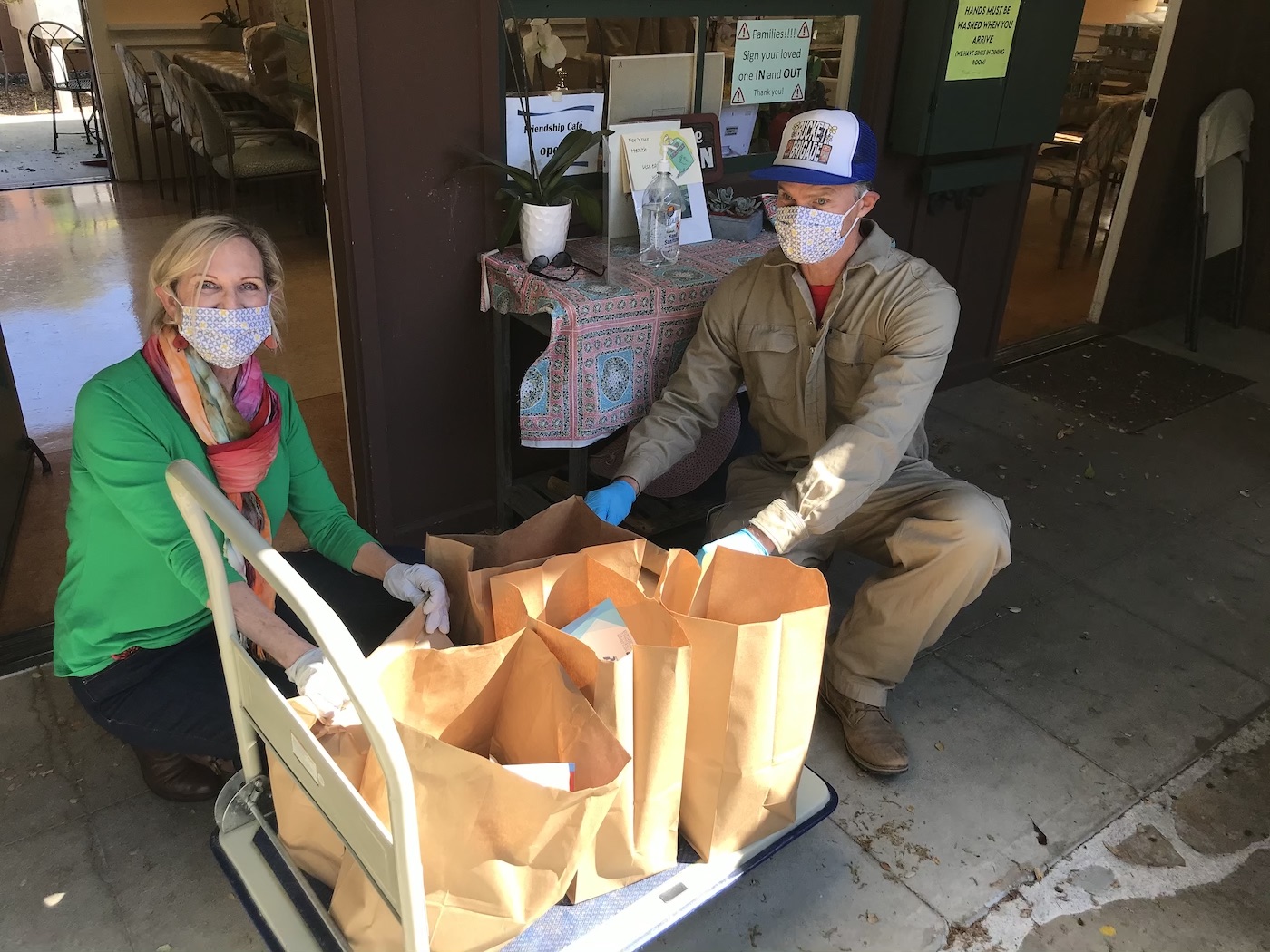 Since 1979, Montecito's non-profit Friendship Center has provided group therapy for senior citizens from Monday through Friday at its rustic headquarters on Eucalyptus Lane. Normally by mid-morning on a weekday, the center would be a buzz of activity, with caregivers dropping off members to enjoy a day full of live music, therapy dog yoga, talks on travel and exploration, walking and water-coloring clubs, flower arranging and bingo, just to name a few.
Last Thursday at 10 am, however, the Friendship Center was closed to the public, as it had been since March 15 thanks to the coronavirus pandemic. Despite this – or rather precisely because of this fact – about a dozen volunteers that morning packed the center to help deliver food and care packages to dozens of elderly members who are now stuck at home with nothing to do and nowhere to go.
"We've been worried about our members and their caregivers ever since we closed both our Montecito and Goleta locations," said executive director Heidi Holly, who along with Kim Larsen and Judy Hughes were wearing masks while busy packing bags of non-food items for members including stress balls, puzzles and games, shampoo bottles, Kleenex, and other small items donated by local businesses such as First American Title Company. "We felt it was important to take care of our members right now, because it's hard for them to get out and get food, particularly for people who are in cognitive decline," Holly said. "These are Take Care Totes that are filled with wellness and comfort food products so people can feel comfortable at home."
To help deliver the food and care packages, the Friendship Center enlisted the support of Santa Barbara-based Easy Lift Transportation, a para-transit organization that helps bring elderly and disabled people anywhere they need to go from Goleta to Carpinteria, as well as provide free rides for MediCal recipients to and from medical appointments. On hand to help drive last Thursday was Easy Lift's Kristina Lauterio, also wearing a mask. "We usually provide free transportation for people," Lauterio told me. "Now we are here to deliver food."
Holly was grateful for all the support. "Our mission is to keep people involved in activities to keep their minds going," she explained. "So I really love that we are reaching out and being able to do that today, because their being home really concerns us. It's hard on the caregivers and family members who take care of them when they are not here, and that's why we are offering our help now, just to give them little things to do and keep them moving."
Inside the Friendship Center's kitchen were numerous boxes full of food staples including comfort food items such as bananas and pistachios as well as beans and other canned foods, all of which were provided to the center by the Foodbank of Santa Barbara. There to help organize the packing and delivery of the food was the Bucket Brigade's Abe Powell, whose group has extensive experience in coordinating aid efforts. Powell made sure that volunteers practiced proper social distancing and helped ensure that as little effort as possible was wasted in packing up the food for delivery. "Line up these boxes right here," Powell instructed. "Put the tables there and this is where all these boxes will go," he added. "Boom!"
Along with all the other volunteers, Powell was wearing a health mask, but also a pair of industrial strength coveralls and heavy construction boots. "Normally, we run the entire operation ourselves," he said after telling volunteers how to proceed. "But because we are working with all these other agencies with their own levels of experience and competence, we'll get the system worked out. This is the premier barbacoa but we'll get it right."
You might also be interested in...