Delivering the Farmers' Market from the Coronavirus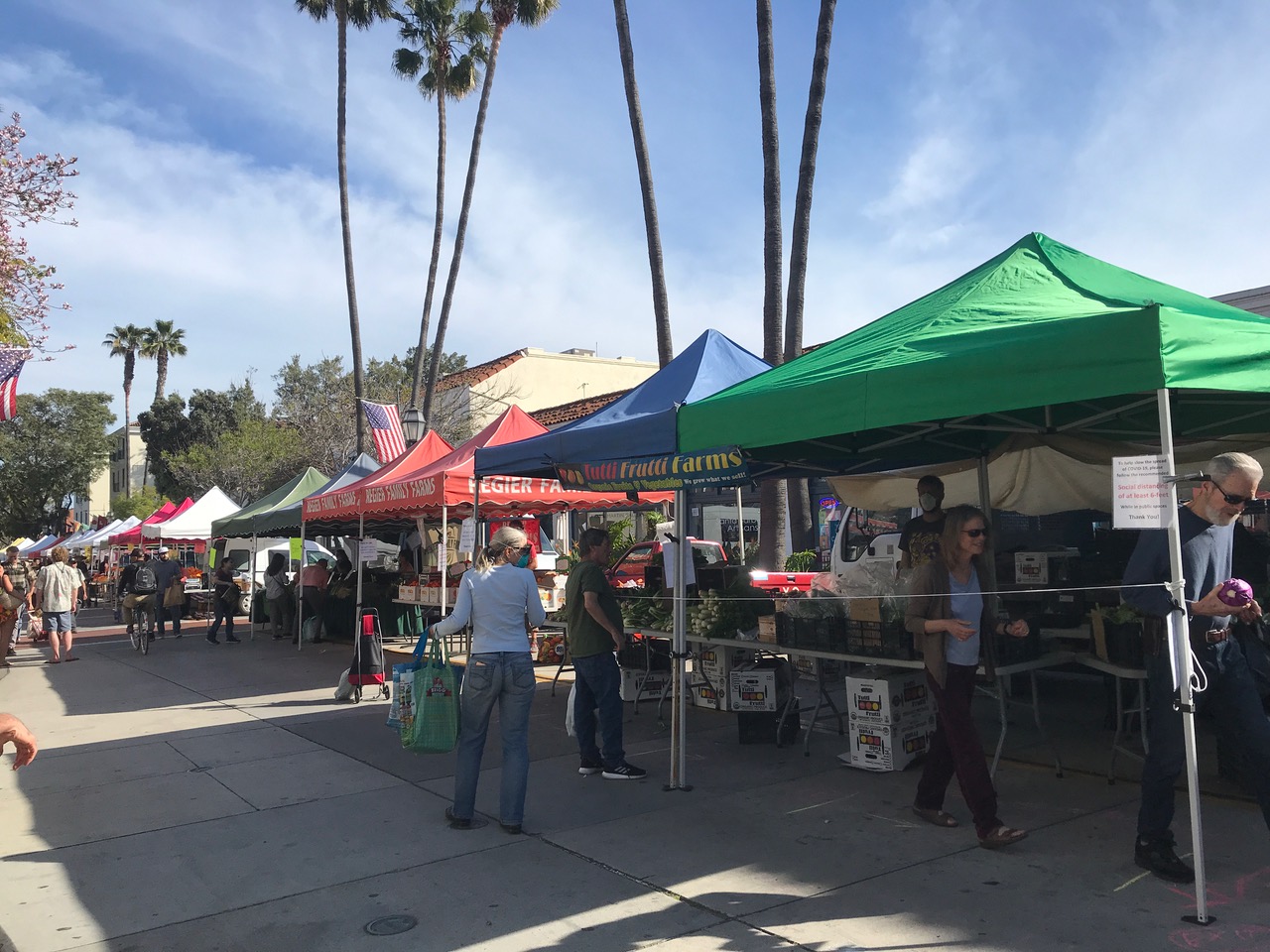 When we look out at the Pacific from Butterfly Beach it's clear. The ocean still works. When we turn to look at the Santa Ynez Mountains it's easy to see the mountains are just fine. Clouds, too. It also turns out that the valleys and fields and surrounding farms continue to produce food, with even bluer skies and more sun. The storms of this month have brought the countywide rainfall to 83% of the normal, so the ever-present threat of drought has subsided. The natural world spins serenely on despite how much humanity across the globe has been turned upside down.
One would assume that farmers' markets would be doing just fine. Food is an essential service and Gelson's, Lazy Acres, and Tri-County are open with daily and weekly adjustments. The Santa Barbara Farmer's Market falls in the same category of essential services and for some the market is the heartbeat of Santa Barbara.
In so many ways the market provides an even more important service to the community. It's local, it's outside, people come and leave, fewer hands have touched the food sold there, more food is organic and connects growers and consumers directly. It's also a social mecca, even a weekly highlight for many and that's where the trouble begins.
On one hand across the country, farmers who sell boxes of meat, dairy, fruits, and vegetables directly to consumers are seeing a huge spike in orders as the coronavirus outbreak changes how people buy food.
The food delivery businesses run by local farmers across the country are flourishing as people grow wary of making frequent trips to the grocery store and choosing to cook at home instead of eating out. It's emerged as a bright spot in the agriculture industry while other types of small to midsize farms are struggling due to many farmers markets shutting down and restaurants and schools scaling back contracts.
Gathering at Farmers' Markets is a Concern During the Crisis
But at the same time, farmers' markets are being scrutinized and reevaluated on a daily basis. Just this week Los Angeles closed down all its farmers' markets as of March 31. The problem, put bluntly, is social contagion. The issues aren't just for consumers. If consumers don't feel comfortable, they can go home. The farmers can't and they are the ones who are taking the most precautions and are the most concerned. The SBCFMA, the market association and its Board of Directors, are working around the clock to figure out new ways to intake cash, food handling, social distancing, market flow, and more. The Montecito Journal made numerous attempts to reach the SBCFMA staff but were unsuccessful.
"Both the consumer and vendors have improved patterns of behavior a ton," says market vet and longtime Santa Barbara farmer Tom Shepherd, "but nevertheless, I'm still concerned."
Roots Farm owner Jacob Grant who has one the biggest farm stands in the market and whose entire year-round production is aimed at the farmers' market as his primary point of sale has stopped going to the markets for the last few weeks because he's simply uncomfortable. Grant has thought deeply and philosophically about how he farms and brings his products to the market consumer and he doesn't take his decision lightly.
"I think changes have already started happening as the market has become more of an essential activity than a social activity," he explains. "Limiting the contact points between customers and vendors is crucial. I stopped because I felt like the public and myself were not on the same page with how we need to act and engage with each other to limit the potential risk of the coronavirus."
As a result of these concerns, farmers are all reevaluating overnight their business models in varying ways. What is eminently clear is that the people in Montecito and Santa Barbara have a stronger demand for local produce than ever, particularly with the need to stay at home, as the restaurants have virtually shut down and the bigger stores seem daunting.
Consumers are Beginning to Change Their Behavior
"Farmers provide for the health and nourishment of the people," states Katie Sheperd, who runs a highly successful CSA (Community Supported Agriculture) which markets boxes of prepaid and preordered market produce and was established well before the current concerns developed.
"Many are worried about their own health and the health of their workers. On the bright side a need for healthy local produce will always be important," she added.
Tom Shepherd sees a new normal at farmers' markets. "There's more social consciousness and communal health awareness that will continue even after the pandemic ends. People will buy without touching everything and rooting around and change their pattern." He deeply loves the market and seeing the community, it's his social connection, so the thought of dropping out of the market weighs heavy on him.
Solutions Abound
The resourcefulness of farmers is legendary. New ideas are springing up overnight just like this month's harvest. In almost every case farmers are working hard to keep their workers and not lose them and keep their farms fully functioning.
CSAs like Farm Cart Organics or the Farm Box Collective are popping up everywhere, but they don't provide the same kind of income farmers rely on from selling direct to the consumer. So many farmers are creating their own distribution systems. Golden State Papaya, Mt. Olive, and Tutti Frutti have already mobilized to reach their loyal farmers' market customers that way.
Chefs and caterers have also entered into the fray. One astonishingly successful development has been directed by the head chef of Barbareño Restaurant, Preston Knox. Meeting overnight with Julian Martinez, one of the owners, and the staff and even their website designer, Knox has reconfigured their entire operation to provide not only prepared food for pick up but quality goods from their distributors and local produce from the farmers.
Nadia Van Wingerden of Sage Hill Farms who grows some of the most sought after avocadoes in the market delivered twenty-five pounds of avocados to Barbareño and will be supplying them regularly. She's also selling them out of her driveway in Carpinteria at 1473 Sterling Avenue for five dollars a bag, all certified organic. Preston first met Nadia when he was searching for fresh rabbit. When he started preparing it in the restaurant people went crazy for it.
Barbareño feels that the new venture is successful enough that even when things calm down and the restaurant reopens, they'll continue distributing and preserving their unique relationship with the farmers from the market.
Former Wildwood Kitchen and Julienne Chef Justin West has also created a new endeavor built around farmers' market produce called the Market Forager, providing boxes of produce chiefly sourced from Jacob Grant's Roots Farm. He's also providing recipes and is offering a butcher's box.
An investigation into already existing underlying local farm produce distribution uncovered a further intriguing possibility, especially here in Montecito. The buoyant and effusive owner of Montecito Village Grocery, Roxy Lawler, was also already buying Sage Hill avocados for the market in upper Montecito. The Village Grocery is home of one of the very best butchers in town, Tony Perocco, who whips out grass-fed filets faster than a wild west gunslinger. He's been a stalwart of the market for thirty-six years. Ms Lawler bought the Montecito Village Grocery three years ago and has gone to great lengths to preserve and enhance a cherished landmark.
The Market has instituted many changes in recent weeks to protect the employees as well as consumers. It had been an agonizing decision to acquire face masks for the grocery employees instead of contributing them to the hospital. But in the end, Ms Lawler felt she had to protect her workers. It's one of the strange ironies of the pandemic that store clerks and even checkout counter baggers are exposed and provide an essential service to keep stores open and people fed.
With broken distribution chains and the heightened desire for fresh local produce the Montecito Village Grocery is innovating for the community as well.
"The missing link is to have more fresh and local produce in the market," she declared, "and we'd like to sell more local farm produce including eggs and other items. It's a win-win for the farmers for the market and the village consumer." In fact, it might even be a win-win-win.
"We are a community service," she adds. Farmers can reach her regarding distribution at MontecitoGrocery@yahoo.com. "We'd like to put it out there for businesses struggling that have amazing product to offer. We'd like to hear from you."
Lori Heal, affectionately known as Mama, of Two Peas in a Pod Farm doesn't hesitate to offer that the farm is "the love of her life." Two Peas is a small family farm that offers some of the sweetest blueberries in the area. It's just her husband, children, and herself and she's been farming for thirty-six years. They're between crops right now so the market has been slower than usual. As for the coronavirus she takes it in stride.
"Farmers are used to dealing with the unpredictable. There is always the unpredictability of weather and how the crops thrive or not," she says. "Nothing is ever for sure in farming." She says she has no choice but to be in the market because their entire business is markets. She feels blessed every day to be healthy and able to continue working.
"We're taking everything day by day," she adds. "We all have to make it, so we will make it. We are a community and we will work together."
You might also be interested in...