Selling New York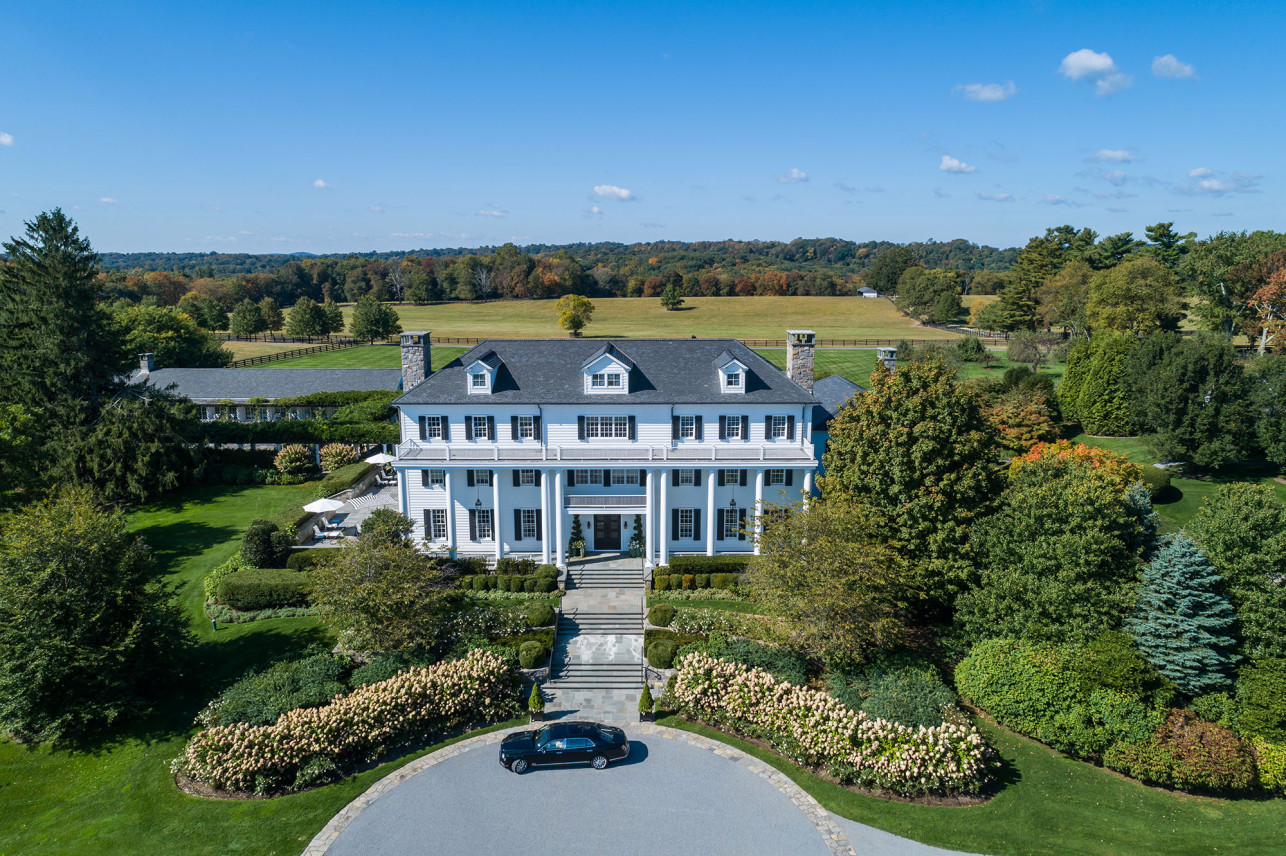 Santa Barbara resident and horse racing enthusiast Barry Schwartz, the co-founder of Calvin Klein Inc., is selling his sprawling equestrian estate in New York's Westchester Country for $100 million.
Spanning around 740 acres, the property is among the largest privately held estates in the county, according to Christie's International Real Estate.
Known as Stonewall Farm in Granite Springs, the home features a turf racetrack, riding trails, a 40-stall barn, as well as two 24-stall barns, and numerous paddocks and pastures.
Schwartz, 77, and his wife, Sheryl, have bred and raced 65 stake winners and several horses that have gone on to compete in the Kentucky Derby.
The 24,000 sq. ft. Colonial-style house, completed in 2003, has eight bedrooms. There is also a 2,200-bottle wine cellar, a Zen garden and two-story library, and a 4,000 sq. ft. outbuilding with a 60-ft. pool, sauna, and gym.
There are also eight staff residences, a guest house and a caretaker's cottage.
During the racing season the tony twosome spend several months in our Eden by the Beach and Saratoga, New York.
Under the Tuscan Sun
Montecito actress Gwyneth Paltrow has been reminiscing about her experiences in Italy, as the country is particularly ravaged by the coronavirus with more than 3,500 fatalities, even more than China.
The 47-year-old Oscar winner took to Instagram saying the country holds a "particular place" in her heart given her father, film director Bruce Paltrow, died there in 2002 and it is where her second husband, TV producer Brad Falchuk, proposed in Umbria in 2017.
Paltrow tied her message to the tragedy unfolding in the county. "Heed those very real warnings," she urged. "This is an unprecedented crisis that we want to pass quickly."
She also featured a video "A Love Letter to Tuscany," showing a youthful Paltrow driving through the rolling hills, sipping an espresso, making cheese, and participating in the colorful, rustic lifestyle.
Paltrow first visited Italy in 1991 and a number of years later shot the film The Talented Mr. Ripley in Rome with Matt Damon and Jude Law.
When I was gossip columnist on The Joan Rivers Show in New York, I would take the whole of September off each year and rent homes in Tuscany and Provence.
Fond memories…
Gigi Gets Candid
Former Montecito Union School student turned supermodel Gigi Hadid can pull off any look.
It was amply shown when she shot the cover of U.S. Harpers Bazaar's April issue.
Gigi, 24, is interviewed by her longtime friend, Grammy winner Taylor Swift, as well as Kendall Jenner, Serena Williams, Jimmy Fallon, Blake Lively, and Kacey Musgraves.
"I've realized over time that I feel the most free when I express myself, whether through action, writing, or talking it out," she told Swift.
"Being honest always leads to something good, even if it takes a hard or awkward moment or conversation to get there.
"You can never go wrong with telling someone how you feel and speaking your truth. And you always learn something from it."
Landing in L.A.
Prince Harry and wife Meghan Markle are now looking to buy a home in Los Angeles near her mother, Doria Ragland.
The Duke of Sussex, 35, and the former actress, 38, are currently residing in a $10 million mansion on Canada's Vancouver Island.
As to plans for the Big Orange, a source tells People Magazine: "This is what Harry and Meghan have always wanted, to create their own life. It has got to feel like an immense relief to get out of the U.K. and go down their own path."
Stay tuned…
Feeling Puzzled
After suspending production of her long running Burbank-based TV talk show because for the coronavirus pandemic, Ellen DeGeneres is trying to stay entertained at her Montecito home with a 4,000-piece jigsaw puzzle.
"I haven't done this in a long time, but it shouldn't be that hard," the 62-year-old comedienne commented on Instagram.
She initially believed the complex puzzle would only take about an hour, but updated her 85.3 million Instagram followers to let them know she wouldn't be able to complete it because of a missing piece.
"I counted the pieces and there are only 3,999, not 4,000. I don't know about you, but when I get to the end of a puzzle I feel so good and accomplished, and there's one missing. It's not fun."
Ellen later found the missing piece under a table and was able to complete it.
Intimate Nuptials
The forthcoming royal wedding of Queen Elizabeth's granddaughter, Princess Beatrice, 31, to real-estate developer Edoardo Mapelli Mozzi, 36, could be one of the smallest ever.
The nuptials, scheduled for May 29 in the Chapel Royal at St. James's Palace – the same venue as Queen Victoria's wedding to Prince Albert in 1840 – were scheduled to have 150 guests, but a new edict from the Archbishop of Canterbury, religious head of the Church of England, limits ceremonies to just the bride and groom, the officiating priest, and two guests as witnesses because of the coronavirus.
Rather different from the wedding of Beatrice's sister, Princess Eugenie, 29, to wine merchant Jack Brooksbank, 33, at St. George's Chapel, Windsor, in October, 2018, which had 800 guests, featured an open carriage ride to Windsor Castle and was televised.
The two young ladies are the daughters of the Queen's beleaguered son, Prince Andrew, and his divorced wife, Sarah Ferguson, the Duchess of York, both 60.
Met No More
New York's star-studded Met Gala, known as fashion's biggest night out, is the latest victim of the coronavirus pandemic.
The Metropolitan Museum of Art, where the celebrity filled event is held each year, announced the May 4 bash chaired by my erstwhile New York Magazine colleague Anna Wintour, has been postponed "indefinitely."
Wintour, who has run the $35,000 a ticket benefit for 25 years, is the longtime editor of U.S. Vogue and took over from two old friends, Pat Buckley and Nan Kempner, when I used to attend in the late '70s and early '80s.
This year's theme was About Time: Fashion and Duration, with Meghan Markle expected to attend with British Vogue editor Edward Enninful.
Moove Over
Hundreds of Hindu worshippers in India have hosted a cow urine drinking party in the belief it will ward off the coronavirus.
A group called Awhile Bharat Hindu Mahasabha – All Hindu Union – hosted the bovine bash in Delhi, the country's capital, in the hope of curing themselves.
Organizers hope to host similar events throughout the country.
"We have been drinking cow urine for 21 years, we also often take baths in cow dung," says Om Prakah, one partygoer. "We have never felt the need to consume English medicine."
It's a fad that won't catch on here, I suspect, however bad it gets. Some might say it's udderly ridiculous.
You might also be interested in...