Finding Opportunity in a Shutdown: How Santa Barbara's Wine Industry is Taking on Coronavirus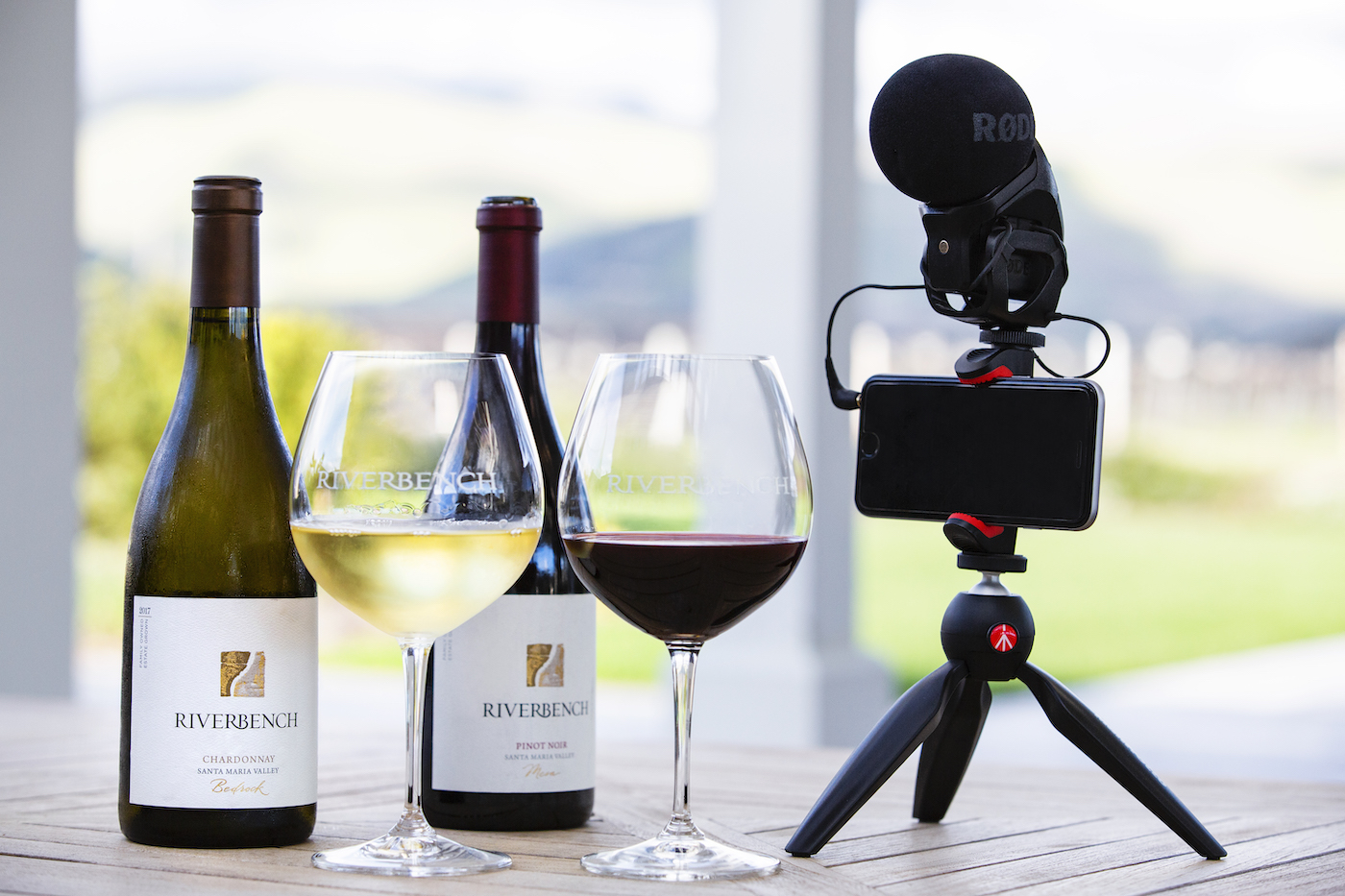 The grinding halt wrought by a virus sprinting across the globe has certainly not spared the Santa Barbara wine industry. These are businesses that depend on foot traffic, on one-to-one connections, on personalized experience. Shut that down, as the recent mandate by Governor Newsom (understandably) did, asking all wineries and tasting rooms to temporarily close, and that critical connection, and the revenue it inevitably generates, comes to a standstill.
Even the big players get hurt. Most Santa Barbara wineries, though, are individual endeavors, passion projects, and labors of love for many of our friends and neighbors. For them, the current reality is a scramble to stay afloat until we're all on the downward slide of the coronavirus curve.
And to that end, local winemakers are doing everything but standing still.
This week, Riverbench Vineyards launched a virtual tasting of the wines in their latest wine club shipment, which went out to thousands of club members in early March. The tasting was led by the winery's Director of Hospitality, Danae Smith, and was broadcast live on Facebook. Those who tuned in got insight into, and tasting notes for, Riverbench's 2018 Estate Chardonnay, 2016 Reserve Pinot Noir, and 2017 Blanc de Blancs Sparkling Wine, all grown from grapes on the label's Santa Maria Valley property. They also got to sip with others, of course, which is always better than drinking alone.
A second DSLR camera recorded the session, which allowed the team to upload the video to YouTube.
"We didn't want to something just for tomorrow," says Riverbench communications director Wil Fernandez. "If we're going to create content, let's think long term, let's do something we'll continue to do [even after the coronavirus scare] because it just make sense." Indeed, moving forward, Riverbench is planning on doing virtual tastings in conjunction with all wine club shipments, which go out three times a year.
Keeping wine club membership engaged is key for a company like Riverbench, whose club accounts for about a third of its business. The other two-thirds are almost entirely driven by visitation to its two tasting rooms in Santa Maria and in Santa Barbara's Funk Zone, which remain shuttered. Third-party retail, a very small portion of the business under usual circumstances, is being ramped up now to offset the fallout, with distributors in states like Missouri and Kansas, along with California, pushing Riverbench wine into grocery store chains like Ralphs and Vons.
And to support employees in the short term, the way business is done at Riverbench has also changed. Instead of outsourcing wine club shipments, which can take weeks, tasting room employees have taken on the task. And the winery's phone number – 805-937-8340 – has been turned into a wine tasting hotline, meant to encourage customers to call in with orders, questions or "just to chat with someone else," says Fernandez. Calls are forwarded to the cell phones of different employees, who are working from home now, each day, and average call times have gone from under two minutes to more than 15.
Virtual tastings have become the flavor of the day across the wine industry, with myriad wineries tapping their customer base through Facebook, Instagram, Twitter, and YouTube, among other platforms. With the J. Wilkes Wines tasting room inside the Hotel Californian closed to visitors, for example, winemaker Wes Hagen launched daily 5 pm virtual tasting and educational conversation on his Facebook page (@weshagen). And the Wine Militia, an L.A.-based marketing company, this week launched daily virtual tastings at 6 pm on their Instagram account (@thewinemilitia), featuring a different Santa Barbara County label each day; consumers are linked to online shops to purchase featured wines ahead of time so they can sip along when they tune in.
Online commerce, of course, is the primary defense against the coronavirus consequence. Most every local winery is offering incentives to get imbibers to shop online, in lieu of visiting their tasting rooms in person. Shipping is either included or deeply discounted on most orders. And then you've got creative hustlers like Jamie Slone, who, after having to close his tasting room in Santa Barbara El Presidio neighborhood to visitors, is hand-delivering wines for free to doorsteps from Goleta to Oxnard (jamieslonewines.com).
In Los Olivos, Tercero winemaker Larry Schaffer, who can't welcome visitors at his popular Los Olivos tasting room right now, admits he's concerned about the next few weeks. "Margins, in the short term, will not be good," he admits. But he sees opportunity during the coronavirus crisis, too, especially in the way wineries like his, which are driven by direct-to-consumer sales, are now able to focus on bolstering client relationships. "I'm sending longer handwritten notes along with each shipment right now," he says, "and I'm not sending anything out until I've confirmed addresses on my mailing list on a one-by-one basis."
Schaffer is gearing up for his own virtual tasting soon, and he's including shipping and offering a 20% discount (30% for his wine club members) on all orders of six bottles or more, at tercerowines.com.
Cheers.
You might also be interested in...