Rain in Montecito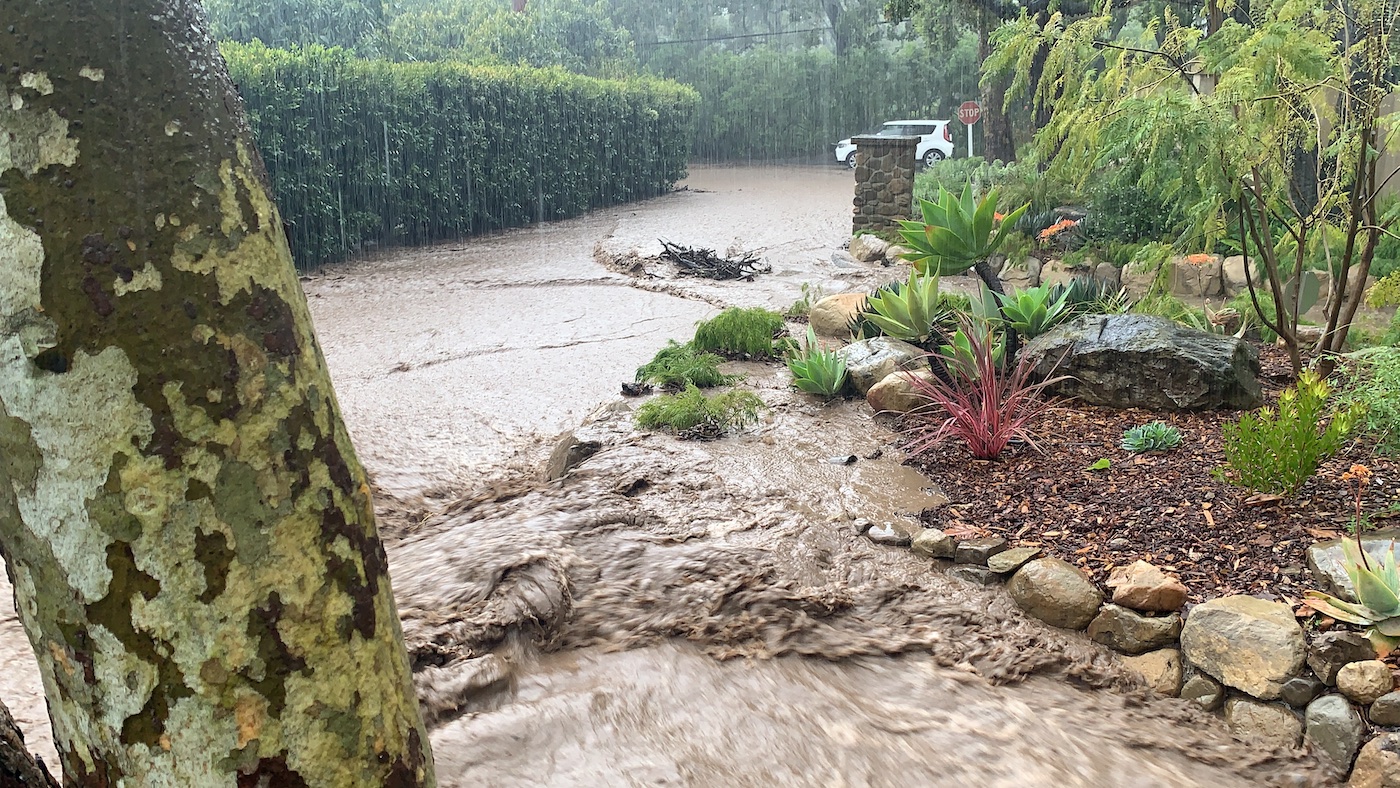 With over a week of wet weather, Montecito debris basins, ring nets, and creek channels held up extremely well, according to Montecito Fire Chief Kevin Taylor, who gave us an update on the weather earlier this week.
Crews from County Flood Control and Public Works were in Montecito Tuesday morning, assessing the impact of the heaviest day of the storm, which was on Monday, March 16. It was determined that the weather event produced 8.84 inches over a seven-day period; a "saturation event," which could potentially trigger an evacuation if other conditions are met, is determined to be 10 inches over a seven-day period. If a saturation event occurs, the nets and debris basins are filled, and creek channels are clogged, and another rain event is forecasted with high intensity rainfall, an evacuation order may be put into effect. "This was a very significant storm, and while the water shed is reaching saturation and we are seeing a lot of runoff, we are seeing less debris than in previous years, which is great news," Chief Taylor said.
With debris falling in each of the debris basins, Public Works is currently mobilizing to restore grade; none of the debris basins were full or causing blockages. During the height of the storm, with San Ysidro Creek flowing heavily, CHP officers mobilized on Highway 101, ready to close the freeway if the creek overflowed, which did not occur. "All indications thus far is that the watershed performed very, very well," Chief Taylor said, adding that there were some issues along Highway 192 with loose rocks and debris, and the Romero Crossing at Bella Vista was closed. "At this point no protective actions are being contemplated," Chief Taylor said, saying that another storm forecasted for later this week looks to be much milder, with no more than .25 inches forecasted per hour.
Chief Taylor explained that the District is currently implementing its Continuity of Operations Plan, given the global crisis of the coronavirus pandemic. The District maintains its ability to provide constant, uninterrupted service to the community, while following guidelines presented by the Public Health Department and the CDC. District governance has been moved to virtual meetings, fire station operations have been restricted to essential operations only, and the District is adhering to social distancing as much as possible. Non-essential training, as well as any events that brings large groups together at the fire station, have been canceled or made virtual, and all staff and personnel have been provided training updates. Non-essential administrative staff are currently telecommuting, and personal protective measures are being taken at the fire stations and on emergency calls. Logistics staff is currently evaluating how the District can best operate during this unique time, ensuring that emergency staff continue to be able to provide for the needs of the community. Chief Taylor reports that there has not been a significant increase in emergency calls for service, but that the District is prepared if that occurs.
For more information, visit www.montecitofire.com.
You might also be interested in...