Organic Soup Kitchen Expands Delivery Service During Coronavirus Scare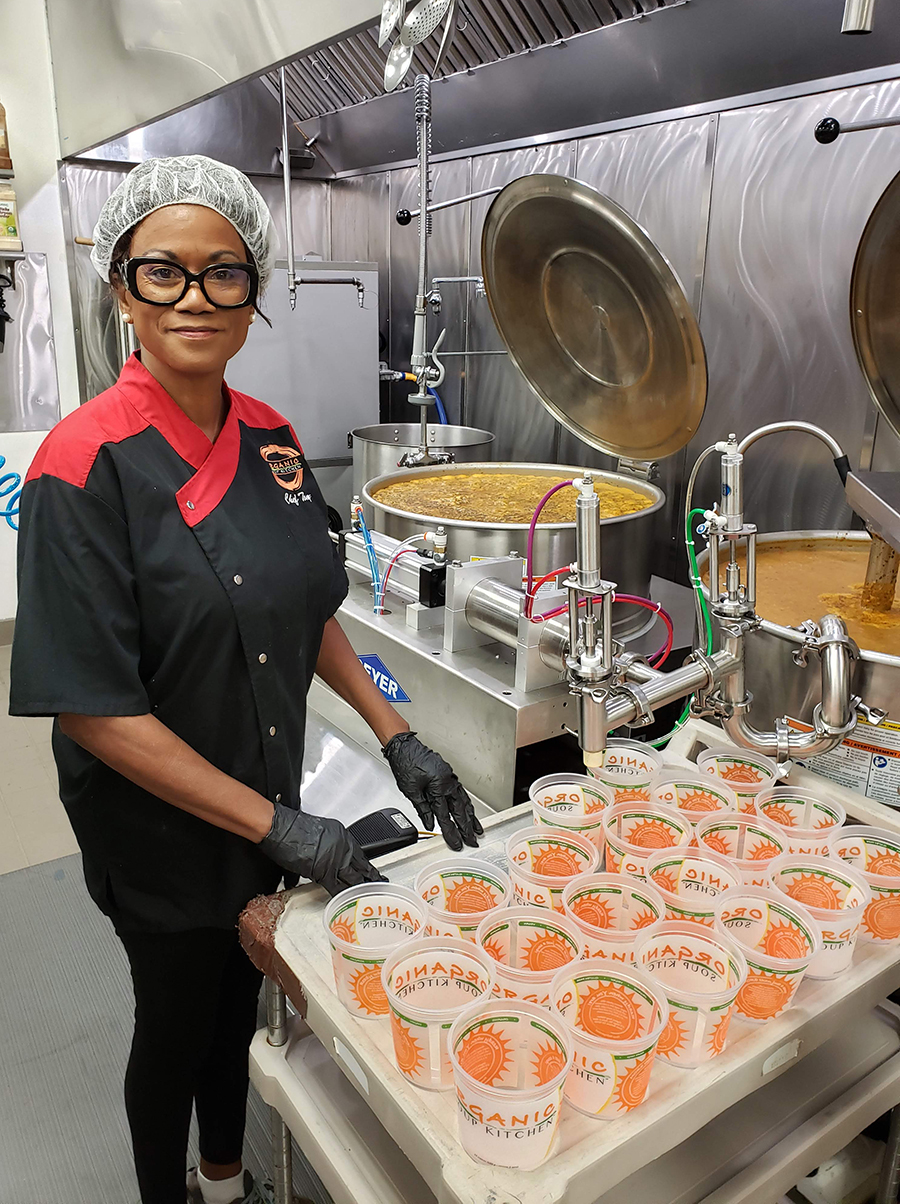 In the past several days, the so-called coronavirus or COVID-19 pandemic has spread into California and registered its first infection in Santa Barbara. On March 13, Santa Barbara's Organic Soup Kitchen announced it is expanding its delivery service to help people stay in and stay healthy during the health scare.
"We produce soup and deliver to about 300 homes," says co-founder Anthony Carroccio, who along with his wife, Andrea, founded Organic Soup Kitchen in 2009. While the full-time staff is slim, Organic Soup Kitchen has 20 to 30 volunteers who prepare the soup and employs 30 delivery drivers. "When this whole thing happened with the coronavirus, we figured this is exactly what people need," Anthony explains. "We work on a sliding scale, charge $15 per container, and if you can't afford it, you pay what you can, and we turn nobody away."
The company is proud to point out that it is the only local source of organic, plant-based soup that is both nutrient-based and specifically formulated to strengthen immune systems – and which is available for delivery in hermetically-sealed containers to those whose medical condition make it impossible to eat out or even pick up their own food. The Carroccios founded the company in the wake of another crisis – the global economic collapse of 2008.
"I wanted to do something and give back a little bit," Anthony says, explaining that the kitchen's first efforts were directed at the homeless community. "We were feeding families left and right," he recalls. "Five years later, I realized there were other agencies that could take care of the homeless. That's when hospitals called me and asked if I could puree the soup."
Because some terminally ill patients can't eat solid food, pureed soup is the healthiest option to keep up their immune system. "It has to be a very sterile product," Anthony explains. "All our produce is organic; all the herbs and spices are non-radiated, and we hermetically seal the soup in a container so no pathogens can get in." Even the salt in the soup is Himalayan, which rather than only offering pure sodium like most table salt, provides other beneficial minerals.
"We started out with one pot in Pershing Park," recalls Andrea, looking back at the Organic Soup Kitchen's early days. "It grew from there."
"I've always been a health freak," adds Anthony. "In 1998, I started publishing a magazine called Healing Retreats and Spas. During that period of time, my son and I had a calcification test done for our hearts, because we have heart disease in our family. We realized he had all these tumors inside his lungs," from an autoimmune disease called sarcoidosis.
"He has had it for twelve years and we keep him on a strict diet." Anthony says. "They put him on medication that didn't work. I took him off that and put him on a program that I designed and took him to UCLA and asked if there was anything we could do. The specialist down there said, 'It appears whatever you are doing is working fantastically, so keep doing what you are doing.' So all those years of eating healthy and being a health freak paid off in the end."
Jane Orfalea first tasted Organic Soup Kitchen's product outside a Trader Joe's several years ago. "Andrea had a small stand at the entrance with paper cups and an electric pot," Orfalea remembers. "The soup tasted so excellent that I bought some, and I'm a very fussy eater. Then Andrea explained to me that they distributed to cancer patients on a sliding scale."
In May 2019, the kitchen moved into its own facility at 608 Anacapa Street, Suite 3. "Although we're mobile, people can pick up the soup as well, but we don't encourage that during the virus outbreak." The kitchen has always adhered to hospital-level standards of cleanliness. "We wear gloves, masks, and hair nets," she elaborates. "We don't let anyone into the kitchen, and our drivers are covered with hand sanitizers, masks, and gloves. With the epidemic, our soups are perfect for people who can't go out."
For anyone wanting an Organic Soup Kitchen meal delivery, call 805-364-2790 or email contact@ogranicsoupkitchen.org. For more information on how to donate, visit www.organicsoupkitchen.org.
You might also be interested in...