Women United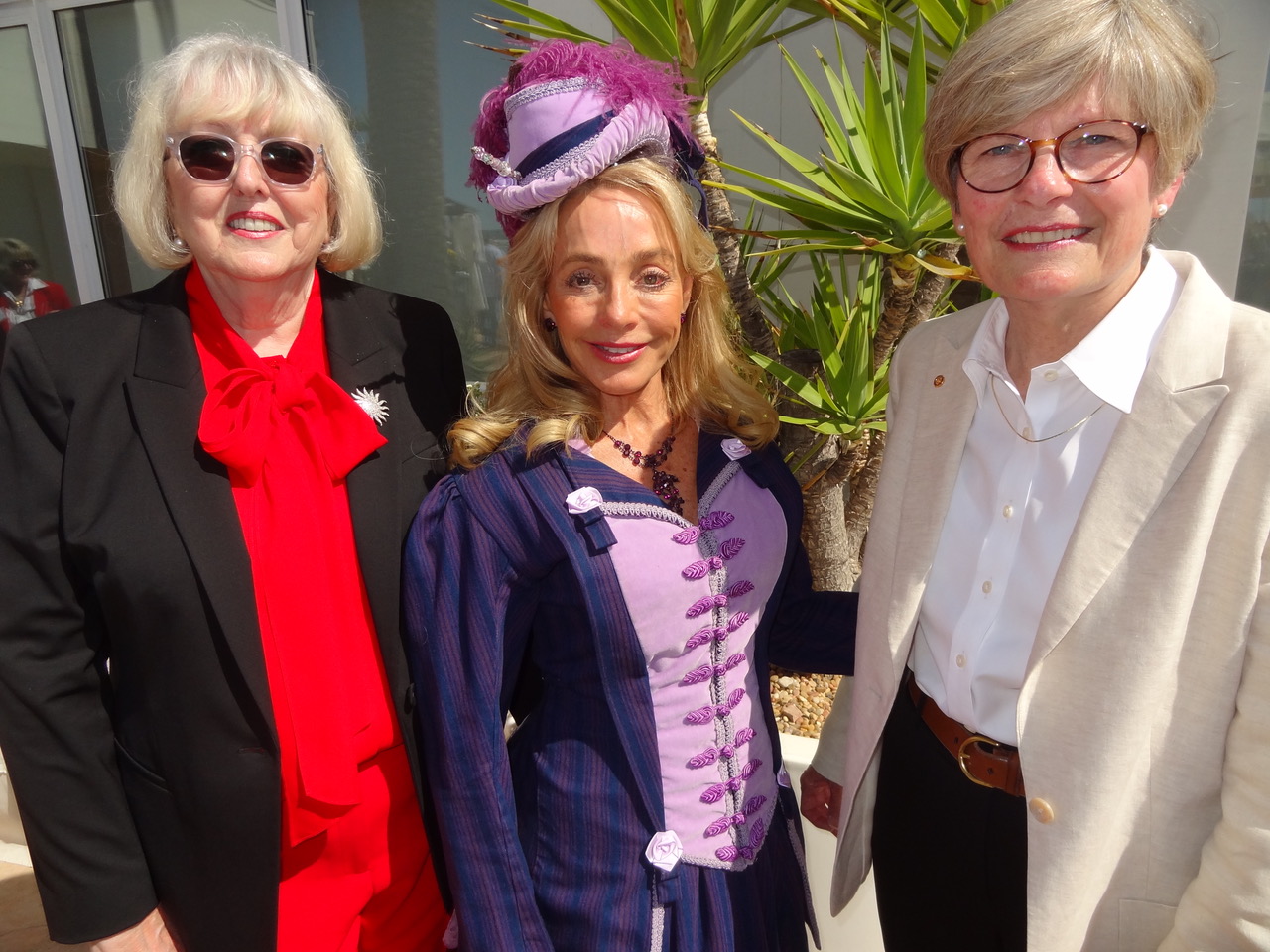 Little Women, a Classic Storybook Luncheon, was the theme of the Women United's second annual luncheon at the Four Seasons Biltmore for United Way. Event chair Andrea Kahmann and her "gang" looked smashing in their Victorian dresses complete with corsets. Andrea commented, "I'm so glad we don't have to wear these anymore."
The décor fit Louisa May Alcott's era with mannequins in 1800s dress (she was a Civil War nurse), with blue and white table decorations in old fashioned baskets filled with flowers and books. Sprigs of lavender lay on the tables along with a journal to write your own story in. The journals were compliments from Letter Perfect.
Andria welcomed all, explaining that "Women United harnesses the power and dedication of women leaders to transform local communities. In Santa Barbara Women United advocates and supports the ongoing work of United Way of Santa Barbara County's educational initiatives, with a focus on expanding educational opportunities for local children from pre-kindergarten through third grade." It's been shown that kids who aren't reading at their level by third grade have a hard time ever catching up. Students in Kindergarten Success Institutes displayed a 68% growth in academic skills and a 69% growth in social and emotional skills.
Michelle Branch was the keynote speaker. She is chair of Women United Global Leadership Council and principal and founder of Branch Law Group. Her practice provides legal services to innovative private companies, nonprofits, founders and executive management. She has taught at NYU Law School and the University of California at Berkeley. She has a plethora of degrees.
Michelle was impressed with United Way's "Fun in the Sun" reading program. That is a summer long learning for students where 350 kids improve their academic and social skills. United for Literacy has 10,000 local students improving their reading skills in school. Imagination Library has 1,200 children, ages 1 to 5 receiving a free book every month. Kindergarten Success Institutes has 250 pre-k students improving their school readiness skills by 69%.
Also speaking was Melinda Cabrera, director of strategic partnerships and Casie Killgore who is principal at Franklin Elementary School. Casie was born and raised here leaving only to play basketball and major in business at Notre Dame de Namur University. When she started volunteering her weekends in Watsonville, California educating farm work children she wanted to educate the less fortunate. She was assistant principal at Peabody Charter and became principal of Franklin School at age 28. She quickly changed Franklin from one of the under achieving schools in town to one of the best. The latest award was the 2020 California Distinguished School Award.
One of the stories told was of a grandmother raising her two grandchildren and living in a car. The kids were invited to a swim camp, but she didn't have enough to buy them a swimsuit. The Assistance League stepped up with suits for all the kids and even a towel. Two years later with help from United Way they live in a condo, grandma has a job, and all are doing well.
Women United focuses on expanding opportunities for children from pre-kindergarten through third grade. They unite to create change. They have over 80 active members and there are partnership services offered in 69 Santa Barbara County schools. Last year they initiated a backpack drive for kids who wouldn't have any school supplies. Women United were able to provide 50 fully stocked backpacks to children at Harding Elementary School. There was joy on their faces. Teachers helped select books for kids that might not have any Christmas gifts and the ladies donated and wrapped them. For many that was all they received. Thanks to Women United, kids can dream of becoming anything they want! If you'd like to join or help, call 805.965.8591.
You might also be interested in...