Land Use Discusses Trails and Debris Basin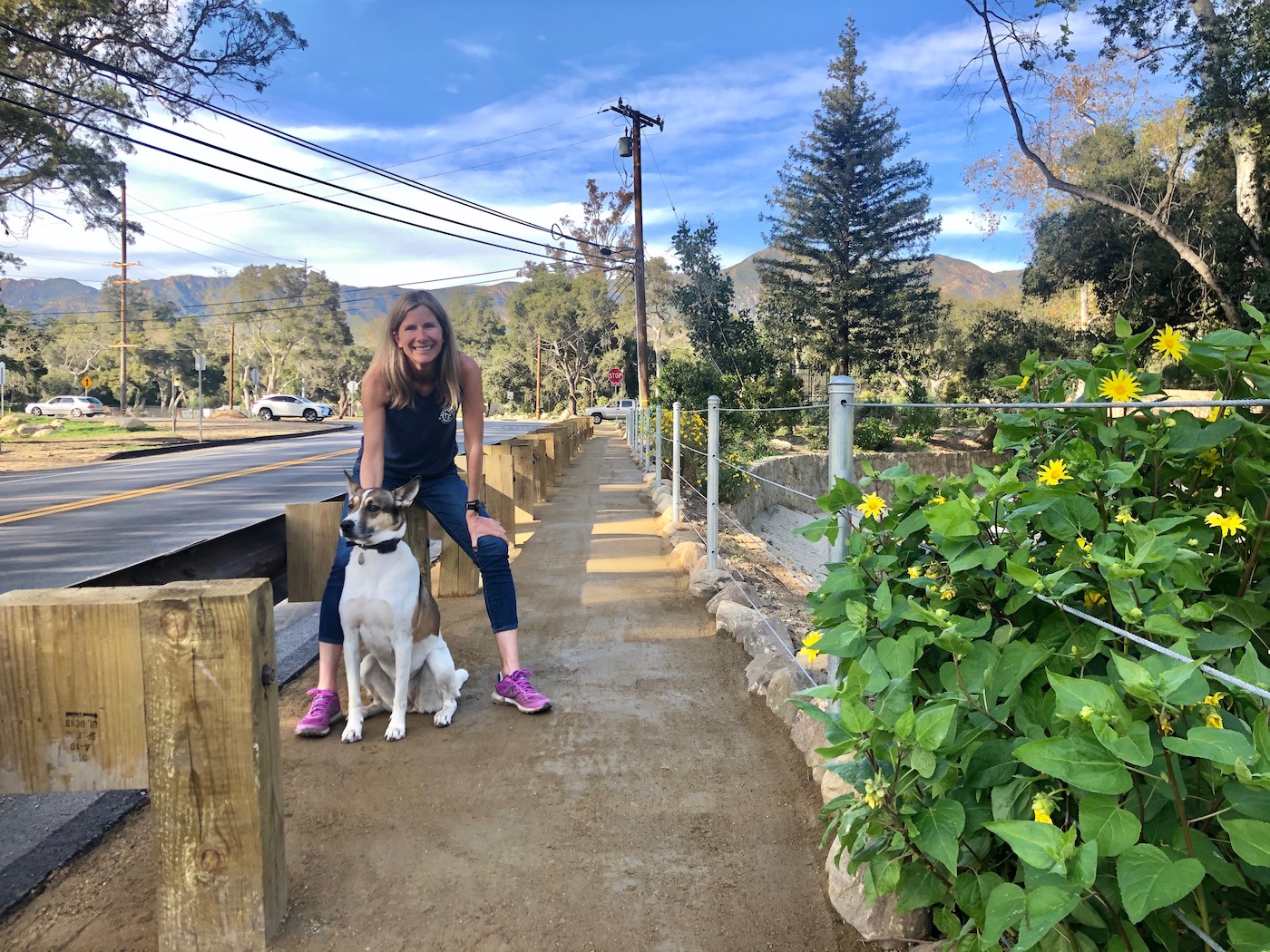 At this month's Montecito Association Land Use Committee meeting, Bucket Brigade founder Abe Powell and Montecito Trails Foundation president Ashlee Mayfield presented an update on the network of community trails that the two groups are committed to building and maintaining.
"Trail repair was a top priority in a poll we took following the debris flow. It was right at the top of the list; the community wants bike and pedestrian access improvements," Mayfield said. A network of community trails offers safe routes to school, as well as a way to walk pets, connect neighbors, increase wellness and exercise, and walk to the villages and beaches. "MTF has been preserving pedestrian access since 1964 to create access to the front country trails, and we've found that now, both older and younger people want to be out walking," Mayfield said.
Several trails have been repaired or built since the debris flow, including the Ennisbrook trail, Peter Bakewell trail, and trails along Sheffield Drive, East Valley Road, and North Jameson Lane. Current projects include Olive Mill Road, Casa Dorinda, San Leandro Lane from Crane School to Santa Rosa Lane, and Cold Spring School trails. Powell said they have plans to connect the Cold Spring School trails down Sycamore Canyon Road to the lower village.
Geoffrey Slaff has created a walking trail map that is available around town; it shows the current trails and areas that need attention. The Bucket Brigade, Montecito Community Foundation, and Montecito Trails Foundation have long-term plans that include building both formal trails with decomposed granite that meander where possible, and informal trails that include wood chips and Santa Ynez compacted shale where appropriate.
Powell explained that increased pedestrian access and trails are both mentioned multiple times in the Montecito Community Plan, and in 2010, the Montecito Association adopted stronger verbiage to further the goal of building more trails. "We are asking you to partner with us on this; help us make Montecito safer for pedestrians now and into the future," Powell said.
Members of the Committee agreed to look further into the walking path map, and suggested that more "doggy bag" stations could be added throughout the community on the trails. "This would be a potential area for us to partner with you," said executive director Sharon Byrne, adding that the MA Board held its annual retreat last week, and the consensus was positive in supporting the expansion of the trail network.
Tom Fayram from County Flood Control was also in attendance at the meeting, asking the Committee for a comment letter in support of the Randall Road Debris Basin. The County is currently seeking a permit from the Army Corps of Engineers, which is tied in with the FEMA funding of the debris basin.
The proposed project includes building a new "off channel" debris basin on San Ysidro Creek at Randall Road and East Valley Road. The proposed basin would be approximately eight acres, and San Ysidro Creek would maintain natural sediment transport and fish passage within the range of flows suitable salmonid migration. "We intend to comply with the Endangered Species Act and provide fish passage," Fayram said.
The Creek would be slightly re-aligned as part of the debris basin construction but would remain equivalent in channel length. Channel width is proposed to be widened in some parts where steep banks would be re-graded to a lower slope, effectively widening the jurisdictional portion of the creek, according to the permit application. The County also seeks to provide trail access, parking, and add native plantings, as part of the project.
Property acquisition for the project continues, and an EIR is expected late this spring, with Board of Supervisors approval in July or August. The project is expected to begin construction summer of 2021. The County is planning on expanding Cold Springs Basin this summer, with two other basins expanded in the next two years. "We don't want to do excavations of all of these basins in the same year. We don't want to overload the community with trucks," Fayram said.
The full board of the Montecito Association meets next Tuesday, March 17.
You might also be interested in...