A Brave Life: Against All Odds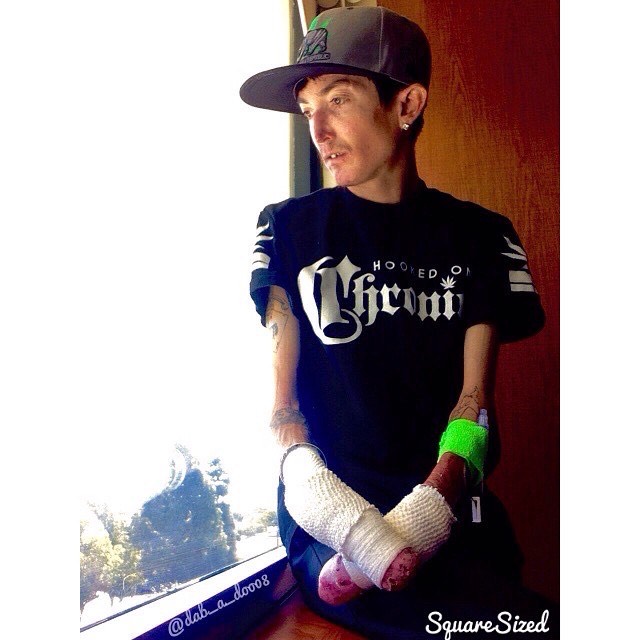 When I think of my friend Miguel, the word "brave" is what comes to mind.
One reason is because Miguel is Native American, a member of the Santa Barbara Chumash Band, and the word "brave" refers to a Native American warrior. Although Miguel has never, as least as far as I know, gone to battle with an enemy, he is a Native American warrior in the truest sense of the word: He fights a battle every day, with a foe that most have never even heard of.
That foe is a disease called epidermolysis bullosa.
From what Miguel has told me, "EB," as he calls it, is a rare genetic skin condition that a very small percentage of people is born with – and suffer from – until the day they die. The disease affects the way the body produces collagen, and as a result, people who suffer from it have skin that is extremely fragile and often times so inflexible that it causes fingers and toes to fuse together, resulting in the victim having "nubs" instead of hands. People who suffer from this condition are called the "butterfly children" because the skin is said to be as fragile as a butterfly's wings, and many of them die as children as a result of the illness.
From the time Miguel was a child, doctors often made assumptions about how long he would live, sometimes even saying he wouldn't likely live past the age of 18.
In addition, from the time I have known Miguel, I have seen countless individuals make assumptions about what he can and cannot do. Most often I have stood by and watched as Miguel has proven wrong those who have told him what he cannot do. By the time Miguel was 18, after many horribly painful surgeries, Miguel had no fingers left on his hands, just "nubs," as he calls them.
Despite this fact I have seen him take his ID out of his wallet when asked for it by a bouncer at a local bar, and even amass a following of 20,000 people on his Instagram through the content he's created – all with no hands. It blows my mind when I see him put himself out there on social media authentically and honestly, when, let's face it, many "normal" people cannot even do this themselves.
As time has gone by, he has had cancer twice, watched many of his friends who had suffered from the same illness as he die, and even lost the function of his kidneys, resulting in trips to dialysis several times per week. Throughout all this, including spending eight hours per week just removing and replacing the bandages that cover at least one-third of his body, I have rarely seen him show fear; I have rarely heard him complain or feel sorry for himself, and I have even more rarely seen him ask for help. His attitude and his bravery are something that I doubt I will ever have a chance to see again in my lifetime. Truthfully, I think there is nobody who could not learn from him.
For this reason we are throwing a big birthday for our friend and teacher Miguel on March 21, to celebrate his life and acknowledge him as the bravest man in Santa Barbara. I know he is the bravest man in Santa Barbara today, and I would argue that he may be the bravest man that has ever and will ever live in Santa Barbara. There will be beer donated by Woodhouse Brewery from Santa Cruz as well as food donated by Pollo Fino in Goleta. We will have raffles for a ton of awesome goodies and also an auction for the most awesome stuff that we have donated.
So, come on down to show some support and love for the bravest man you will ever know – not to feel bad for him for all he has been through, but simply to acknowledge Miguel as the bravest man in Santa Barbara. In addition to being able to come to an epic party, you will be helping raise money to help him cover a small fraction of the costs associated with the disease he was born with, as well as the cancer, kidney failure, and blood clots in his lungs that have also come as a result.
Miguel's Birthday Bash will take place from 3-10 pm on March 21 and will be held at Oniracom, a local business who was kind enough to donate their space to us to throw him this epic party, which is located at 216 East Gutierrez Street, Santa Barbara.
You might also be interested in...