Santa Barbara Culinary Experience Targets Wine Lovers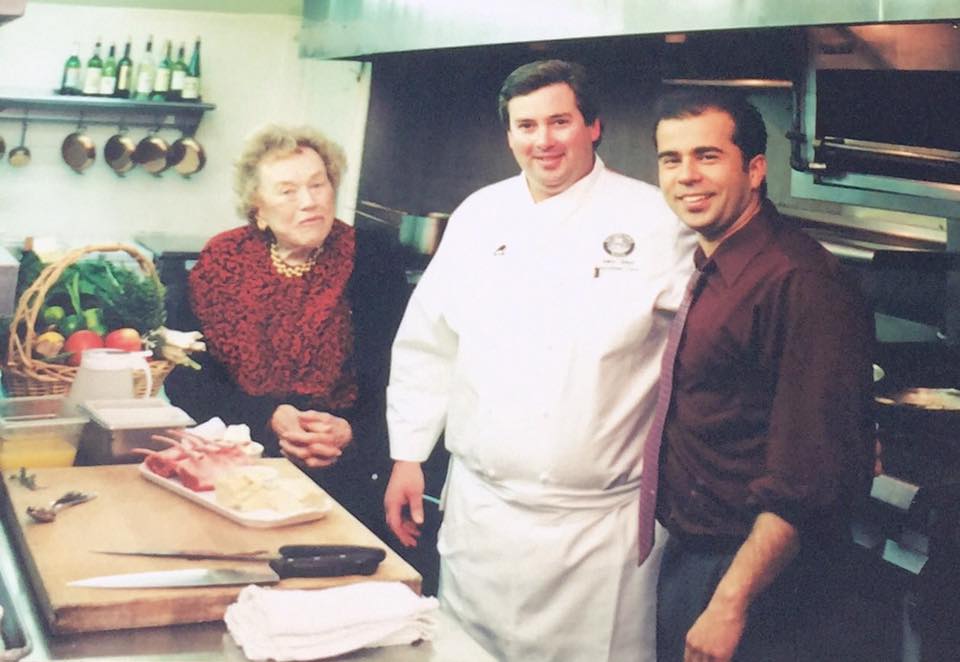 It is fitting, of course, that a world-class culinary affair inspired by Julia Child would take place in Santa Barbara. The beloved chef summered on its shores as a child, and it was in the bucolic enclave of Montecito that she chose to spend her final years. Indeed, the Santa Barbara Culinary Experience, coming the weekend of March 13-16, is inspired by Mrs. Child's famous exuberance for all things gastronomic and the way she moved so many local lovers of food and wine.
My own big brush with Julia (aside from the regular run-ins at local restaurants and events) took place in 2001, when, as a morning weatherman for KEYT, I helped produce a 30-minute TV special dubbed "Romance at the Ranch." In a pre-food-on-TV era, I joined San Ysidro Ranch executive chef Jamie West (he's at the Montecito Club now) on a show about using local ingredients to design a lavish holiday meal. With a bit of prodding from Chef West, the famous gourmand, who was living down the street at Casa Dorinda at the time, surprised our crew with a lengthy cameo in the Ranch kitchen as we prepped our beef and lobster main. Her genuine curiosity and approachability were fascinating to witness. And, at a time when my own foray into the world of wine was just beginning, the serendipitous collaboration was certainly inspiring.
This would be Julia Child's final on-camera appearance, actually, as she would pass away a little over two years later, two days shy of her 92nd birthday.
In honor of Julia Child, the Santa Barbara Culinary Experience will feature no less than 50 events across four days. They range from hands-on seminars to intimate conversations to fancy dinners, and at a wide range of price points. Foodies will cheer, of course, with a plethora of happenings to whet the appetite: an Artisan Bread and Butter Making Class with the chefs at the Biltmore (March 14, 10 am, $120); an Olive Oil Masterclass with Global Gardens' Theo Stephan, one of the world's few olive oil sommeliers (March 14, 2:30 pm, at the Hotel Californian, $35); and A Culinary Celebration of Julia Child: Brunch at Caruso's (March 15, 10:30 am, $150), among so many more. Some events, like a farmers' market tour and dinner with bouchon chef Greg Murphy, a farm-to-table cooking class for kids, and a donut-making workshop, are already sold out.
For the thirsty culinarian – the lover of all things wine, beer, and spirits – the Experience has plenty to offer, too. I count close to two dozen beverage-focused events. Here are a few of the very best.
A Celebration of Santa Barbara Wine: SBCE Welcome Reception
The weekend's kick-off is a tip-of-the-hat to the Santa Barbara burgeoning wine industry, with more than 20 of the area's most lauded labels doing the pouring – Alma Rosa, Brewer-Clifton, Bien Nacido, Sandhi, and Pence Vineyards, among others. Friday, March 13, 5:30-7 pm, at the Hotel Californian, $75.
Paella Class and Gin & Tonic Bar at Loquita
A genuine snapshot of Spanish cuisine, this event starts with a lesson on crafting the perfect gin & tonic, Spain's king of cocktails, along with a tasting of Spanish charcuterie. Learning how to make authentic Spanish paella follows, and guests get to sip and savor the fruits of their labors. Saturday, March 14, 2:30-4:30 pm, $170.
Pinot Noir Through the Ages
Santa Barbara's darling grape, and one of the stars of the film Sideways, pinot noir has enchanted winemakers ever since Santa Barbara's wine industry began to flourish in the 1970s. This event brings together some of the names who, over the decades, have become synonymous with world-class pinot. A conversation with Richard Sanford of Alma Rosa Winery, Adam Tolmach of Ojai Vineyard, Greg Brewer of Brewer-Clifton, Justin Willett of Tyler Winery, and Mikey Giugni of Scar of the Sea is followed by a tasting of rare and new wines. Saturday, March 14, 2:30-4:30 pm, at the Hotel Californian, $75.
Obscure Brews with Certified Cicerone Zach Rosen
Local cicerone, or beer sommelier, Zach Rosen joins local brewers from spots like brewLAB, The Apiary, and Third Window to unearth and share ancient, if not forgotten, beer styles. Saturday, March 14, 2:30-4:30 pm, at The Brewhouse, $25.
Santa Barbara Sailing Center Presents: Sea, Wind and Wine
Board the 50-foot Double Dolphin catamaran and sail the waters of the Santa Barbara Channel while Doug Margerum pours his award winning wines, Helena Bakery doles our gourmet breads and cheeses, and local favorite Konrad Kono dazzles at the keyboard. Saturday, March 14, 5:30-7:30 pm, $85.
Winemaker Dinner with Matt Dees of Jonata & The Hilt and Executive Chef Jason Paluska Of The Lark
One of three spectacular dinners being offered on Saturday night, this one stands out for the matchup: The Lark's Paluska and winemaker Dees are powerhouse talents. Wine buffs will recognize Jonata and The Hilt as two of California's premier cult-status labels. A four-course feast for the senses. Saturday, March 14, 6:30 pm, $275.
Home Winemakers Panel + Savor Santa Barbara
Home winemaking dates back to the bohemian days of Mountain Drive (and the birth of the hot tub) and includes renowned labels like Compañeros, Los Cinco Locos, and Pagan Brothers. Fascinating stories and a tasting of wines rarely available to the public. This event includes admission to the Savor Santa Barbara Event that begins at noon, featuring more than 40 chefs and purveyors representing various local 'hoods, including Montecito, the Funk Zone, and the Santa Ynez Valley. Sunday, March 15, 11 am, at the Santa Barbara Historical Museum, $85.
Wine Pairing, Panel Discussion & Butchery Demo at The Alisal
The spotlight shines on the Sta. Rita Hills wine growing region, with winemakers discussing and pouring pinot noir and chardonnay. This event on the grounds of the sprawling Alisal Guest Ranch near Solvang also includes a demo by local butcher Josh Martin on breaking down a locally raised heritage pig. Monday, March 16, 10:30 am-1 pm, at the Alisal Guest Ranch, $75.
The Santa Barbara Culinary Experience benefits The Julia Child Foundation for Gastronomy and the Culinary Arts, which financially supports myriad nonprofits in the food and wine industries. For a full rundown of events, and for tickets, go to sbce.events.
Cheers!
You might also be interested in...