Go Red for Women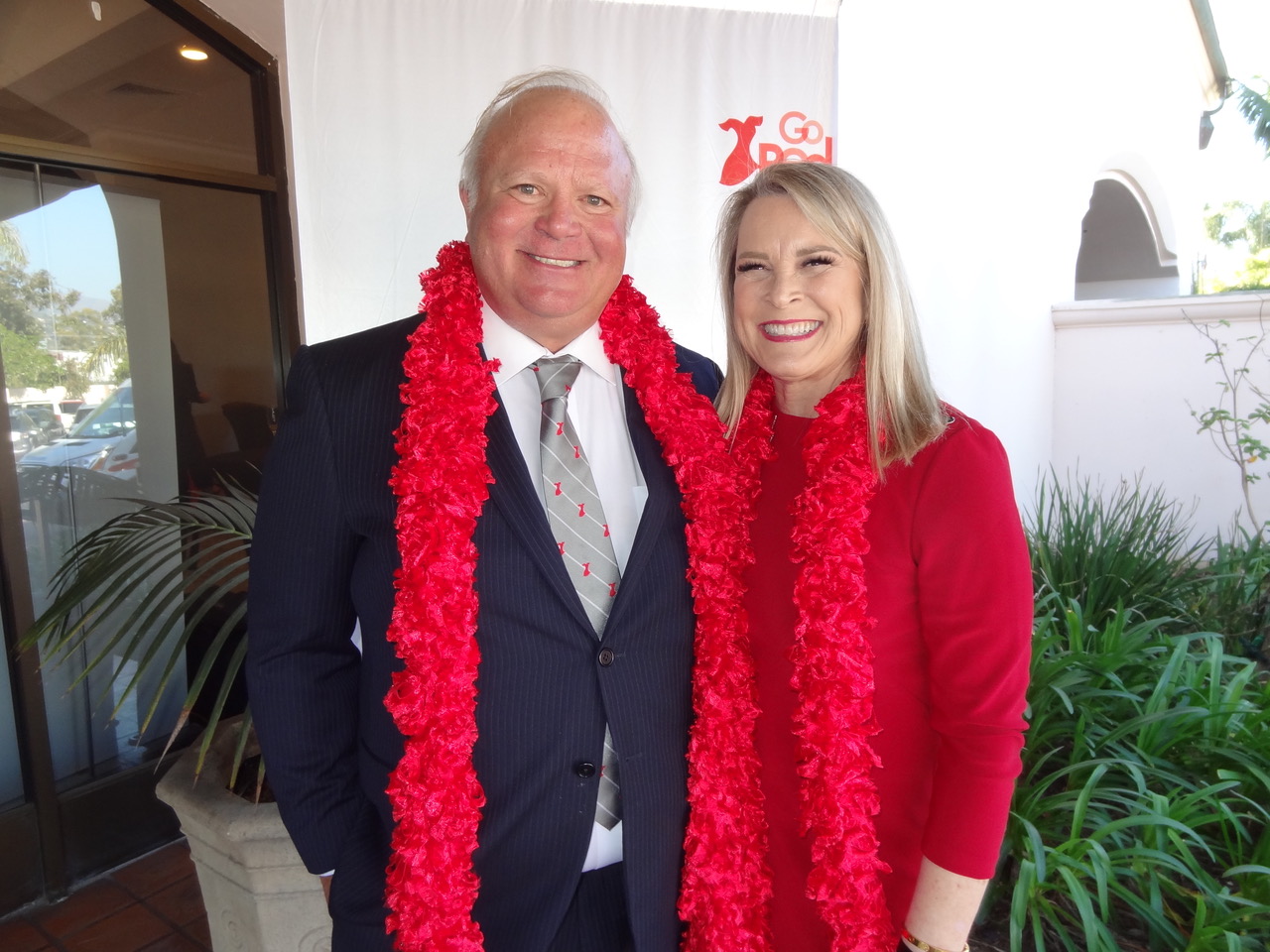 The ballroom of the Hilton Santa Barbara Beachfront Resort was a sea of red, literally. It was time for the annual American Heart Association "Go Red for Women" luncheon when everyone is encouraged to wear red. And they do. Adding to that were fabric boas for all the committee members and blinking red heart necklaces for those who donated. Even better, it was Valentine's Day.
This event always begins with a Health Expo. One large room is set up to educate guests about heart disease, particularly as it relates to women. You can have your blood pressure screened and learn from all the professionals there. Montecito Bank & Trust even has a tiny sip of red wine and a small piece of chocolate for those of us who know that wine and chocolate in moderation are good for us. For the fashionistas there was a boutique booth and another full of jewelry.
One of the passion speakers was Jon Hyde who in his 40s had a widow maker heart attack and survived. He had never drunk alcohol and looked perfectly healthy. He now has a stent which is keeping him alive. Mom Patty Swenson spoke for her daughter Kathryn Kendrick whocouldn'tbethere. "Kathryn's life was saved by hearing Michele Mallet's heart attack survival story last year" and then we heard today from Michele.
Event chair Denise Sanford told us, "The Go Red for Women movement advocates for more research and swifter action for women's heart health. We help to eliminate the many misconceptions about women's heart disease like 'It's a man's disease' or 'I'm too young to have heart disease.' Thanks to the more than 450 of you who are participating today. We're sold out."
Board president Dr. Taylor Holve, MD spoke to us through a "letter" in the program. "Our goal today is that you help us break the silence about the devastating impact heart disease is having on our families, communities and on women in particular. Cardiovascular diseases cause one in three deaths a year. That's approximately one woman every minute. The good news is that 80 percent of cardiac events can be prevented with education and healthy lifestyle changes." Awareness is up from 30 percent to 56 percent since a decade of the Go Red movement.
Members of Denise's event committee were: Justin Anderson, Paula Bottiani, Connie Boyd, Karen Chackel, Jill Fonte, Steve Golis, Jonathan Johnen, Dianne Johnson, Austin Lampson, Michele Mallet, Stephanie Petlow, Catherine Remak and Tony Vallejo. Janet Garufis and Catherine Remak led a paddle raise and the dollars kept rising.
For more information call 805.963.8862. See you next year Friday, February 19, 2021.
You might also be interested in...