Laura Capps Outlines Climate Change Plans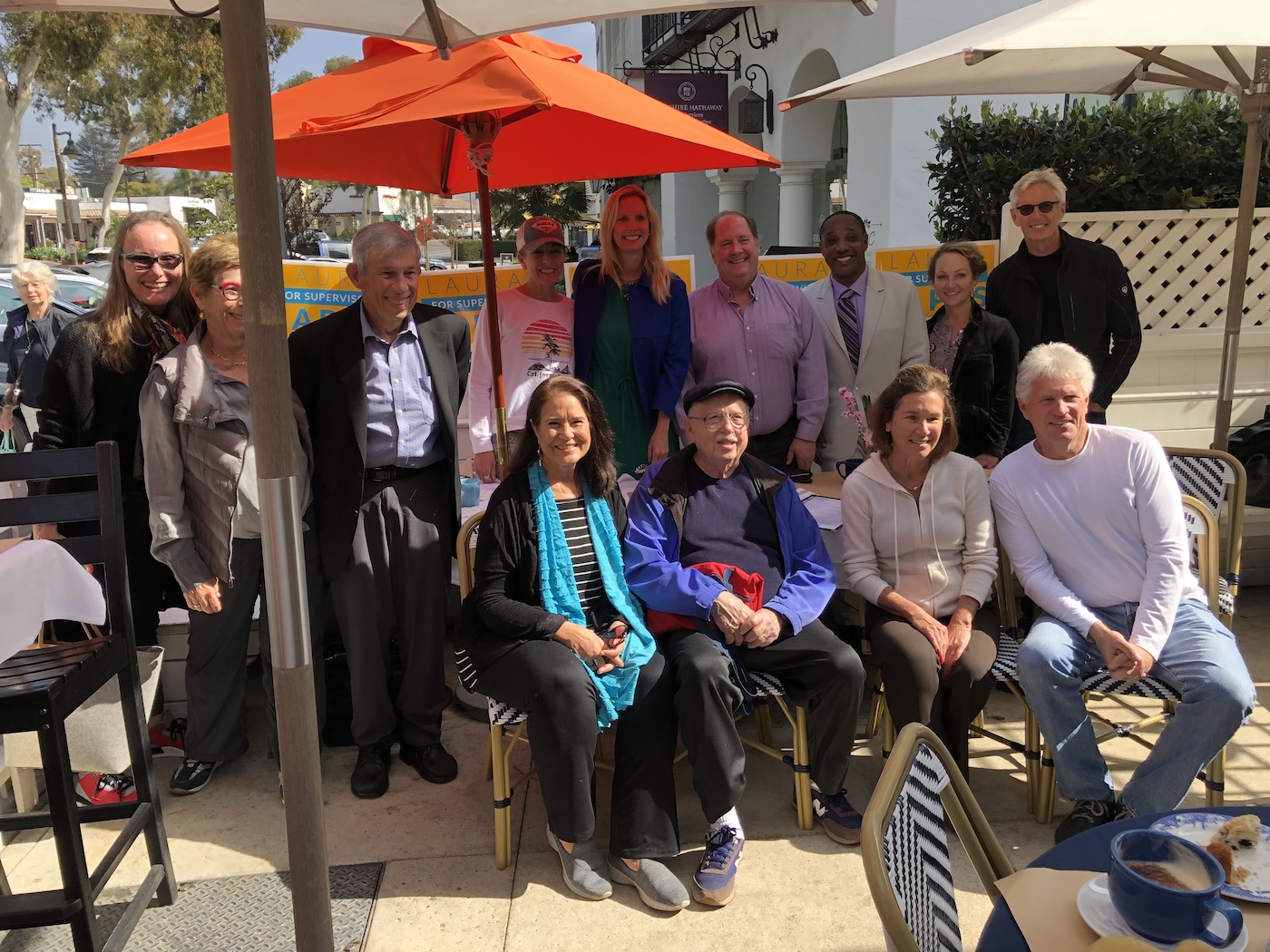 At a roundtable discussion on Tuesday morning, held on the patio of Jeannine's Bakery on Coast Village Road, First District Supervisor candidate Laura Capps outlined her Climate Safety Plan, which she intends to implement if she is elected to the Board of Supervisors. Surrounded by a group of highly involved Montecito citizens and stakeholders, Capps led a discussion on several initiatives she deems of utmost importance for the County. "As someone who has worked on climate change and climate resiliency, this is a passion of mine, and I believe this is a pivotal time in history," Capps said. "It's a fact that every dollar spent on preparedness, is seven dollars saved in recovery," she added.
Capps is advocating for a comprehensive County Climate Safety plan that will create collaboration between community stakeholders in order for the County to better plan for fire, wind, and drought events, as well as sea level rise. As part of this plan, Capps is proposing microgrid networks at local schools, based on her belief and her commitment that schools should be safe havens in a time of disaster. "This is no longer an 'if,' it's a 'when,'" she said, adding that schools should lead the way for environmental stewardship. She also hopes to decrease greenhouse gas emissions in California from cars. "The County must continue to invest in rebates and other incentives for electric vehicles, including electric bicycles for urban and suburban commuters," she said, adding that charging stations should be at every local school campus.
Attendees at the small roundtable discussion included Judi Weisbart of the World Business Academy, and Sara Miller McCune, who are heavily involved in the Montecito Community Microgrid Initiative. Microgrids are currently being planned at Montecito Fire Protection District Station 1 and Montecito Union School.
Alix Mattingly from the Project for Resilient Communities was also in attendance; a discussion ensued regarding the six steel ring nets that have been installed in the foothills above Montecito, made possible by the Project, and the need for several more. Keith Yeager, who was in attendance as a private citizen but is a volunteer with MERRAG, explained the need for volunteerism in the community, as well as emergency preparation.
Darcie McKnight, a local realtor, told Capps that one of the toughest issues facing Montecito is lack of affordable insurance options, and that some real estate buyers are having a difficult time finding insurance carriers. Others in the group agreed, telling Capps that insurance non-renewals and lack of affordable policies should be a top priority if she is elected.
The election is Tuesday, March 3. Capps is running against incumbent Das Williams. For more information, visit www.cappsforsupervisor.com.
You might also be interested in...