Hill-Carrillo Adobe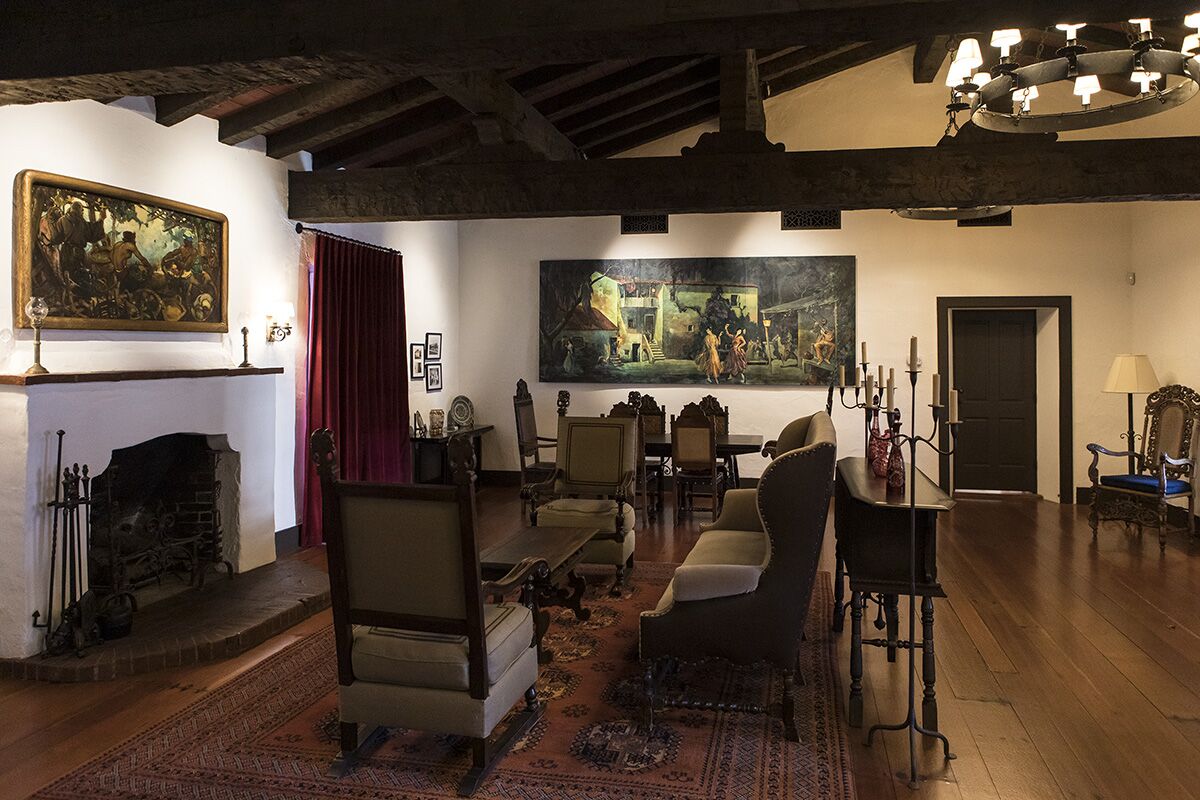 Thomas C. Parker, president and director of Hutton Parker Foundation, really knows how to celebrate history, and he is willing to share. The Foundation has recently completed a multimillion-dollar restoration of the historic Hill-Carrillo Adobe and is offering the beautifully appointed building to non-profit groups for meeting space – for free! In addition, one wing of the building has several offices, which lease at reduced cost to philanthropic organizations.
Hutton Parker Foundation supports community-based non-profits throughout Santa Barbara County in dozens of ways, ranging from organizational assistance to rental discounts in Hutton Parker owned buildings. The Foundation purchased the Carrillo Adobe in 2014 from the Santa Barbara Foundation, which had headquartered there for 83 years after Max Fleischmann purchased it as a home for the new charitable consortium, of which he was also a founder.
Though well-maintained and on the National Register of Historic Places, the Hill-Carrillo Adobe was feeling its years, and Parker saw an opportunity to restore and preserve the old historic landmark as well as create a space that supported local philanthropic efforts. The Hill-Carrillo is not Parker's first rodeo in renovation of commercial buildings, but with the others, he says, when the job was complete, he was done. "The Cabrillo felt different," he says. "It stayed with me and I feel embraced by its history and vested with a sense of belonging."
It is a feeling well earned, for what has been recreated here is truly laudable. Understated luxury, great attention to detail, a commitment to historical accuracy, and a commitment to sharing, not just the space but also the history of the venerable adobe, are all elements to be applauded.
The Foundation called upon the Santa Barbara Historical Museum to create historical displays for the Adobe. When Dacia Harwood, Deputy Director, agreed, her crew set to work and responded admirably. Using photographs and artwork from the Museum's collection, the Hill-Carrillo Adobe now functions as a small history museum as well as a meeting room. Historian Michael Redmon, for many years author of History 101 for the Independent, says he's become a wall writer. Redmon's "graffiti" expertly reveals the history behind the exhibits.
In the grand sala with its beautiful fireplace and 18th century furnishings, the rich aromas of oiled wood and burnished leather prevail. A painting by Daniel Sayre Groesbeck, artist of the Mural Room at the Santa Barbara County Courthouse, depicts a missionary scene, and several etchings, drawings and paintings of local adobes illuminate Adobe Days in Santa Barbara.
Esther Hammond of Bonnymeade Estate in Montecito purchased the adobe in 1917-18 as part of a growing movement to save the adobes. Besides restoring it, she added a wing designed to look like a Spanish chapel, complete with choir loft and altar space. It is here that a meeting room has been furnished with beautiful dark wood tables and comfortable chairs, and lighted by impressive metal "wagon wheel" lamps. Along the walls, Hutton Parker Foundation pays homage to historical Santa Barbara philanthropists and Local Heroes through framed portraits from the collection of the Gledhill Library of the Santa Barbara Historical Museum.
Though they're unlikely to do so, Tom and the other principals of Hutton Parker Foundation should add their visages to the display. Their incredible generosity in assisting others to do important work for our community and their commitment to preserve one of our few remaining adobes in such a beautiful and loving fashion deserves acknowledgment and bounteous thanks.
The Hill-Carrillo Boardroom and Sala may be reserved free of charge for meetings, lectures, and educational opportunities exclusively for nonprofit organizations. Interested groups may contact Ingrid Biancone, Office Manager, at ibiancone@huttonfoundation.org. The restored adobe with its historic memorabilia is open to the public for visitation during business hours.
(For a look at the Hill-Carrillo Adobe's fascinating past, see "The Way It Was: The Hill Carrillo Adobe.")
You might also be interested in...