Festival of Hearts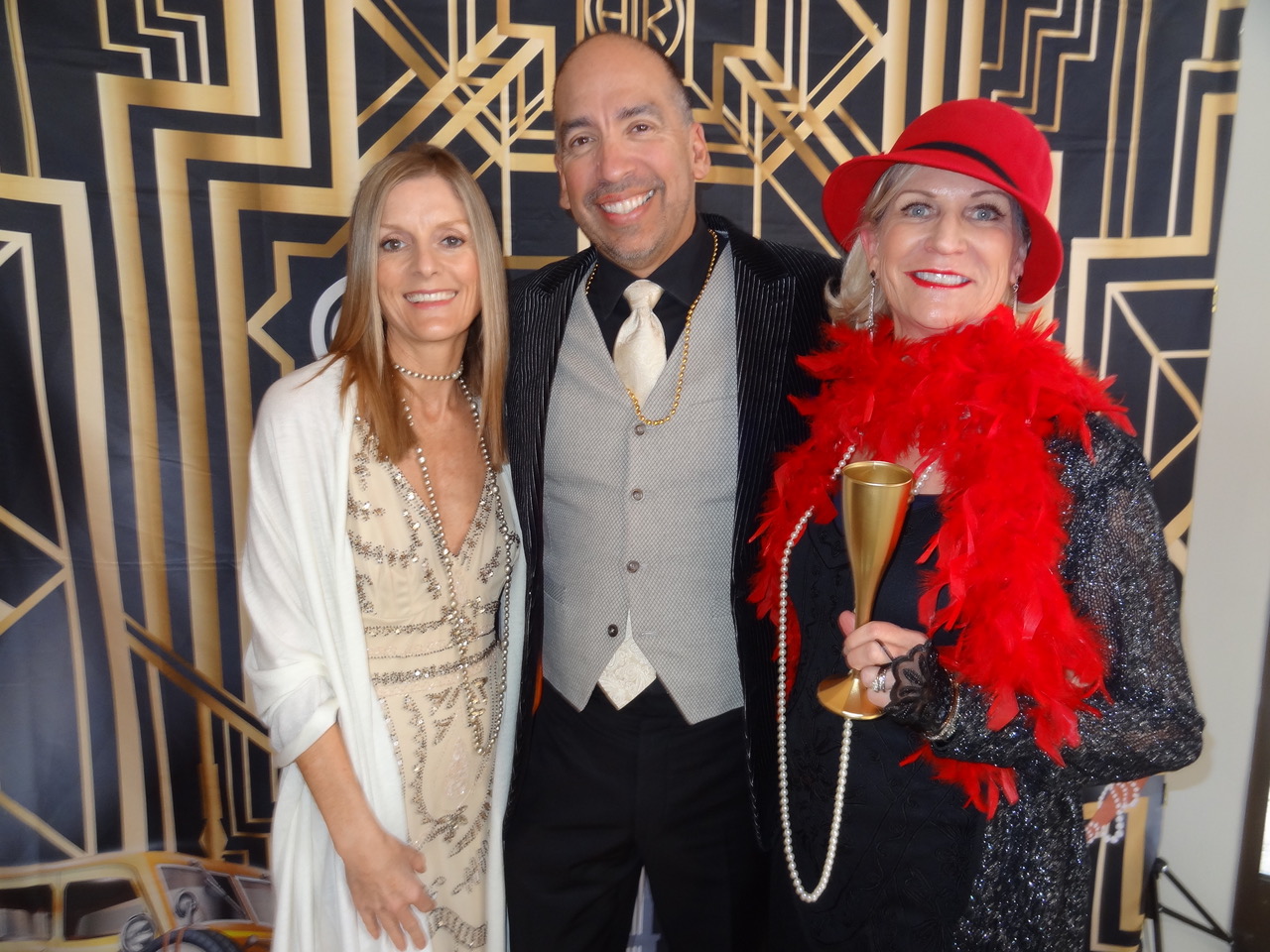 Friendship Center brought 2020 roaring in with their 21st Festival of Hearts "The New Roaring '20s" held at the Hilton Santa Barbara Beachfront Resort. The hotel was a sea of feather boas, sequins, fringe and headbands as the flapper ladies and a few dandy gentlemen sipped Fess Parker wines to the live music of A la Carte, Jan Ingram and Henry Garrett. There was Charleston dancing going on too.
The guests were also busy bidding on an array of Heart-Art created by local artists and celebrities like Jeff Bridges. Heart Wrangler Sharon Morrow and her posse were kept busy organizing, photographing and lovingly preparing the Heart-Art. Sharon was proud to announce, "100% of the hearts were sold!"
A special thanks went to Charleston Shoe Co. for hosting an artists' reception and displaying the hearts in their State Street window. 20% of the proceeds was donated to Friendship Center.
This event also supports the HEART (Help Elders at Risk Today) program which allows elder and dependent adults to spend their days with caring staff and volunteers. They provide innovative programs, healthy meals and snacks, plus excursions and other life enhancing events. It also enhances the lives of their caregivers.
Caregiver Kristen Bowe told us what it meant to her. She has two children 10 and 13 and has been caring for her mother-in-law for six years. "Caregiving is the hardest job on the face of the planet and there are so many people who are caregivers that don't realize they are. We all go through those basic human issues of making sure that we take care of ourselves so that we can take care of other people. The aid, support and resources we've received from Friendship Center are unlike any we've experienced since taking care of Mom and prove invaluable on a daily basis. I honestly don't think our family would still be together if it weren't for Friendship Center."
The center is primarily for adults with cognitive impairments like dementia, Alzheimer, Parkinson's and stroke. It began in 1976 and executive director Heidi Holly has been there for 35 years. There are now facilities in both Goleta and Montecito. The Center has a partnership with the All Saints-by-the Sea church which is just across the street. All Saints owns the charming building set around a sunny courtyard.
Besides the silent auction, auctioneer Geoff Green was there to entice the audience to bid, bid, bid. And they did! There was a Bee's Knees VIP Valley Wine Tour, a Speakeasy in Seattle, Great Gatsby Glamping and Mobster Dump and Dine. They actually send a dumpster to your house so you and your neighbors can clean to your heart's content. It sells every year.
Board president Patricia Forgey gave kudos to event chair Kathy Marden, co-chairs Karolyn Hanna, Pamela Vander Heide, and the committee: Sue Adams, Mary Kay Fry, David Harlow, Greta Liedke, Marianne Meeker, Justin Redmond, Andy Siegel, Marcella Simmons, and Dana VanderMey. For more information call 805.969.0859 or visit friendshipcentersb.org. Happy sweetheart day!
You might also be interested in...