Vicky Diaz Pagenkopf, Family Nurse Practitioner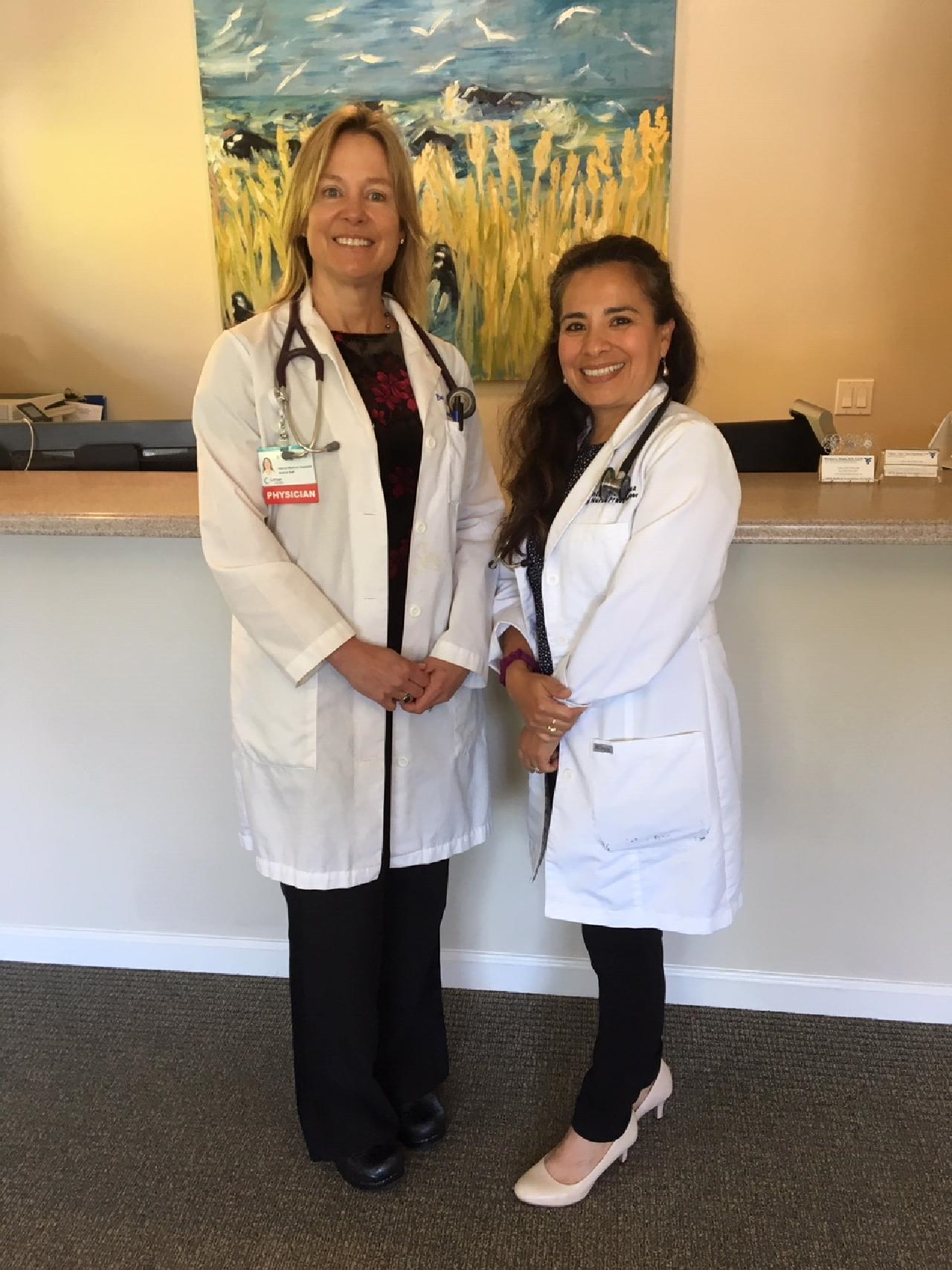 Family Nurse Practitioner Vicky (Virginia) Diaz Pagenkopf apologizes for getting emotional when she talks about the woman who convinced her to pursue a nursing career. "I was finishing my requirements to go to UCSB to become a high school teacher and was looking for a temporary job. My younger sister, who worked as a nurse's assistant at Cottage Hospital, suggested I might look into being a companion to an elderly lady she knew, who was in the terminal stages of breast cancer. I liked the woman and took the job.
"She told me, when I asked her what she wanted me to do for her, that she didn't want to continue with the cancer treatments, and just wanted to end her life at home with dignity. She said I should read Death and Dying, by Elisabeth Kübler-Ross. The book made a big impression on me and I ended up staying with and caring for the woman for a year and a half, until she died. Before she died she said to me, 'Vicky, you should really go into nursing, you're a natural.'
"I came to Santa Barbara from Veracruz, Mexico with my parents and seven siblings when I was thirteen, not speaking a word of English. My father was a farm worker. Some of my brothers and sisters never finished high school as they had to help my father in the fields and my mother at home. From a very early age" explains Vicky, "I knew I wanted to do something helping others, especially the under-served."
After graduating with honors with a MSN (Master of Science Nursing) from UCLA in 2009, following her BSN from Cal State Fullerton in 2007, Vicky worked as a Nurse Practitioner in the emergency room at St. John's Hospital, primary care at Buellton Medical Clinic, at Cottage Hospital in different departments for ten years, at Sansum Clinic's skilled nursing facilities for two years, and finally with Dr. Barbara Hrach. She has been with Dr. Hrach for a year and a half
"The timing was perfect for me and Dr. Hrach," says the petite, forty-eight-year-old, who runs marathons and completed the grueling Camino De Santiago pilgrimage in Spain. Dr. Hrach had recently lost a talented, young internist, who decided to join another practice where she would not have to deal with low Medicare reimbursements. At the same time, Dr. Hrach had decided to turn her flourishing, 15-year-old practice into the Concierge ExtraCare Program where she provides primary care internal consultative services to a limited number of patients for an annual fee, giving her more time to spend with patients and allowing her to become intimately involved with their health and provide more personalized care.
Many of Dr. Hrach's patients were able to pay the $5,000 annual fee for the individualized, 24/7 care. Those patients, many elderly, who couldn't afford the service, were to be looked after by the doctor who left. Faced with a significant challenge to her practice, Dr. Hrach got in touch with Vicky, who had been her patient and whose path to becoming a Nurse Practitioner, she had followed closely.
As it happened, Vicky was looking into a way she could build on the vast knowledge she had gained with her extensive nursing skills, especially in caring for many of Samsum's patients with diabetes and other endocrinologic diseases in their nursing care facilities. Dr. Hrach asked Vicky if she would come one day a week to help her look after patients.
"The one day turned into two and then, when Dr. Hrach realized that I was able to provide her patients with the kind of individual care she wanted to emphasize in her practice and my caregiving instincts complemented hers, she asked me to come full-time.
"It's always been known in the medical community that nurses are able to provide the intimacy that doctors often don't have time for. Many doctors have even felt threatened by the breadth of knowledge and experience that nurses offer. But, as Nurse Practitioners' unique qualifications have become known as a medical as well as a financial asset, rather than a threat to doctors, the nursing profession has gained new respect. My specialties are Gerontology and Endocrinology and many of my older patients are on Medicare.
In 2017, nursing was ranked by the American Hospital Organization in a Gallup poll as the most trusted profession for honesty and ethical standards.
A Nurse Practitioner is a registered nurse who has advanced education and training specializing in their own scope – Family Medicine, Mid-Wifery, Psychiatry, OBGYN, Pediatrics, and Trauma among the choices. Nurse Practitioners have to have at least a master's degree. Many go on to earn a PhD and/or DNP in nursing.
"I am able to offer my patients 24/7 care and assistance, too. I could easily have stayed with Sansum and been nine to five and earned more, but I love the connection I have with my patients, especially the elderly. They have respect and I often learn something from many who have lived with their diseases for a long time. I listen to them as they are so knowledgeable.
"I am also now treating teenagers, who tell me they feel they can talk to me when they can't talk to their parents. Because I speak Spanish, I am able to provide better care to members of the Latino community and serve as a positive role model. Many of my patients come through referral. When Dr. Israel Trujillo, a Spanish speaking doctor who cared for many in the Latino community, died unexpectedly at thirty-nine, some of his former patients came to me.
Dr. Hrach is one of a growing number of Santa Barbara physicians in family practices and clinics who are filling voids in their practices with Nurse Practitioners that, in the past, newly graduated doctors would have jumped into.
Although Nurse Practitioners have been around in some capacity for over thirty years, it is a field that has been undervalued. Now it is growing in popularity with physicians, as well as those of college age, who want to get into medicine, but simply can't afford the enormous cost of becoming a doctor and the rigors of medical school, internship, residency, and specialization.
By 2030, it is estimated that the doctor shortage will be between 46,000 and 121,900.
Three years ago with the help of two other Nurse Practitioners, Vicky formed the Santa Barbara Chapter of the California Association of Nurse Practitioners, to promote careers in the field and support for its 52 members. At the moment, she is organizing a celebration to mark the third anniversary of the Chapter, when a Nurse Practitioner of the year is chosen. In 2017 the award went to Jorie Nilson, FNP for her contribution in working with the homeless community. In 2018, the award went to Nancy Warner FNP, from Jackson Medical Group for being a pioneer, with over 30 years of experience.
"The Chapter meets once a month, sometimes to listen to representatives of pharmaceutical companies, explaining new drugs and available treatments or other speakers that would add to our knowledge," says Vicky.
Of particular interest to Vicky is supporting the bill that is before the Sacramento Legislature now to give Nurse Practitioners the right to provide more services. "In California, we can prescribe medications, but there are many things, like signing death certificates, that we can't do. There are twenty-one states that give Nurse Practitioners the ability to replace doctors, especially in rural communities. We are up against lobbyists for doctors who fear that Nurse Practitioners will "hang up their shingles," but this is not the case. We complement what doctors do and are not in competition with them. Here in Santa Barbara, where it is so expensive to live, the country-wide lack of doctors going into family practices, is particularly acute," explains Vicky.
"I also want to get the word out that we need more men becoming Nurse Practitioners. We have had male nurses in the profession for decades, so men who are thinking of becoming nurses should consider getting the extra education. My eighteen-year-old nephew Anthony Martinez has just decided to go into a Nurse Practitioner program. I am so proud of him," beams Vicky.
You might also be interested in...