Another Touchdown for Bolton
David Bolton, executive director of the California Missions Foundation, has a lucrative sideline with his TV production company, Cultural Global Media.
One year after covering his first Super Bowl, the company has been hired again to produce the legendary NFL event from Miami, Florida, on Sunday (February 2) for millions of viewers throughout Latin America.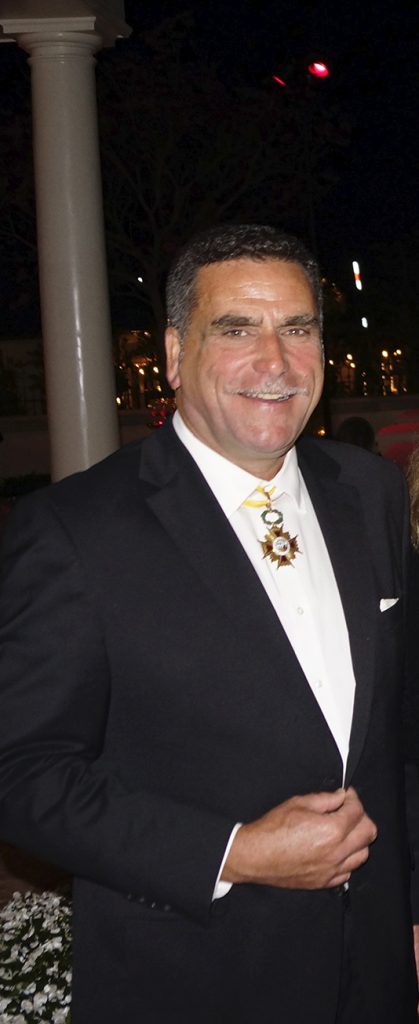 A Montecito Union School graduate, David's career has spanned more than three decades producing a plethora of live events from every major and medium size city in the U.S. and Canada.
At the Super Bowl, he will be responsible for Fox Sports broadcasts from Mexico to Argentina.
Recently he handled the same duties for the NFC championship game in San Francisco, as well as the previous weekend's clashes at Green Bay and at the 49ers.
Fluent in Spanish, the foreign language has opened up many doors including extensive relations with Spain, which awarded him a Spanish knighthood last April.
"Our fourth-grade teacher at MUS, Mrs. Pacunas, began to teach us Spanish," says David. "I owe her a lot."
Bon Voyage
Santa Barbara music critic Dan Kepl is morphing into quite the tour guide.
After hosting a performing arts tour in Cuba three years ago, he is now planning a similar event in Italy next year visiting Bologna, Florence and Modena, opera legend Luciano Pavarotti's final resting place.
And this year Dan is taking a small group of fellow arts, wine, food and culture lovers to Portugal in June, with stays in Lisbon and Porto, complete with trips to the wineries of the Douro River Valley, a two-hour river cruise, excursions to Fatima, one of the world's great Christian pilgrimage sites, and the ancient city of Tomar, with a visit to the Templar castle and the Baroque organs at the famed monastery.
Complete details of the trip can be accessed at emeritiphilharmonic.com.
Double the Fun
Comedienne and TV talk show host Ellen DeGeneres and actress wife Portia de Rossi have once again bought in Montecito, their favorite stomping ground for property flipping.
Their latest $3.6 million three-bedroom, 2.5-bathroom acquisition is a pair of Tudor revival barns that have been artfully composed into a private residence.
The two beamed structures were originally deconstructed in England and reconstructed in our rarefied enclave after traveling across the Atlantic.
The lot measures 1.35 acres, while the interior boasts exposed timber, plaster whitewashed stone, and soaring cathedral ceilings.
Oprah Down Under
Former TV talk show titan Oprah Winfrey may be taking her 2020 Vision "wellness tour" to Australia.
Montecito's most famous resident is expected to announce dates for the antipodean jaunt in due course.
Oprah, 65, took her Chicago-based talk show to Sydney in 2011 with huge crowds mobbing her outside the iconic opera house. She also climbed the Sydney Harbor bridge.
Goop on the High Seas
Montecito actress Gwyneth Paltrow launched her lifestyle brand in 2008, which has garnered attention for touting eccentric and expensive health fads.
And now the 47-year-old Oscar winner is taking Goop to Europe, announcing her company is partnering with Celebrity Cruises to "bring a day of wellness to sea" on August 30.
Gwynnie revealed the news in an enticing video posted on Instagram showing a cruise ship at sea along with various wellness classes and activities.
The cruise on Celebrity Apex departs Barcelona on August 26 and takes in destinations in France, the Mediterranean and the Italian Riviera, returning September 6.
Pacho and the Prince
The Maharajah of Jaipur, Padmanash Singh, 21, who visited the Santa Barbara Polo Club with his team in 2016, has opened up about his close relationship with his godfather, Prince Charles, 72.
Pacho, as he is known by friends, sees Queen Elizabeth's son about once a year, describing the Prince of Wales as down-to-earth and friendly towards his many, many staff.
"Price Charles never makes you feel in the company of someone popular or important," the Indian royal, who was educated at Millfield in the U.K. and New York University, tells Hello magazine.
"I look to him for inspiration. I am always amazed by how aware he is about life."
Back Together
Montecito comedian Steve Martin, 74, and fellow funnyman Martin Short, 69, are teaming up yet again to produce and star in a Manhattan-set half hour Hulu comedy series.
The dynamic duo are currently casting a younger actress to play the third lead in the yet untitled show centering on three true-crime obsessed strangers who become embroiled in a crime.
"I'm starting to look like my caricature," joked Martin, who's a Tony away from EGOT – Emmy, Grammy, Oscar, Tony – status, despite getting his start on shows like Saturday Night Live and the Smothers Brothers Comedy Hour.
The talented twosome, whose friendship spans 30 years, have co-starred in movies like Father of the Bride, Three Amigos!, The Prince of Egypt, and Jiminy Glick in Lalawood.
Paul's Whips Sell
The late Santa Barbara actor Paul Walker's personal car collection has raked in more than $2,333,450 at auction.
The collection, which included an eclectic mix of cars, motorcycles and trucks, was sold by auctioneers Barrett-Jackson in Scottsdale, Arizona.
"Paul's daughter, Meadow, kept a few vehicles she had a connection with," says Craig Jackson, CEO.
The sale included five BMW M3 lightweight editions of only 126 made.
A 1995 E36 took in $385,000, while the rest sold for between $220,000 and $258,500.
Walker died, aged 40, in November, 2013, when a Porsche he was riding in crashed in Santa Clarita.
You might also be interested in...