Cal Fire Launches Parolee Program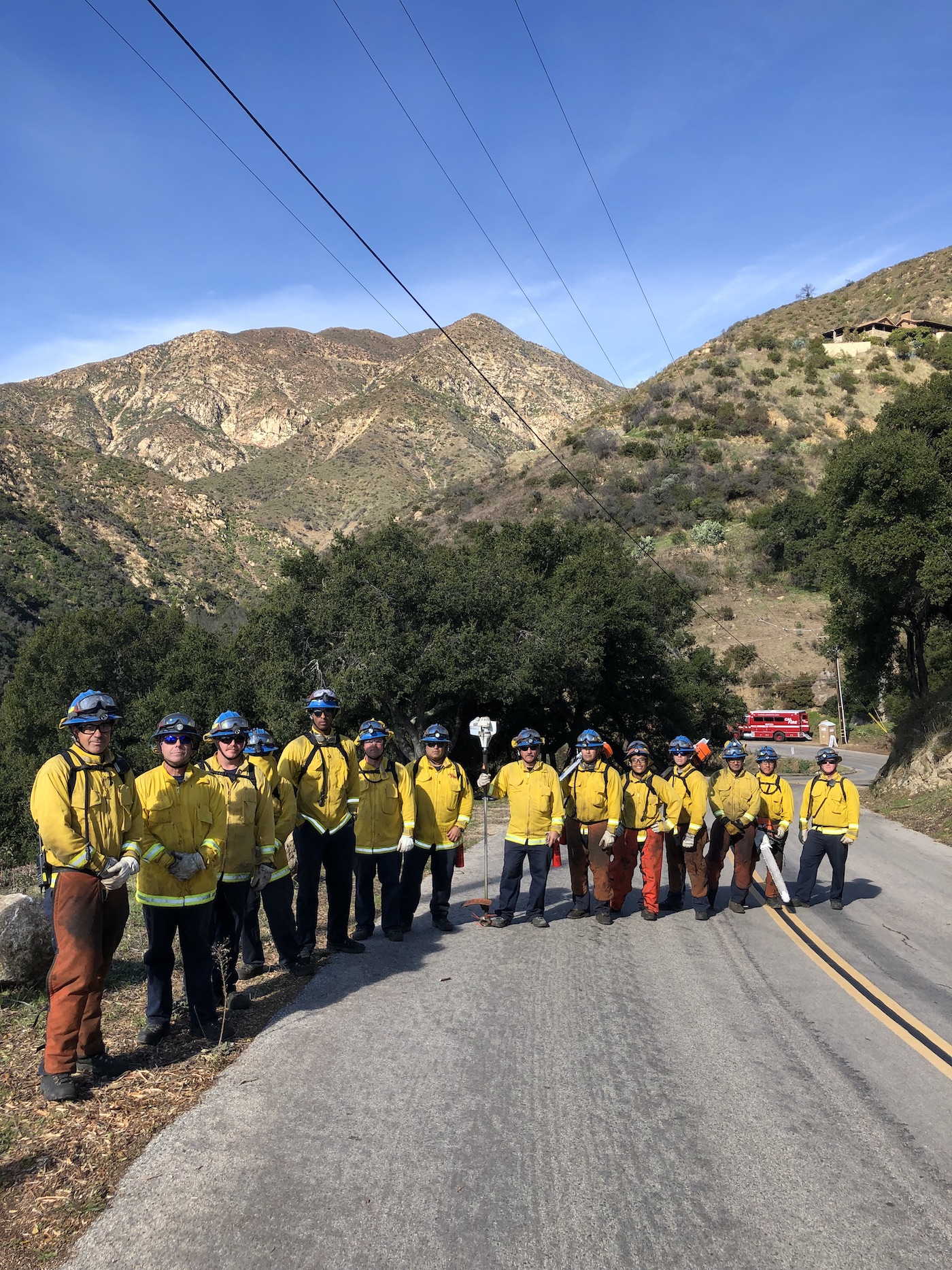 If you've been up in the foothills of Montecito the last few weeks, you may have seen crews of men clearing out brush from our local hillsides as part of the Montecito Fire Protection District's vegetation management program. For the last several years, the crews used to perform the work have been inmate fire crews through the California Department of Forestry (Cal Fire). This year, Cal Fire has launched a new program that uses parolee firefighters, based on an initiative from former Governor Jerry Brown.
In October 2018, Cal Fire, in conjunction with California Conservation Corps (CCC) and California Department of Corrections and Rehabilitation (CDCR), identified the best inmates in their programs statewide who were eligible for parole, and created a new program based at the Ventura Training Center (VTC) in Camarillo. The program provides advanced firefighter training, certifications, and job readiness support to create a pathway for former offenders to compete for entry-level firefighting jobs with state, federal and local agencies. Crews are trained and available to assist in fire suppression, emergency incident response, and to perform fire prevention and resource management work. "Several of these parolees were here working as inmates during the Thomas Fire and debris flow, and are now back as parolees working on our hillsides," said MFPD's Maeve Juarez, Wildland Fire Specialist, who is overseeing the crews while they perform the work.
The program runs a total of 18 months and includes reentry planning, life skills training, job skills readiness, treatment and educational programs, basic forestry, firefighting courses and training, rehabilitative support services, education and reentry skills. The last phase of the program – which is currently benefitting Montecito – is assignment for 12 months receiving in-service training as well as fuels reduction and community service project work, when not responding to fires and other types of emergencies.
Prior to the parolee program, CDCR has safely assigned thousands of incarcerated men and women to fire camps since 1945. They provide vital services for the people of California, including wildland firefighting, and they perform approximately three million hours of firefighting work and approximately seven million hours of community work each year. CDCR operates 27 firehouses at prisons across the state, and they are supervised by CDCR Fire Chiefs and Captains, and respond to fires and other emergencies on state prison grounds. They also provide mutual aid to the surrounding community, responding to incidents such as fires, car accidents, and other emergencies. The new parolee program is available to eligible participants who previously served in a CDCR fire camp or institutional firehouse while incarcerated, who have been released to parole supervision within 90 days from a fire camp or firehouse, and who have at least 18 months remaining on their parole supervision term. Each group of trainees consists of up to 25 participants, beginning with adult men and later expanding to women as accommodations are constructed.
Participants are required to complete their high school diploma if necessary, and the program has a strict application and selection process. Applicants are not eligible if they were convicted of sexual offenses or arson, or have any history of escape with force or violence. Each candidate is carefully screened and must be recommended by a Cal Fire Division Chief in consultation with CDCR fire camp staff, or by an institutional fire chief. They must have no serious rules violations while serving at camp or in a firehouse, no conditions of parole that would restrict their participation in the program, and be in good physical and mental health to withstand the rigors of the program. "The guys out here are hardworking, grateful, and proud to be serving the community," Juarez said.
According to the CDCR, studies show that having a job greatly reduces a formerly incarcerated person's likelihood to commit a new crime. The program provides an opportunity to earn comprehensive, industry-recognized firefighter training that makes participants more competitive when seeking entry-level firefighting jobs, not only with CAL FIRE and CCC, but also the Bureau of Land Management and local agencies. Other career opportunities include serving on fuel reduction crews and in the forest health field. Participants receive a stipend of $1,905 for each month they are fully enrolled in the program, which requires them to live on the Camarillo campus. Just like any traditional parolee or probationer, VTC participants must adhere to their conditions of parole/probation at all times, including obeying all laws. "There is no guarantee that they are going to get a job in firefighting after completing this program, but we are giving them the tools to succeed," said firefighter Tyler Davis with the Ventura Training Center, who oversees the crews while on assignment.
Montecito Fire is utilizing these crews three days a week to maintain its Fuel Treatment Network. The crews trim brush and grasses on the roadsides, and a private contractor then chips the material, with most of it being donated to the Bucket Brigade.
For more information about fuel management in Montecito, visit www.montecitofire.com.
You might also be interested in...