Good Neighbors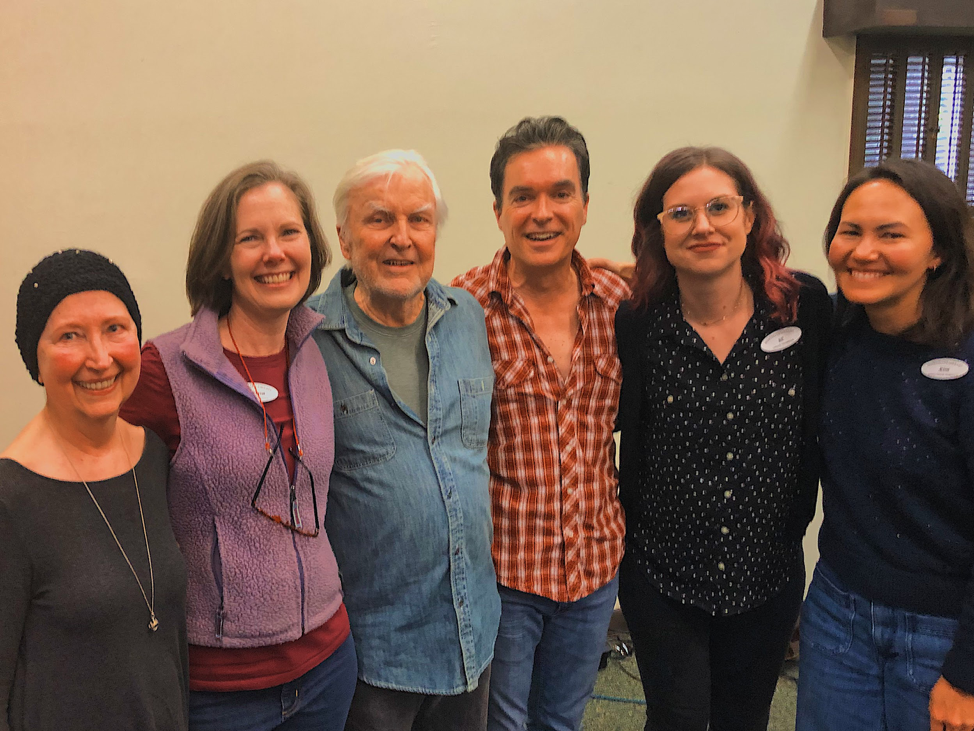 Saying hello, bumping into someone in line, knowing the cashier's name, seeing people and being seen – these are all components of social infrastructure, studied by sociologist Eric Klinenberg and fleshed out in his book Palaces for the People. These everyday affinities are part of what makes public library life so vital, keeping us civil and safe.
Public places strengthen our social infrastructure, creating feelings of goodwill and mutual support. Thank you for the part you play in this process. Whatever your age, political views, or social status, you are welcome here. Yes, even you introverts and eccentrics. You are among kindred spirits at the library.
Swing by anytime to experience the benefits yourself.
Zerbe's Performance Brings Down the House
On December 21, an intimate crowd of forty-five watched a brilliant master at work, flexing his stage muscles, telling the poignant story of a man recalling his childhood Christmas on a Wyoming ranch. Anthony Zerbe and guitarist Christopher Zerbe performed Lime Creek Christmas, adapted from Joe Henry's novel Lime Creek.
While the audience surely expected something special from this Emmy winning actor (given his impressive stage and screen career) some were moved to tears and could hardly believe that they were seeing this remarkable performance for free at the library.
Montecito Library Book Club
Saturday, we discussed The River by Peter Heller, notable for its nature writing, depictions of wildfire, and the harsh realities of wilderness survival. Some mentioned that this was not a typical choice for them, but they would highly recommend it for its suspense, beautiful male friendship, and sense of place.
February's selection, Normal People by Sally Rooney, is set in Dublin, Ireland. While we cannot promise that you will fall in love with its flawed characters, we do predict that there will be a lively discussion of the romance and competition between them.
Poetry Club
On the first Thursday of each month we invite you to attend Poetry Club. It is led by retired high school English teacher and library volunteer Carole Baral, who expertly prepares biographical information and compiles works for each poet, leading group members in discussion.
Made up of loyal members, they enthusiastically welcome new attendees, looking forward to members' participation in reading selections and raising questions and observations about the poet and their work.
February's poet is Richard Wilbur, who lived to the ripe age of 96, was U.S. Poet Laureate, and received the Pulitzer prize twice. Feel free to bring your own selection of the poet chosen to add to the discussion. Please join us!
Upcoming Special Events
Wednesday Matinees at 3:30 pm
1/22 – Dora and the Lost City of Gold
1/29 – Jumanji
2/5 – The Public

Poetry Club discusses Richard Wilbur
Thursday, 2/6, 3:30-5 pm

Book Club discusses Normal People by Sally Rooney
Saturday, 2/8, 11 am
See you at the library!
You might also be interested in...