Scouts' Honor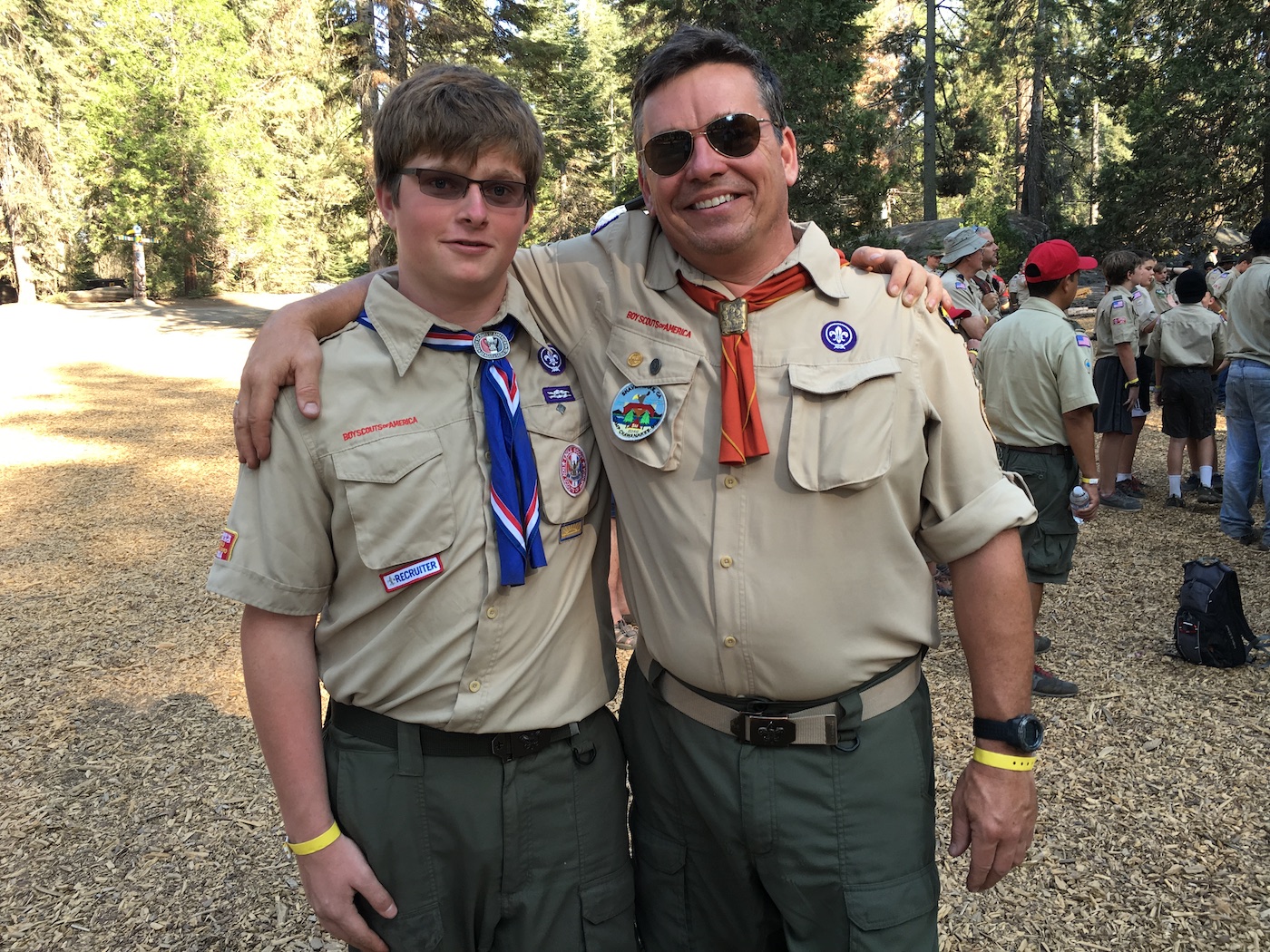 Two years ago this week, at approximately 3:30 am on the morning of January 9, 2018, a massive rainstorm unleashed a series of lethal debris flows that swept through Montecito, killing 23 people and leaving scores more injured and homeless. Two victims were never recovered, including Jack Cantin, whose father, David, also died in the mudslides. Left behind were David's wife, Kim, and their teenage daughter Lauren.
When he died, David was a volunteer Scoutmaster with Troop 33, which, with some eight decades of history to its name, ranks as one of the two oldest Boy Scout troops in Santa Barbara. He'd taken over Troop 33 years earlier when Jack, a Montecito Union School eighth grader, graduated from the Cub Scouts and wanted to keep earning badges. At the time of his death, Jack, 17, then attending Santa Barbara High School, had just recently been promoted to Eagle Scout.
Earning that final badge is something that, on average, only two to four percent of Scouts manage to do nationwide. Yet when Jack joined the Scouts and his dad took over Troop 33, ten other kids, all of whom were one year younger than Jack, followed him into the group. Now, eight of those young men have already been promoted to Eagle Scout in a recent service at Our Lady at Mount Carmel, and the other two are just weeks away from doing the same.
Saving Troop 33
According to members of Troop 33 and their parents, the accomplishment is a testament to the impact the Cantins had on the group and the leadership they provided. In fact, they say, before the family came along, Troop 33's membership roll was so low it was in danger of disappearing altogether. Grant Dyruff, whose son Nicholas is a member of Troop 33, said that his son and several other Cub Scouts moved into the troop a year after Jack. "Most of them were friends or knew each other, and Jack had already been in the Scouts and was like a mentor," Dyruff says. "And Dave was the Scoutmaster for all these kids when they became Boy Scouts."
At the time, Troop 33 only had a few members, including Jack. One of the Scout mothers, Jamie Ruffing, was intent on keeping the program alive, as was another parent, Telford Work, a theology professor at Westmont College. "It was dwindling quite a bit," says Dyruff. "Then Jamie came along and resurrected everything, and Dave and Telford helped put the Scouts back together, and then it began thriving because we had a whole new batch of Scouts."
Work joined the Boy Scouts in 2006 and became an assistant Scout leader two years later. "Starting in 2011, our troop size was so small we ended up meeting with another troop in Carpinteria. But then we hear about a new Cub Scout Pack, 108, which had a bunch of boys two years out from bridging to the Scouts, and the pack leader of 108 was Dave Cantin." After a July 4 parade along San Ysidro Road, Work and Cantin headed over to Manning Park and talked about the idea of merging Cantin's graduating Cub Scouts into Troop 33. "Dave loved the idea of bringing his son over relaunching the Troop," Work recalls. "He did an extraordinary job leading that cub pack. And when Jack bridged over to the Boy Scouts at age 11, Dave came along on some of our trips and learned the distinctive tradition of our troop. We like backpacking with light gear and it usually it takes a while to learn that culture, but Dave and Jack jumped right in."
Making Eagle
A year after the Cantins joined Troop 33, 10 other Montecito Union School students who were part of Cantin's Cub Scout Pack 108 followed suit. Now, some eight years later, all ten of those Scouts are still in Troop 33. "All ten have stayed in," Work confirms. "Eight have become Eagle Scouts and the other two are just a month away. It's pretty extraordinary, given how few scouts make Eagle nationally. It shows the bonding the boys had when Dave was cubmaster and scoutmaster."
In the wake of the 1/9 debris flow, Troop 33 was devastated to learn that both Jack and Dave Cantin had perished in the disaster. Although Dave's body was located, Jack was never found, just a Troop 33 shirt retrieved from a creek that has now been preserved as a teddy bear. "When we heard the news, it felt like we really should gather," Work says. "The Scout House and Manning Park were inaccessible, but Montecito Covenant Church opened for us." Troop 33 gathered in a circle and shared stories about the Cantins, grieving together."
A few weeks later, everyone gathered again for a memorial service at the Santa Barbara Mission, followed by a wake at the Santa Barbara Yacht Club. "For a couple of hours, people told stories," Work recalls. "It was really amazing to see fifteen-year-old boys getting up and sharing their memories of Dave and Jack in a crowded room full of people." The commemorations continued with a flagpole dedication ceremony at Santa Barbara Middle School and an event dedicating benches to the duo outside the Scout Houses at Manning Park.
Remembering the Cantins
The role the Cantins played in keeping Troop 33 together both in life and thereafter lives on in the memories of those who knew them, says Grant Bennett. "Jack was one of my best friends in high school," Bennett says. "I instantly gravitated towards him when I met him my sophomore year. The thing I really loved about Jack was how complete of a person he was. He was extremely intelligent, caring and compassionate, and his hysterical sense of humor helped make Jack a friend of anyone he met."
Bennett recalls that Jack excelled at inspiring others to do better and try harder because he refused to give up any task, no matter how challenging. "Even things Jack wasn't the best at, he always gave one hundred percent effort to overcome the challenges he faced," Bennett continues. "Jack made everyone want to be more like him: Be more involved in the community, be a better brother or sister to our siblings, be more dedicated to the things we love to do. If only there were more Jacks in the world."
The spirit of Troop 33 is also being celebrated by the Montecito Coffee Company's Miramar Beach Roast, which is dedicated to Dave and Jack Cantin and available at the Village Cheese & Wine Shop on East Valley Road in the Upper Village. "During the Thomas Fire and debris flow, Wine & Cheese stayed open to feed first responders," says Kim Cantin. "They became a fabric of the community by stepping in when help was needed. In the wake of the tragedy, shop owner Patrick Braid began dedicating coffee blends to victims, and asked Kim for permission to name a blend after her late husband and son.
"He asked me what beach Jack and Dave liked, and I said, 'Miramar,'" Kim explains. "I remembered that when Jack had one of his first crushes, he packed lunch for a picnic and took her to this beach, and Dave would always go there for peace and tranquility. It's a really symbolic sentiment that those lost are never forgotten, and to me, as a mom, that's beautiful."
A community-wide remembrance ceremony for Dave and Jack Cantin and the 21 other victims of the 1/9 debris flow will be held on its second anniversary, Thursday, January 9, at Murchison Gym at Westmont College, 955 La Paz Road. The program begins at 6:30 pm and is followed by a reception at 7 pm. For more information, text ROL2020 to 555888.
You might also be interested in...