Seasonal Bubbles: Local Sparkling Wines Abound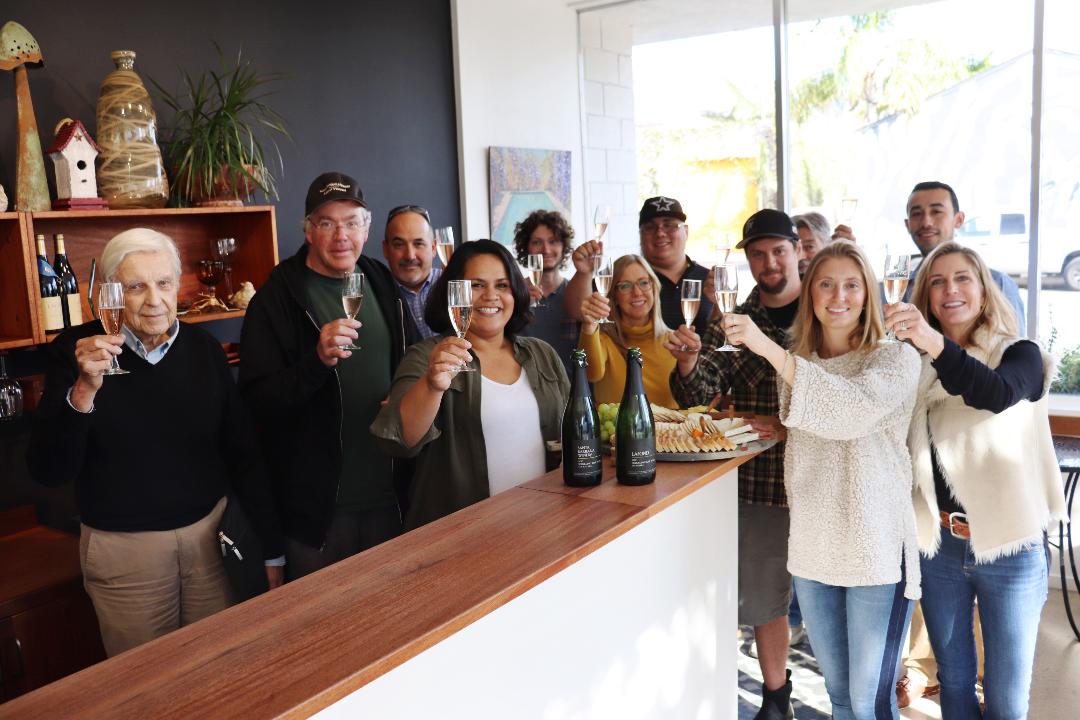 Sales of sparkling wines are on the rise right now, historically soaring between the Thanksgiving and New Year's holidays. Sparklers connote celebration, of course. They're a great option to have on hand for rich holiday meals, too, since the effervescence in every sip cleanses the palate of the richness in every bite.
The French and their fancy Champagnes give us plenty of options, of course, as do the Italians with their prosecco, the Spaniards with their cava and the Germans with their sekt. Napa and Sonoma producers have fantastic alternatives, too. But why go any further than our own backyard?
Mirroring a surging consumer demand for all things sparkly, the number of Santa Barbara County wine producers dabbling in bubbly has popped in recent years. My own rudimentary county puts the number at close to 50, which means about a third of our region's wineries have decided that the extra mile they must go to produce wines awash in tiny pearls is well worth it. The newest entry comes from a true original, Santa Barbara Winery, the county's very first winery, established by architect-turned-vintner Pierre Lafond in 1962. I admire the way this recognizable brand continues to run on a family-driven ethos: when I visited their downtown winery last month, Mr. Lafond himself was on site, inspecting the day's shipments, along with daughter Michelle and son David, as well as several longtime employees. Granddaughter Madeleine was there, too; it was her social media post a few days earlier that had alerted me to the release of their first-ever sparkling wine.
"It felt like it was time," winemaker Bruce McGuire told me as he handed me a bottle of the 2017 Sparkling Rosé ($49). McGuire has been making wine here since 1981, and his new foray into bubbles was driven by the Lafond family's desire to add something new and special to their remarkable portfolio of wines. The sparkler is made with pinot noir from Burning Creek Ranch in the lauded Sta. Rita Hills region near Lompoc. The still wine was made first and then shipped to a Sonoma facility called Rack & Riddle that took it through the traditional methode champenoise to bring the bubbles to life. Periodic samples were sent down to Mr. McGuire throughout the nearly two-year process, until he made the ultimate call that it was ready for bottling. The Lafonds tasted it for weeks before the call was made just two weeks ago that the bubbly was ready for release.
Only 200 cases of the 2017 Sparkling Rosé were made, split evenly between the Santa Barbara Winery and sister Lafond Winery brands. Regardless of label, this wine is Champagne-inspired and refreshing and delicious at once, with red berry aromas, clean citrus flavors and a dry, elegant, lip-smacking finish. Buy it at the tasting room at 202 Anacapa Street, just down from State Street, or online.
The sparkler from Folded Hills is new, too. Their 2017 Sparkling Lilly Rosé ($65), from winemaker Angela Osborne, is a tribute to matriarch Lilly Anheuser and the six generations of formidable Anheuser-Busch women since. Zesty, crisp, and brimming with berry notes, this bouncy bubbly is made with grenache grapes grown on the family's sprawling Santa Ynez Valley estate near Gaviota, just off Highway 101. Folded Hills officially launched the Sparkling Lilly Rosé during a wine club members-only affair at its Coast Village Road tasting room last week.
Other regional producers of sparkling wines of note include winemaker Norm Yost's Flying Goat Cellars, which launched its Goat Bubbles lineup of sparkling wines 10 years ago; Yost, who now makes five distinct sparkles each year, and all by hand at his Lompoc winery, is considered the first serious sparkling wine producer in Santa Barbara County. Fess Parker Winery impresses every year with its own traditional expressions of the bubbly stuff; their Bubble Shack in downtown Los Olivos is a haven for seekers of all things fizzy. And Riverbench Winery, which sources pinot noir and chardonnay from its Santa Maria Valley vineyards for its annual sparkling wine releases, puts out consistently great bubblies, too.
You might also be interested in...