Coast Village Plaza Updates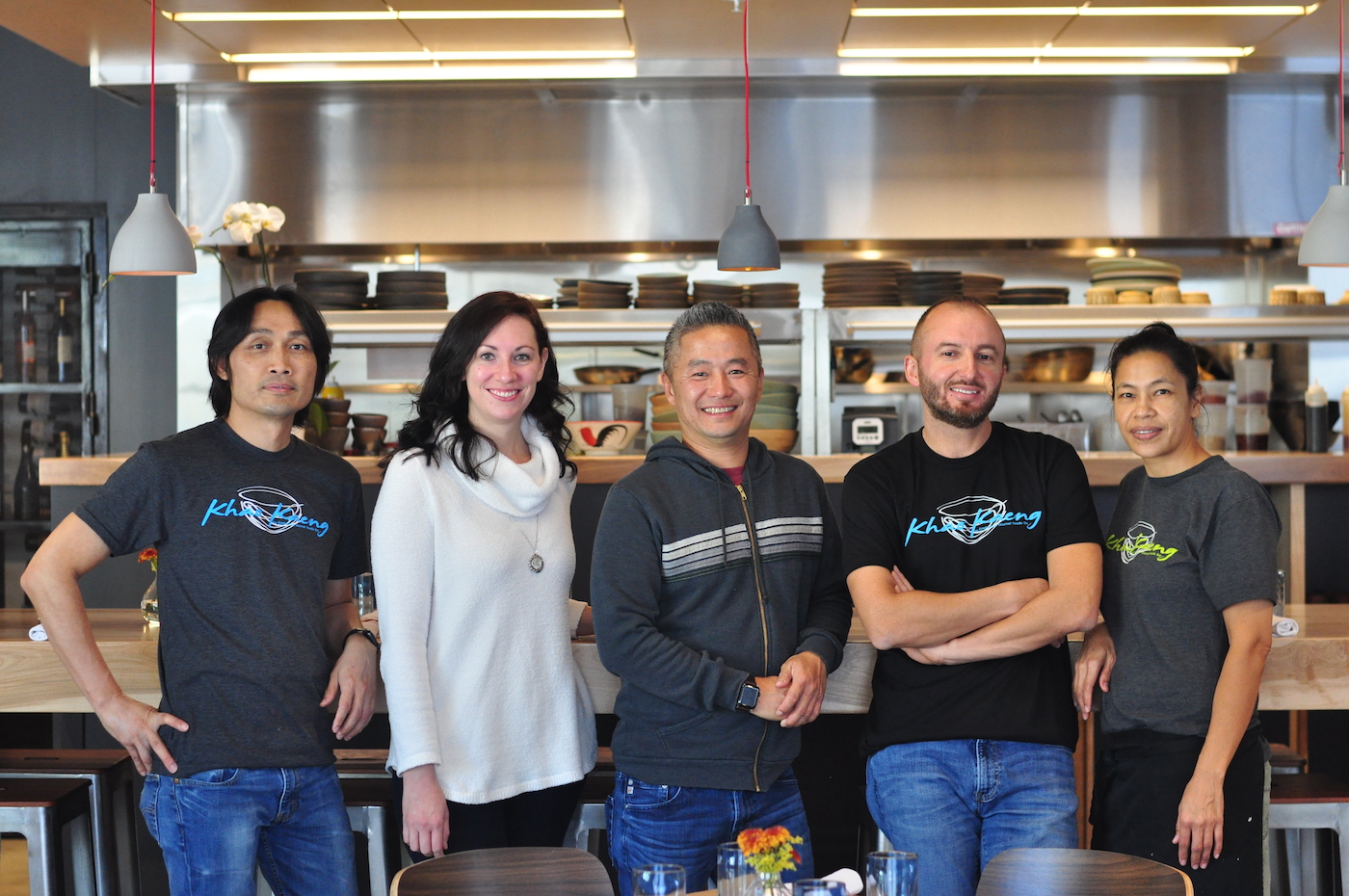 Earlier this week, Khao Kaeng, the Thai food restaurant located in Coast Village Plaza, closed its doors after just a year in business. The eatery was the latest concept from the owners behind Empty Bowl Gourmet Noodle Bar at the Santa Barbara Public Market.
Co-owners Jerry Lee, Emre Balli, and Nui Pannak signed the lease on the downstairs space, formerly occupied by Here's the Scoop, a few months before the Thomas Fire broke out at the end of 2017. Permitting and remodeling of the space took nearly a year, as the build-out required ADA improvements as well as modifications to accommodate the kitchen. The improvements, which were also delayed due to the 1/9 debris flow, included a custom bar area as well as a large communal table, offering 35 seats inside and 40 seats outside on the heated patio. Khao Kaeng, which translates to mean "curry on rice," offered elevated Thai cuisine, with a selection of specialty dishes not found on traditional Thai menus. The recipes were from Pannak's home in Bangkok, Thailand, and everything was made from scratch, including the curry and chuchi pastes, stir-fry sauce, peanut sauce, and more. "It's been very hard for me to close Khao Kaeng; we put everything we had into it," said Lee.
The award-winning Empty Bowls at the Public Market continues to operate as normal, offering authentic Thai and Taiwanese noodle bowls and small plates. "I want to thank everyone for their support, and hope they come visit us at Empty Bowl Gourmet Noodle Bar," Lee added.
"We are sad to see such a great restaurant shut its doors," said Francois DeJohn, a founding partner of Hayes Commercial Group, which oversaw the lease agreement. DeJohn continues to look for a restaurant owner to fill the space, which is considered turnkey. For more information, visit www.hayescommercial.com.
DeJohn reports that the space across from the new vacancy remains available; Coast Village Plaza owners Rich Rosen and Hank Hurst hope to find another restaurant to fill it. Rosen and Hurst purchased the building in 2014, and undertook a three-year long renovation that included a new elevator, parking lot, decking, dining patios, lighting, signage, driveway, and landscaping. Since then new tenant Renaud's Patisserie & Bistro opened its doors last year, and Ca' Dario, the latest outpost from restaurateur Dario Furlati, is expected to open early next year, in the space formerly occupied by Giovanni's.
PHOTO CAPTION:
A) Khao Kaeng, the latest eatery by the owners and chefs of Empty Bowls Gourmet Noodle Bar, has closed its doors in Coast Village Plaza
Montecito Planning Commission Comes to Montecito
For the first time in its nearly 17 year history, the Montecito Planning Commission will host a meeting in Montecito, next Thursday, December 12, at 5 pm, at Montecito Union School. "It's an historic event, and we hope to engage the community to remind them of the overview of the Commission's responsibilities and processes," said MPC Chair Charles Newman, who is spearheading the meeting.
The meeting will not be a typical hearing, but instead it will include a presentation about Montecito's rebuilding and resiliency efforts following the 1/9 debris flow, as we approach the second anniversary of the catastrophic event that damaged or destroyed 400 homes in Montecito and took the lives of 23 people. The Commission has spent much of the last two years receiving monthly rebuilding updates from various entities including the Planning & Development department, Montecito Fire Department, Flood Control, Public Works, Office of Emergency Management, and others.
First District Supervisor Das Williams and representatives from the Office of Emergency Management will also be in attendance at the meeting, outlining their role in the rebuilding process. County staff will talk about specifics related to rebuilding, including an important deadline that is coming up on January 9. "For homeowners whose legal, non-conforming structures were damaged or destroyed in the debris flow, they need to start construction or get an extension by the two year anniversary," Newman said, adding that every homeowner whose property was damaged was assigned a liaison at the County. "We still have many property owners who have yet to reach out to their liaison to discuss rebuilding. My hope is that this meeting will be the impetus for people to know that we are a resource for them."
The Montecito Planning Commission, which currently includes Commissioners Newman, Bob Kupiec, Donna Senauer, Ron Pulice, and Susan Keller, was formed in March 2003, after an attempt to annex Montecito as its own city. At that time, Montecito land use issues were heard by the Santa Barbara County Planning Commission, and many Montecito residents felt our community would be better served with a separate planning commission and architectural review board – MBAR was also formed at that time­ – solely for Montecito. Bob Meghreblian and other instrumental Montecito residents formed a group to look into the idea, and after consulting with then First District Supervisor Naomi Schwartz and her staff, the Board of Supervisors granted approval for a Montecito Planning Commission and Montecito Board of Architectural Review for a two-year trial period. Since then MPC and MBAR have helped shape the "village feel" of Montecito, ensuring projects and builders adhere to the Montecito Community Plan, which was adopted in 1992. The establishment of MPC/MBAR ensures that Montecito projects are looked at by two groups of Montecito-minded people, who understand and implement the Community Plan.
Newman says he hopes the meeting will inform the community about the MPC's role in keeping Montecito semi-rural, as well as provide logistical information on how residents can get involved and stay informed.
The meeting is Thursday, December 12, at 5 pm at Montecito Union School, 385 San Ysidro Road.
Montecito Water District News
In late November, after numerous committee meetings, the Montecito Water District Board of Directors took its first look at draft rate scenarios, hearing a presentation from a consultant on how a rate increase could be rolled out. Designed to illustrate various scenarios created by adjusting the balance between fixed and variable costs, the presentation identified possible tiers, example rates, and a number of related policy matters that the Board will consider before rates can be finalized.
After reviewing the presentation, the Board directed the Finance Committee and staff to work with the consultant to address questions raised during the presentation. Finalizing a draft proposal that the Board agrees is ready for public review is the next step. A sample timeline included in the presentation showed that new rates would not be implemented before May 2020, after ample time for public comment and review, and it was stated that the process may take longer.
Members of the public seated in the meeting suggested that the analysis be run with and without the cost for "desalination," referring to the cost of a pending 50-year water supply agreement with the City of Santa Barbara. Board member Brian Goebel responded: "Without desal, we would have to figure out how to hedge against risk of massive downturn in supply as was the case during the past seven years of drought. It is hard to predict what the true cost of living without a reliable water supply would be in our community during the next severe drought, but it would almost certainly be higher than it was during the last one." He went on to say, "Desalination has a set cost, and we would be taking delivery of all the agreed upon water. It is a sure thing and something you can plan on. It increases our resiliency."
Public entities typically set rates every 3-5 years, or whenever changes to operations impact the cost of service. Montecito Water District last raised rates in 2016.
As part of a review of a year's worth of progress towards implementing recycled water, the Board adopted Resolution 2189 on November 19, affirming MWD's vision and its intent to proceed with an NPR project (purple pipe/for irrigation only). "This Board is doing exactly what it said it was going to do a year ago: we set out a process and we are sticking to it. We are carefully evaluating the most efficient and economical way to implement a meaningful recycled water project for the community, and we are right on schedule," said Director Goebel. The Resolution is available in its entirety at www.montecitowater.com.
Lastly, "Smart Meter" installation will begin throughout the district beginning early next year. MWD conducted a needs inventory, secured funding, and began purchasing equipment this year, and an installation contract for work to begin in January has been awarded to Concord Utility Services. Modernizing water meters will help MWD and its customers better manage water resources. When fully implemented, the smart meters will provide more accurate flow monitoring and timely reporting of usage. This translates into earlier detection of leaks and a reduction in unintended water loss, which is important for both individual customers and for the community at-large. District customers will receive additional communications on the process in the coming months.
Agendas, packets, and meeting minutes can be found on the District's web site at www.montecitowater.com. Meeting times are posted to the online district calendar, and questions can be directed to (805) 969-2271 or customerservice@montecitowater.com. All meetings are open to the public and participation is encouraged.
You might also be interested in...