Cartel Caper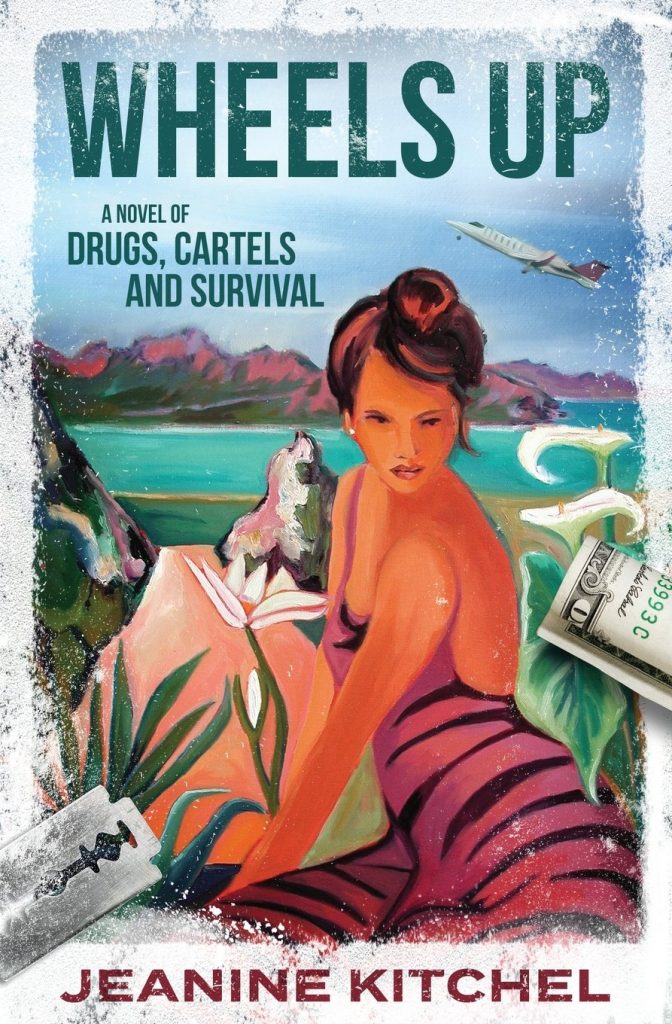 Santa Barbara author Jeanine Kitchel, who used to live and own a bookstore business in Mexico in the 1990s, has written a very timely new book, Wheels Up – A Novel of Drugs, Cartels and Survival.
"Writing non-fiction was good for a travel memoir and my book on the Maya 2012 calendar phenomenon, but when writing about cartels and corruption, fiction made more sense," says Jeanine.
"I believe the book has a current event angle because of Mexico's recent spike in homicides. Though Santa Barbara doesn't sit on Mexico's border, escalating violence with our southern neighbor should be of deep concern to us all.
"Their president recently deployed 70,000 National Guard troops to Mexican cities to resist the uptick on crime. Cartel turf wars are to blame."
In Wheels Up, Layla Navarro rises to the top of Mexico's most powerful cartel when her drug lord uncle is recaptured, with chaos ensuing.
"The novel's a thriller with roots in the real world," adds Jeanine, a former journalist.
Bank's-giving
Montecito Bank & Trust celebrated the 17th anniversary of the Community Dividends Awards by handing out checks totaling $1 million to a colorful selection of nearly 200 non-profits in our tony town.
And, for the first time, an additional $100,000 – the Michael Towbes Community Impact Grant – went to the 54-year-old Rescue Mission.
The new grant will be presented annually, either in total or as two or three checks, to particularly deserving organizations with constructive ideas and solutions, says bank CEO Janet Garufis.
"This is very humbling considering the competition out there," President Rolf Geyling told the 188 guests at the Coral Casino.
The 44-year-old bank, which has 13 branches and more than $1.6 billion in assets, is always oversubscribed with applications for help, including groups with missions that serve the arts, youth, education, social welfare, and medical and health sectors.
Among those checking out the luncheon largesse were Erik Talkin, George Leis, Rich Block, Steve Ortiz, Tom Reed, Geoff Green, Tom Parker, Helene Schneider, Roger Durling, Donna Reeves, Bob Craig, Sylvana Kelly, Kevin Marvin, National Smith, Joan Rutkowski, David Bolton, Greg Gorga, David Selberg, John Blankenship, Paige Van Tuyl, Peter Jordano, Andrew Firestone, Catherine Remak, Pat McElroy, Mark Danielson, Ellen Goldstein, Rona Barrett, Hayley Firestone Jessup, and Hal Conklin.
It Takes Two
It was all two grand for words when the West Coast Chamber orchestra under Westmont professor Michael Shasberger performed Mozart: The London Connection in a free concert at the First Congregational Church.
Accomplished keyboardists Frank Basile and Valeria Morgovskaya were in fine form playing the Austrian composer's piano sonata K for four-hands followed by the Overture to the Marriage of Figaro, and his symphonies No. 1 and No. 3.
The entertaining concert wrapped, appropriately enough, with Haydn's Symphony No. 104, The London Symphony.
Mozart spent a year in England's capital city in 1764 at age seven when he played for King George III.
Royal Treatment
Fans of the hit Netflix series The Crown can get a taste of royal life this Yuletide.
To mark the release of the hotly anticipated third season, a London-based vacation rental company is offering the ultimate "monarch-worthy" staycation, but it'll cost you a hefty $64,637 for seven days.
Interested parties can get a glimpse inside the palatial Grade One listed Georgian townhouse dubbed "The Earl of Fitzroy," which was featured in the royal drama during series two.
Located in London's upmarket Fitzrovia district, it comes complete with corgis, etiquette coaching, a horse-drawn carriage excursion, a personal butler who has worked for the Royal Family, and a lavish banquet, thanks to Plum Guide.
The house accommodates up to 12 guests and will be available throughout December for a minimum stay of one week.
You might also be interested in...