Surfin' USA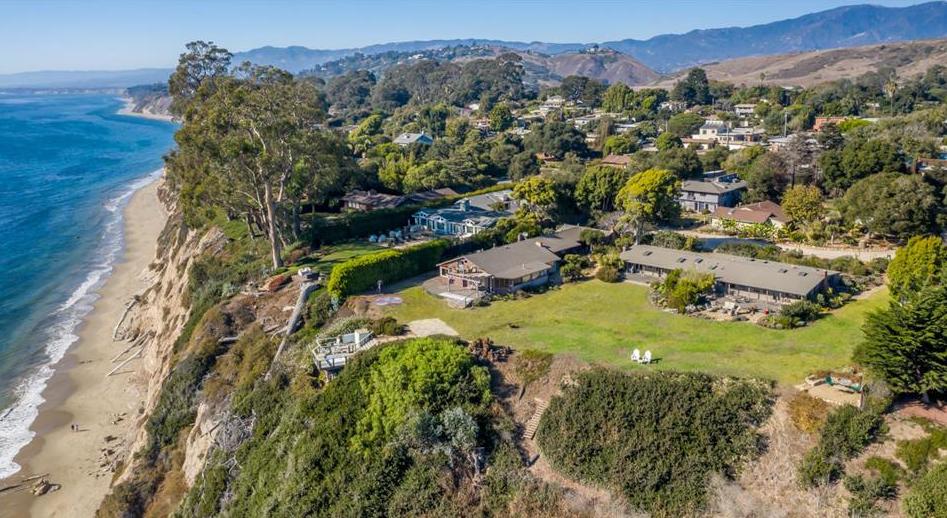 Beach Boy Mike Love's former Santa Barbara estate is up for sale for $6,407,000.
The spectacular 2.5-acre oceanfront property boasts five dwellings totaling 5,096 sq. ft. with six bedrooms and five and a half bathrooms on 200ft. of private bluff.
Built in 1920, it is set on one of the single largest oceanfront parcels in our tony town.
Coldwell Banker has the listing.
Low-Key 103
Legendary actor Kirk Douglas, who spends his time between his homes in Montecito and Beverly Hills, is turning 103 years old on December 9.
But his Oscar-winning son, Michael Douglas, 75, a former resident of our rarefied enclave with his wife Diandra, says the celebrations will be low key.
"Well, it's like, so 100. Okay, so he was 100. Big, big birthday," he told TV talk show host Jimmy Kimmel.
"The trouble is when you're 100, you don't really want a big birthday. I threw a big birthday party for him, it was great. 101, You know, 'Okay, let's have a nice party.'
"Again? I don't… You don't have to have a birthday. Okay… 102."
Michael added that by the age of 102, the Spartacus star insisted on more low-key celebrations. "So now he's begging me, he's got tears in his eyes. 'Let's just have dinner, the family together. Bring the kids," he recalled.
Naughty or Nice
Montecito actress Gwyneth Paltrow, 40, has unveiled her latest holiday gift guide on Goop – and its doesn't come cheap.
It includes a $250 gold fire extinguisher, a $33,000 smoker and a $110,000 tree house, in the "Ridiculous but Awesome" category.
Even in the more traditional categories there's a $21,000 necklace, a $800 herb garden, and a specially designed sex pillow costing $100.
There are ten categories in all and the list includes a $275,000 limited edition copy of Norman Mailer's MoonFire, which comes with a case inspired by Apollo 11 and an actual piece of lunar meteorite.
And a $5,000 Louis Vuitton vintage trunk, a $23,730 billiards table, and a $250,000 plus seat on a Virgin Galactic space flight.
Royal Attendees
Santa Barbara warbler Katy Perry got an unexpected royal audience when she met the Prince of Wales on the first night of his two-day tour of India with his wife, Camilla, Duchess of Cornwall.
The former Dos Pueblos High student was in the country to do her first concert in Mumbai.
Queen Elizabeth's 71-year-old son posed for photos with her at the British Asian Trust event in New Delhi.
Obviously currying favor…
Road Trip
TV talk show titan Oprah Winfrey is hitting the road to visit major cities across America.
Montecito's most famous resident will embark on her 2020 Vision: Your Life in Focus tour beginning in Florida January 4.
The shows will feature a famous guest for each stop as the tour aims to "make 2020 the year of renewal and celebration we are all meant to be" to audience members.
There will be nine in total through March, with guests including former First Lady Michelle Obama, actress Jennifer Lopez, singer Lady Gaga, and Oprah's best friend, CBS Morning News co-anchor Gayle King.
Snubbed by Royalty
The downfall of Prince Andrew, Queen Elizabeth's second eldest son and eighth in line of succession, has been a long time coming.
The 59-year-old Duke of York has always been far too impressed by wealth and power, numbering despots, dictators and oligarchs among his friends, all too delighted to receive invitations to dinners at Buckingham Palace and shooting parties at Sandringham.
I have met Andrew a number of times during my 49-year career, the last being at an American Friends of the Royal Academy gala at Rockefeller Center's iconic Rainbow Room, rising 65 stories above the Manhattan skyline, in 2000.
We had a mutual friend in common, Lady Camilla Dempster, daughter of the 11th Duke of Leeds, and ex-wife of a colleague, the late London Daily Mail diarist Nigel Dempster.
HRH was relatively charming, but then he refused, for whatever reason, to have his photo taken with the organizers by beloved New York Times Style Section chronicler, the late Bill Cunningham, which created a great deal of bad publicity on both sides of the Atlantic quite needlessly.
Prince Charles, his elder brother, rightly fearing for the future of the Royal Family, took decisive steps with his mother to resolve the situation immediately and bar him from further royal duties, a position from which he is unlikely to recover.
Sightings: Comedian John Cleese sipping coffee at Starbucks on Coast Village Road… Actor Adam Sandler at the Riviera Theatre… Baseball legend Barry Bonds at the Figueroa Mountain bike race in Solvang
Pip! Pip!
You might also be interested in...